To Develop Hydrogen-Powered Vehicles, APC UK Invests £26.3 Million in Toyota and HVS
---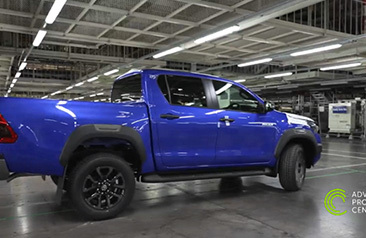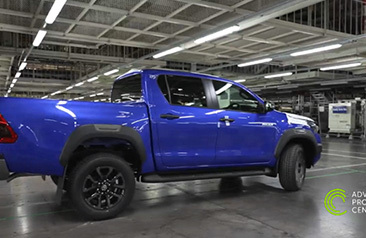 The Advanced Propulsion Centre (APC) is investing £73 million in five collaborative research and development projects, through its latest round of funding.
The combined industry and Government support will bring forward world-leading and innovative technology, aimed to boost the UK automotive sector, expand its supply chain, and create and safeguard jobs at some of the country's best-known manufacturers.
This includes £11.3 million to produce a hydrogen version of Toyota's iconic Hilux pickup truck.
This pioneering project will make it possible to develop and pilot production of a fuel cell-powered version of the Hilux and is projected to support more than 250 jobs across the UK over the next decade.
Richard Kenworthy, Managing Director, Toyota Motor Manufacturing (UK) Ltd, said:"Toyota has the ultimate goal to become a carbon neutral organisation. The first step in this evolution was introducing hybrid 20 years ago and has expanded to include Battery EVs, PHEVs and hydrogen power. This exciting project allows Toyota the opportunity to develop a unique fuel cell commercial vehicle on the iconic Hilux platform, in the UK.
This will significantly contribute to the skill base not only within Toyota in the UK but also through the consortium partners and wider supply chain. The collaboration with highly-skilled technical engineering companies of all sizes allows the development of new and innovative solutions. We would like to thank the APC for its support in realising this bid as well as the UK Government in recognising a key opportunity to decarbonise a critical vehicle segment required by industry."
Glasgow-based HVS is also investing in hydrogen fuel cell technology, through a project that will develop a heavy goods vehicle and tractor to replace its diesel-powered equivalents.
Both HVS and Toyota fuel cell projects will contribute to the ambition to decarbonise the automotive sector as described in the UK's Hydrogen Strategy.
Another off-highway vehicle but with a different approach to its fuel is under development by CNH Industrial's New Holland brand.
Following on from a previous APC project that created the Low Carbon Tractor, which runs on methane collected from livestock, £15.6 million is being used to unlock a distinct segment of the market – to build the world's first 'fugitive liquid' methane-powered, off-road, heavy tractor.
Two further projects announced today have the purpose of expanding the UK automotive supply chain, vital for bringing manufacturing closer to where it is needed:
This includes Constellium's aim to provide the industry with lower carbon and lower cost sources of recycled aluminium alloys. The project looks to provide the lowest embodied CO2e content extrusion aluminium alloys for the automotive industry, for ultra-low carbon lightweighting.
Electrified Automation is leading a project to design and deliver manufacturing processes for high-volume electric motor production alongside a software solution to automate the manufacturing environment, offering unrivalled data-gathering capability.
Ian Constance, Chief Executive at the APC, said:
"Supporting vital research and development in the UK, now more than ever, provides an opportunity to invest in transport decarbonisation as well as boost growth in the automotive sector. The £73 million of funding announced today furthers world-leading innovation in net-zero technology for the automotive sector and beyond. These five fantastic projects are all collaborative by design, led by high-profile companies with innovative SME and academic partners, representing great UK industry."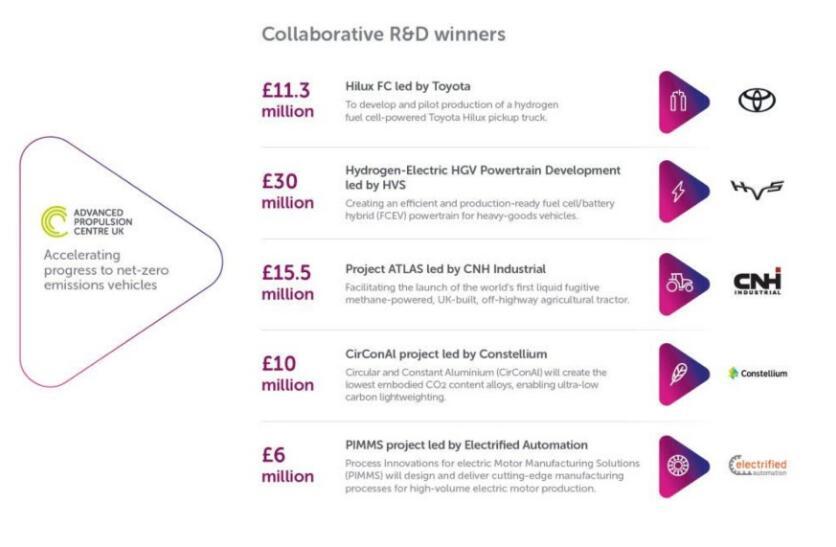 Funding winners in detail:
Toyota – Hilux FC
An £11.3 million project, supported by £5.6 million from Government, to develop and pilot production of a hydrogen fuel cell-powered version of the Toyota Hilux pickup truck. This project will support 250 jobs across the UK over the next decade. Toyota has manufacturing sites at Burnaston, Derbyshire, and Deeside, North Wales.
HVS – Hydrogen-Electric HGV Powertrain Development
A £30 million project, supported by £15 million from Government, to develop a hydrogen fuel cell-powered HGV cab and tractor unit, to replace the diesel-powered equivalents currently used across the UK and Europe. Hydrogen Vehicle Systems ltd is based in Glasgow.
HVS CEO Jawad Khursheed: "Our mission to decarbonise heavy-duty transport in the UK has reached a major milestone with the help of the APC grant. The UK Government performed rigorous due diligence in selecting HVS to receive this grant – acknowledging that our advanced technology is a key innovation towards achieving zero-emission targets.
"We have successfully produced our first driving fuel cell technology demonstrator vehicle and are on track to deliver the UK's first-to-market hydrogen fuel cell-powered HGV. We have experienced rapid growth at HVS in as little as a year, now with this government support we will boost innovation, create thousands of UK-based jobs, and build upon our goal towards cleaner HGVs."
CNH Industrial – ATLAS
This £15.6 million project, supported by £7.8 million from Government, will develop the world's first liquid fugitive methane-powered, off-road, heavy tractor. Methane that would otherwise escape into the atmosphere from sources like livestock manure, can be a sustainable source of fuel in agricultural settings. CNH Industrial is based in Basildon, Essex.
CNH Industrial President Agriculture Derek Neilson:
"CNH Industrial is a recognised leader in the provision of clean energy for agricultural applications today. And we are committed to empowering farmers to become truly energy independent whilst simultaneously producing carbon negative fuel – which benefits society at large, both economically and environmentally. This funding will enable CNH Industrial, together with its consortium partners, to further develop agricultural machinery so that locally captured fugitive methane emissions can be used productively."
Constellium – CirConAl
CirConAl, which stands for Circular and Constant Aluminium, is a project aiming to redefine how industry manages scrap aluminium, to provide the auto industry with lower carbon and lower cost sources of recycled aluminium extrusion alloys. £5 million in Government funding is supporting this £10 million project. Constellium's UK base is in Slough.