Kuwait's Q8 and Maire Group Collaborate to Establish Rome's First Hydrogen Refueling Station
The Kuwait Petroleum International (Q8)
---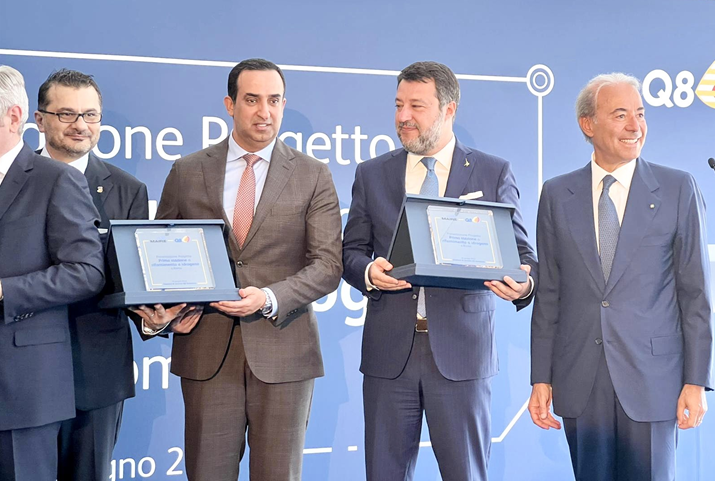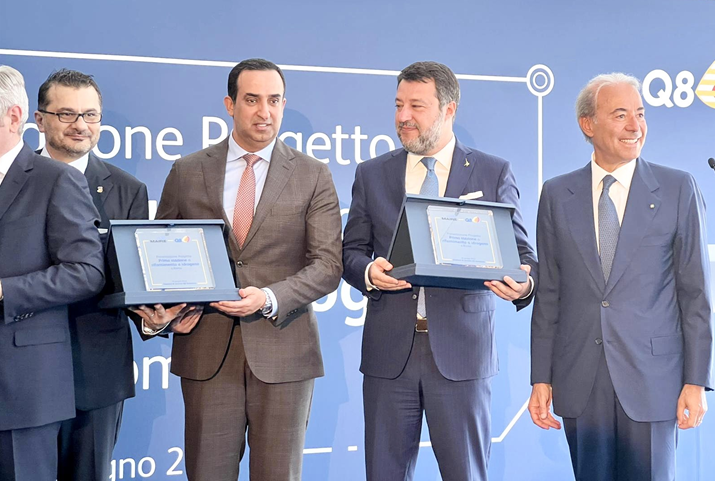 The Kuwait Petroleum International (Q8) announced on Monday the commencement of construction for Rome's first hydrogen refueling station. The company is collaborating with the specialized Maire Group for this venture.
Grand Unveiling
The announcement was made at an event attended by Q8's representatives in Italy, Italian government officials, and notable figures in the energy and transport industries.
Sustainability Vision
The project aligns with the Kuwait Petroleum Corporation (KPC)'s strategy to diversify its offerings and provide customers with clean, sustainable petroleum products from renewable raw materials.
A Sustainable Future
The introduction of hydrogen fuel at the station will convert it into an integrated hub supporting sustainable and low-emission mobility. The station will be a valuable addition to Q8's current services, which include conventional fuel, liquefied petroleum gas, methane, and electric car charging services, with hydrogen fuel set to be added by 2026.
Boosting Efficiency
The initiative will enable Q8 customers to travel about 100 kilometers using one kilogram of hydrogen fuel for small vehicles, reducing carbon dioxide emissions by more than 75% compared to conventional fuel.
Funding & Government Collaboration
The project, developed in partnership with the Italian government, forms part of Italy's national plan for economic recovery and resilience. This plan focuses on developing a sustainable mobility network by supporting renewable energy and hydrogen projects. The initiative is set to be funded equally by partners and the European Union's Fund for Future Generations.
Statements from Key Stakeholders
CEO of Kuwait Petroleum International, Eng. Shafi Al-Ajmi, said: "Italy is considered the most important European market for the company due to the volume of its operations there: over 2,800 fueling stations in addition to the Naples Depot and the Milazzo refinery". He added that the company will continue to implement KPC's approach to the energy transition for the year 2050, by supporting the global movement to reduce harmful gas emissions in all of its global operations.
Executive Director of Q8 Italy Eng. Fadhel Al-Faraj, noted: "Q8-Italy seeks to transform from a conventional fuel provider into a diversified energy company, within the framework of its energy transformation strategy." He highlighted the importance of sustainable products in meeting customer needs, preserving market share, and establishing a sustainable supply network for future vehicles in Italy.
Kuwaiti Ambassador to Italy Nasser Al-Qahtani applauded Q8's initiative, stating: "The adoption of this new pioneering step by Kuwait Petroleum International and its branch in Italy to contribute to the development of the Italian network for the transportation, storage and use of renewable products is directed towards transforming the vast Q8 network stations into an integrated center for renewable products with low emissions."
He also underlined the company's role in achieving the goals of environmental sustainability and the Italian and European policies for energy transition. He admired KPC's strategic goal of energy transition by 2050 to contribute to global efforts to reduce harmful emissions.
Source: The Kuwait Petroleum International (Q8)