China's First 10,000-Ton Green Hydrogen Refining Sinopec Kuqa Project Is Fully Put into Operation
---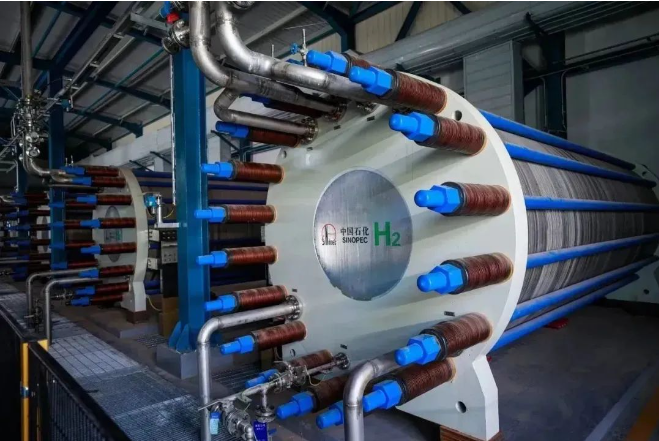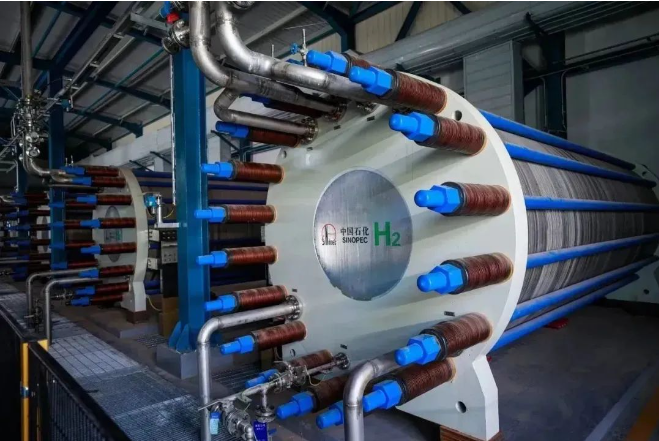 30th August, Kuqa, Xinjiang Province: Sinopec declared that the green hydrogen demonstration project, which is known as the largest photovoltaic (PV) power generation direct green hydrogen production demonstration project in China, has been fully finished and placed into operation.
Image:Longi
The project can produce green hydrogen at its maximum capacity after the accompanying PV power units are finished and connected to the grid. Sinopec's refinery company will receive the 20,000 tons of green hydrogen produced each year, which will replace natural gas in the refining process and enable the integration of cutting-edge oil processing and green hydrogen for low-carbon development. The project's full completion and operation mark a significant development in China's large-scale industrial use of green hydrogen.
The initiative uses photovoltaic power generation to directly manufacture green hydrogen using the plentiful solar energy resources in northwest China. The project successfully finished the entire process of green hydrogen production, transmission, and utilization on June 30th of this year with a hydrogen production capacity of 20,000 tons annually, a hydrogen storage capacity of 210,000 standard cubic meters, and a hydrogen transmission capacity of 28,000 standard cubic meters per hour. Following a competitive hiring process, some hydrogen manufacturing workshops have also successfully started producing hydrogen. Electrolyzer suppliers mainly include Longi Hydrogen, COCKERILL JINGLI HYDROGEN,PERICHTEC.
Longi Hydrogen Power contributed 16 sets of alkaline water electrolyzers, gas-liquid separation, and hydrogen purification equipment for the green hydrogen demonstration project after successfully winning the bid in May 2022 through collaboration and bidding.
An Important Step in Achieving the "Dual Carbon" Goals
With less greenhouse gas emissions during the production process, green hydrogen is directly created using renewable energy sources like solar and wind power. China has a large supply of renewable resources and great potential for producing green hydrogen. Future development potential are bright. The green hydrogen industry, which is a strategically important emerging sector based primarily on renewable energy sources like photovoltaics and wind power, can ensure all-encompassing green and low-carbon development in the areas of economy, society, environmental energy, etc., which is essential for achieving the "dual carbon" goals.
Establishing a New Route for Deep Decarbonization in the Chinese Chemical Industry
The shift to carbon neutrality in China's chemical sector is particularly difficult due to its significant carbon emissions and the difficulty of replacing energy and raw materials with electricity. Green hydrogen refining is seen as a key step in the chemical industry's transition to a green economy. The green hydrogen produced by the green hydrogen demonstration project, for instance, will replace natural gas for the production of hydrogen in the refining plant and will be used as the starting material for hydrogenation reactions, eventually entering oil products and achieving the greening of oil refining products. The project can reduce CO2 emissions by 485,000 tons annually, marking the first large-scale application of green hydrogen refining and demonstrating a major demonstrative effect on large-scale carbon reduction through the utilization of green hydrogen in refining enterprises.
Breakthrough Solutions to Challenges in Fluctuating Renewable Energy Electricity Scenarios and Flexible Hydrogen Production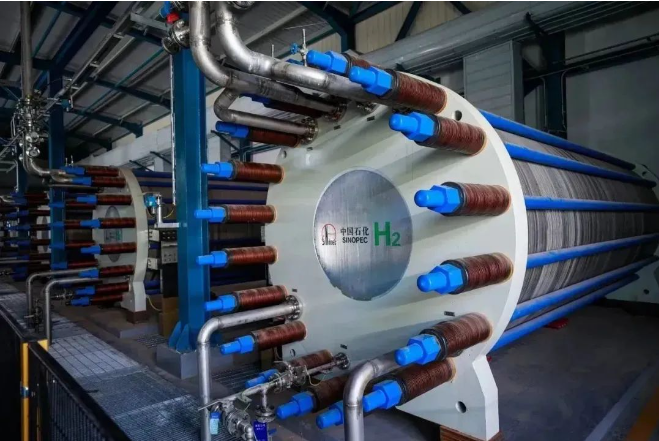 Image:Longi
As China's first large-scale green hydrogen project using green electricity for production, the project faces challenges in terms of new process technology, large scale, and a lack of mature engineering cases for reference. Through collaborative efforts and competitive selection, Sinopec has made breakthroughs in solving the challenging problems of flexible hydrogen production in fluctuating renewable energy scenarios and continuous stable supply to downstream refining companies. Additionally, the project has achieved innovative results in electrolytic water hydrogen production processes, engineering complete technology, green hydrogen storage and transportation technology, all of which have been industrially applied. The project has applied for more than 10 patents and proprietary technologies.
As a core equipment supplier, Longi Hydrogen Power has enhanced its technological research and development capabilities since participating in the green hydrogen demonstration project. This has led to comprehensive enhancements in product and solution development, technology research and development, and engineering delivery capabilities. The hydrogen production equipment factory located in Xi'an will be put into operation by the end of this year, and the capacity will be increased to 2.5GW. The company continuously strengthens its ability to meet the demands of the global hydrogen energy market. Its overall production capacity planning for 2025 is set at 5-10GW.
Longi Hydrogen Power positions itself as a provider of large-scale green hydrogen equipment and solutions, striving to create safe, reliable, and lowest Levelized Cost of Hydrogen (LCOH) water electrolysis hydrogen production equipment and green electricity-to-green hydrogen solutions. Longi Hydrogen Power will continue to drive product innovation through technology, safeguard long-term customer value, and promote the green, low-carbon transformation and high-quality development of energy.
Source: Longi Hydrogen