Temasek Poly Team Set to Race Model Car In Hydrogen Powered Rally In Las Vegas
---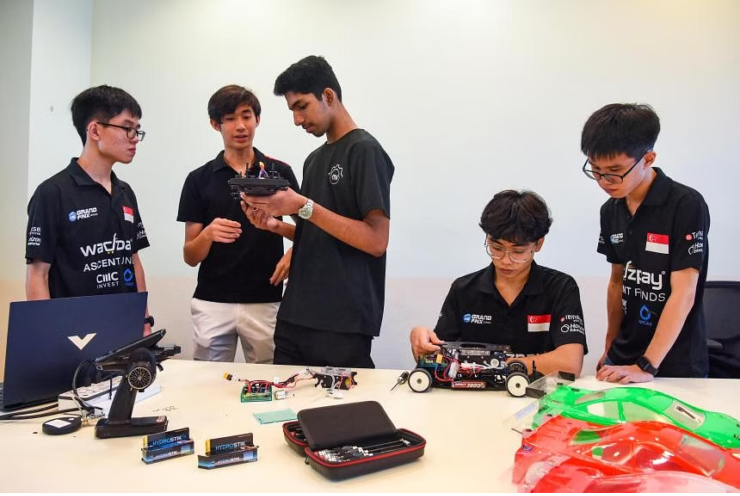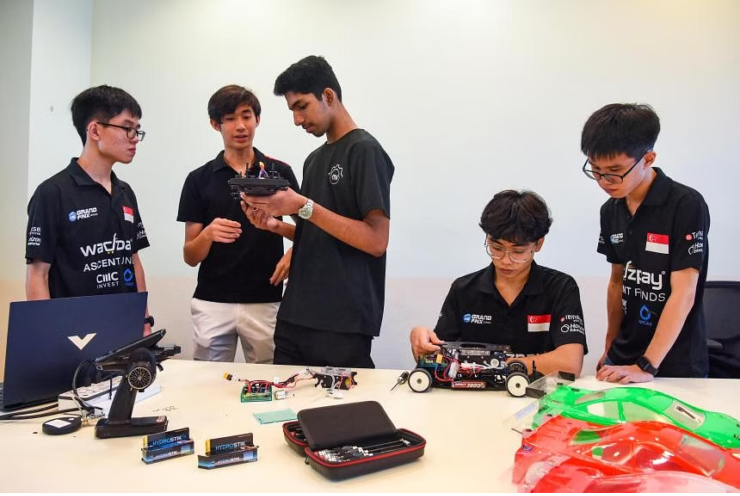 Temasek Poly team set to race model car in hydrogen powered rally in Las Vegas.
A team of Temasek Polytechnic students are gearing up for a car race that will ultimately go to the fast, furious and fuel-efficient.
Starting in May, the five first-year students retrofitted a radio-controlled car to run on hydrogen, as well as swopped out metal components for lightweight parts to reduce its weight, as they prepared to be Singapore's first representatives at the annual Horizon Hydrogen Grand Prix (H2GP) in Las Vegas.
A cleaner, scaled-down version of the Le Mans endurance race, this grand prix sees students below the age of 18 design, build and race their own remote-control cars – at speeds that can reach 100kmh – powered by miniature hydrogen fuel cell "batteries".
The race, to be held from Sept 11 to 14, will see the Temasek Poly team pit their engineering wits and remote-control driving skills against 27 other teams from 13 countries. The first race is a two-hour-long qualifying round. From there, 15 teams will advance to the finals, which entails a gruelling six-hour race.
Each team will be given a limited number of hydrogen batteries for each race, which means they have to design and race their car to maximise energy efficiency.
Each battery can power the car for about 20 minutes, before a pit stop is needed to switch out the batteries for new ones.
The annual competition, organised since 2015 by Prague-headquartered Horizon Educational, aims to inculcate an interest in renewable energy and hydrogen fuel cells among young people. It will be held in Singapore in 2024.
Hydrogen fuel cells produce electricity by combining hydrogen and oxygen, with water and small amounts of heat released in the process. As it does not produce any planet-warming carbon dioxide when burned, hydrogen is considered a cleaner fuel that is set to play a major role in Singapore's and many other countries' move towards net-zero emissions.
The team will need the right strategies to succeed in the endurance race, said Mr Wang Lei, a senior engineer with Temasek Polytechnic's Clean Energy Research Centre who has been coaching the students.
Mr Wang said:
For instance, we often have the tendency to accelerate rapidly at the beginning of the race.
"But starting off this way has a higher power consumption that would drain the car battery very quickly, which means more pit stops during the race to swop out the used batteries for new ones."
Instead, it is more important to accelerate moderately and maintain this consistency throughout the race.
Mr Lee Khim Yong, a senior lecturer with the poly's Digital Fabrication and Additive Manufacturing Centre who is also coaching the students, said that taking part in the race also helps to train the students' mental strength and tenacity.
Those who drive will need to be "very calm", take instructions well, and be able to read the situation on the ground very closely, said Mr Lee, who has a keen interest in remote-controlled cars.
The teachers had conducted sparring sessions between the students to observe how they reacted under stress and in different scenarios.
Mr Lee said:
For instance, if another team's car overtakes ours, they need to be able to stay focused on the race, and continue what they are doing without panicking.
Three students will take turns driving the car, while the other two will observe the race, communicate with the drivers and help with the pit stops.
This means that each student would have to understand the car and all its parts intimately, such as knowing when the battery is due for a swop, and must be able to complete the pit stop as quickly as possible, Mr Lee added.
Mr Wang put his confidence level in the Temasek team's victory at "90 per cent", adding: "Just a little bit more of training and we're almost there."
First-year mechatronics student Lee Yu Xiang, 17, said preparing for the competition has opened his eyes to how vehicles in Singapore could be powered by a myriad of other greener technologies such as hydrogen fuel cells. He hopes to delve deeper into this area as part of his further studies.
Horizon Educational's chief executive Kamil Jelinek said the grand prix was launched to help create a steady pipeline of talent in the growing hydrogen industry.
He noted that some past participants from the United States and Europe had gone on to pursue the technical skills needed to snag jobs in the industry.
Beyond that, some of the electrical and mechanical engineering skills and teamwork gleaned from this experience could also be applied to the larger renewable-energy sector, Mr Jelinek added.
"These students are the future clean-energy designers, engineers, lab technicians and inventors. Today you'll see them designing, engineering, constructing and racing their very own hydrogen-powered remote-controlled cars. Tomorrow they'll be building the electrolysers, fuel cells, solar panels and wind turbines that will power communities for decades to come," he added.
Mr David Wu, president and co-founder of venture capitalist platform Ascent Funds, helped secure the Temasek Poly team's participation in the H2GP, and will bring the race to Singapore. This will help "today's students and tomorrow's leaders" fully understand the "science, the power and the pragmatic use cases" for hydrogen, he said.
Source:HydrogenCentral