Angi Energy Systems Dispatches First Hydrogen Dispensers for Chart Industries All-new Transportable Refuelers
---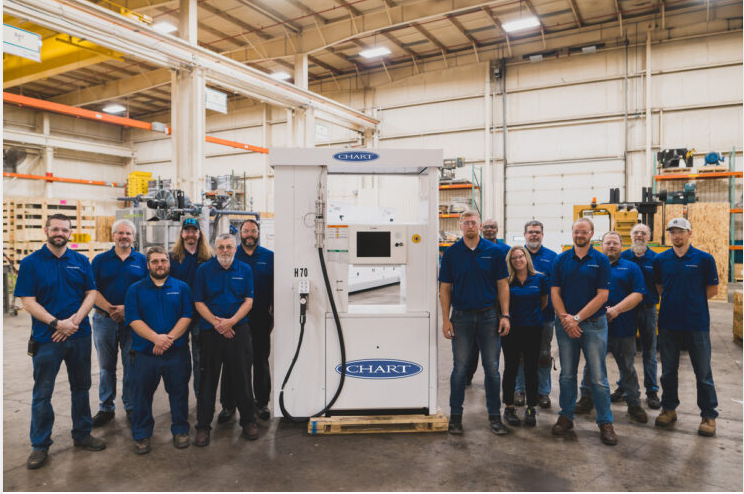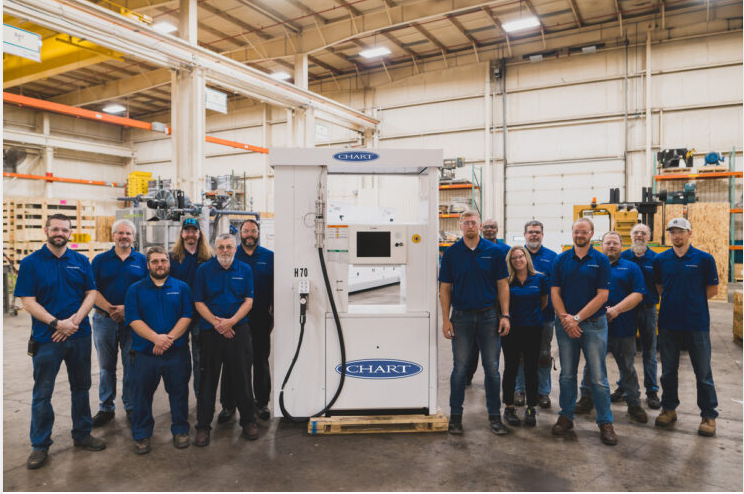 ANGI Energy Systems dispatches first hydrogen dispensers for chart industries all-new transportable refuelers.
ANGI Energy Systems, a Vontier (NYSE: VNT) business, has dispatched the first two of six state-of-the-art hydrogen dispensers from its headquarters in Janesville, Wisconsin.
Chart Industries, Inc., (NYSE: GTLS) a global leader in the design, engineering, and manufacturing of process technologies and equipment for gas and liquid molecule handling for the Nexus of Clean™ — clean power, clean water, clean food, and clean industrials, including hydrogen energy, will fit the dispensers within its first-of-a kind transportable fuel stations, which convert stored liquid hydrogen into high pressure gas, to offer a complete, deployable fuel solution delivering on existing customer orders.
Joel van Rensburg, President of Alternative Fuels at ANGI, said:
It's exciting to partner with Chart Industries on such an innovative and progressive project, designed to help overcome the industry's early infrastructure challenges and, vitally, help to stimulate heavy-duty hydrogen fuel cell electric vehicle adoption.
"Our collaboration with Chart, a world leader in hydrogen equipment, underscores the value in forging strategic partnerships at all levels and across the full hydrogen value chain."
Jill Evanko, CEO and President of Chart Industries, said:
Drawing off of our decades of experience in hydrogen, we are building a first-of-a-kind, fully integrated transportable and modular hydrogen fuel station for heavy-duty vehicles, providing a readily deployable fueling solution for customers with lower capital requirements.
"This transportable fuel station lowers the barrier to entry and is an ideal solution for small-to-medium sized fleets or for any immediate, interim, or permanent fueling needs. By partnering with companies like ANGI, who have decades of experience in compressed gas, we can deploy vital solutions sooner and meet the needs of fleets today."
According to most industry experts, hydrogen is better suited for heavy-duty commercial vehicles than battery electric power, due to the rapid refuelling time, their weight, payloads, and demanding duty cycles. Hydrogen fuel cell trucks and buses are currently being developed by most of the leading global truck manufacturers, with the Hydrogen Council reporting that more than 130 fuel cell electric vehicle (FCEV) models are expected to be assembled during 2023, of which the majority consists of commercial vehicles*.
ANGI Energy Systems is part of the Vontier group of companies and brings 40 years of experience in the design, manufacture and maintenance of full-site gaseous refueling solutions for clients worldwide. Supported by more than 150 years' experience in fuel dispenser design and quality engineering through sister company Gilbarco Veeder-Root, ANGI's hydrogen dispenser forms part of its complete Hydrogen Refueling Station (HRS) solution, encompassing hardware, software and services for safe, reliable and sustainable refueling of fuel cell electric (FCEV) vehicles.
About ANGI Energy Systems
ANGI Energy Systems LLC, is a U.S. based manufacturer of quality engineered gas compression equipment and a leading supplier of compressed natural gas (CNG) refuelling equipment and systems. ANGI has a longstanding reputation as a leader and innovator in both the Compression and Natural Gas Vehicle (NGV) Refuelling Station industries and has over 40 years of experience providing worldwide clients with high quality products and services.
In 2022 ANGI announced its alternative fuels offering of which hydrogen forms a key facet in delivering zero emission fuel to the heavy vehicle sector.
ANGI is a Vontier business and sits within Vontier's Alternative Energy and Sustainable Fleets platform, which is focused on providing innovative and sustainable solutions for optimizing and decarbonizing the fleet industry. Sister companies include Gasboy, Teletrac Navman, Driivz and Sparkion.
About Vontier
Vontier (NYSE: VNT) is a global industrial technology company uniting critical mobility and multi-energy technologies and solutions to meet the needs of a rapidly evolving, more connected mobility ecosystem.
Leveraging leading market positions, decades of domain expertise and unparalleled portfolio breadth, Vontier enables the way the world moves – delivering smart, safe and sustainable solutions to our customers and the planet. Vontier has a culture of continuous improvement built upon the foundation of the Vontier Business System and embraced by over 8,500 colleagues worldwide.
About Chart Industries

Chart Industries, Inc. is an independent global leader in the design, engineering, and manufacturing of process technologies and equipment for gas and liquid molecule handling for the Nexus of Clean™ – clean power, clean water, clean food, and clean industrials, regardless of molecule.
The company's unique product and solution portfolio across stationary and rotating equipment is used in every phase of the liquid gas supply chain, including engineering, service and repair and from installation to preventive maintenance and digital monitoring. Chart is a leading provider of technology, equipment and services related to liquefied natural gas, hydrogen, biogas and CO2 capture amongst other applications.
Chart is committed to excellence in environmental, social and corporate governance (ESG) issues both for its company as well as its customers. With 64 global manufacturing locations and over 50 service centers from the United States to Asia, Australia, India, Europe and South America, the company maintains accountability and transparency to its team members, suppliers, customers and communities.
Highlights:
ANGI Energy Systems (ANGI), a Vontier company, has dispatched the first two of six state-of-the-art hydrogen fuel dispensers to Chart Industries, Inc. (NYSE: GTLS) for their build of integrated hydrogen fuel station equipment.

ANGI dispensers are a key element in Chart's transportable and modular hydrogen vehicle fuel stations with the highest throughput for heavy-duty fuel cell vehicles.
ANGI ENERGY SYSTEMS DISPATCHES FIRST HYDROGEN DISPENSERS FOR CHART INDUSTRIES' ALL-NEW TRANSPORTABLE REFUELERS, JANESVILLE, WI, USA 06 SEPTEMBER 2023
Source:HydrogenCentral