NSW Green Hydrogen Startup Hysata Named Startup of The Year
---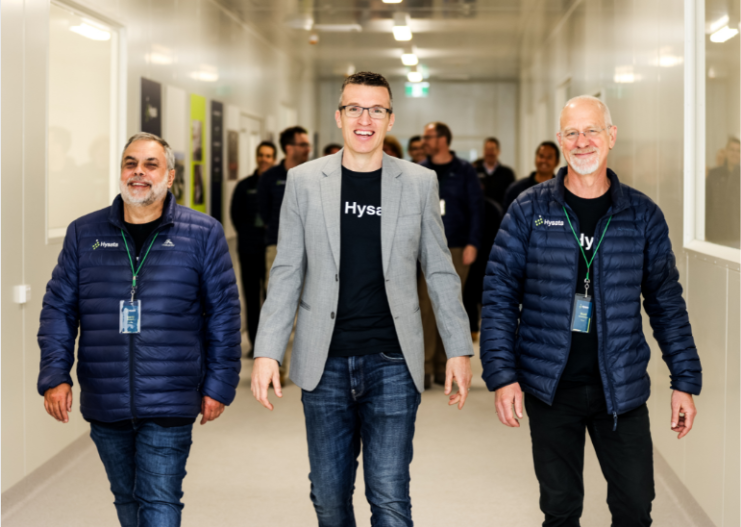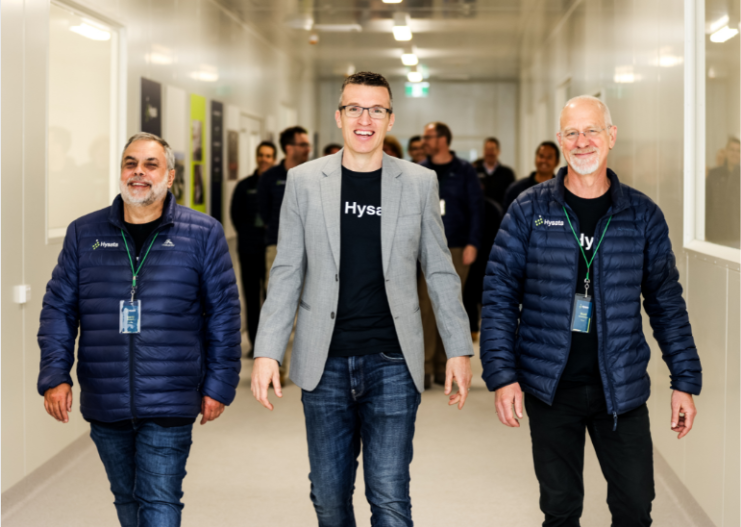 NSW green hydrogen startup Hysata named Startup of The Year.
Wollongong-based startup Hysata has been recognised for their ground-breaking mission to deliver the world's most efficient and low-cost green hydrogen, scooping up the 2023 Startup Daily Best in Tech Awards' Startup of The Year award, supported by 1835i.
The win comes hot on the heels of Hysata's recent $23.9 million cash injection from the Australian and Queensland governments to help pave the path to net zero.
In one of the night's most competitive categories, two-year-old Hysata came out on top at the 2023 Startup Daily Best in Tech Awards, edging out finalists, electric utility software Neara and metabolic health platform Vively.
The judging panel, including key industry figures across Australia's startup ecosystem, chose Hysata as Startup of The Year for its hydrogen creation technology to accelerate the world's transition from fossil fuels to renewable energy.
Founded in 2021 by tech entrepreneur Dr Paul Barrett, electrolysis expert Gerry Swiegers and renewables and partnerships expert Tom Campey, Hysata has designed a new kind of electrolyser, the component in an electrolysis cell used to split water into hydrogen and oxygen.
Dr Paul Barrett told Startup Daily said:
I think what separates Hysata from our competitors in green hydrogen is we've got really differentiated technology, really great market fit and really global market pull around that.
"And I've built a really outstanding, team to really deliver on this product."
Hysata's new kind of electrolyser is 20 per cent more efficient than existing technology. Combined with a simplified balance of plant (the supporting components needed to deliver the energy), the technology will make it faster, simpler and more affordable to transition to renewables.
The climate tech will make the biggest impact in sectors like steel, chemicals, high-grade heat and heavy transport.
"Our company mission is to accelerate the decarbonisation of the hard-to-abate sectors. These sectors account account for about 20 per cent of global emissions," Dr Barrett said.
"We want to have a major impact on those emissions… We're scaling our technology rapidly and looking to forward to delivering these product to customers around the world."
he company said just one of their 1 gigawatt plants will eliminate around 140 metric tonnes of CO2e (carbon dioxide equivalent) emissions over 25 years.
Winning Startup of The Year is a cherry on top of an enormous 12 months for Hysata. The business already has a 9.4 gigawatt pipeline of signed conditional orders and letters of intent.
In August 2022, their Series A funding round reached AUD$42.5 million, including support from Virescent Ventures, Kiko Ventures and IP Group Australia.
Flash forward a year, and Hysata recently opened a 8000m² factory in Port Kembla, south of Sydney, as it ramps up the commercialisation of its ultra-high efficiency electrolyser.
A commercialisation demonstration unit in Queensland is next up, thanks to Queensland government funding, as well as a Series B funding round.
Growing rapidly has enabled Hysata's workforce to swell to 50 skilled workers and counting. Hysata have also established a Global Advisory Council chaired by former Chief Scientist of Australia Dr Alan Finkel AC and former UK Minister for Energy and Clean Growth Claire O'Neill.
The team is expected to grow to 200+ over the next few years, with highly skilled roles in R&D, engineering and manufacturing on the way. With demand for hydrogen production set to escalate rapidly as a complement to renewable energy, Hysata hopes to scale up production of its electrolysers to meet that need.
"We're definitely a company all about impact," Paul said.
"We get out of bed every day to help accelerate the decarbonisation of those hard-to-abate sectors."
NSW green hydrogen startup Hysata named Startup of The Year, September 2023
Source:HydrogenCentral