Global hydrogen car sales continue to fall amid collapse in South Korean market, despite surge in China and US
---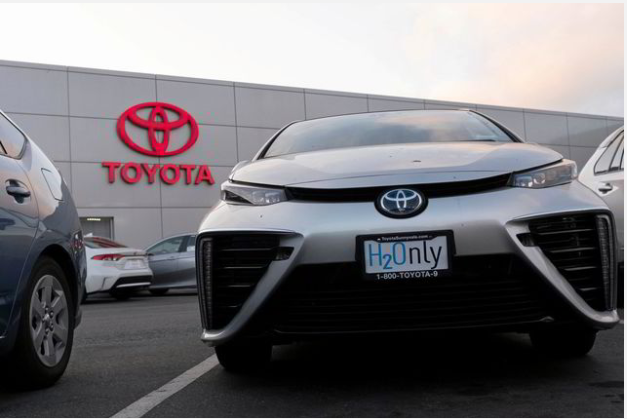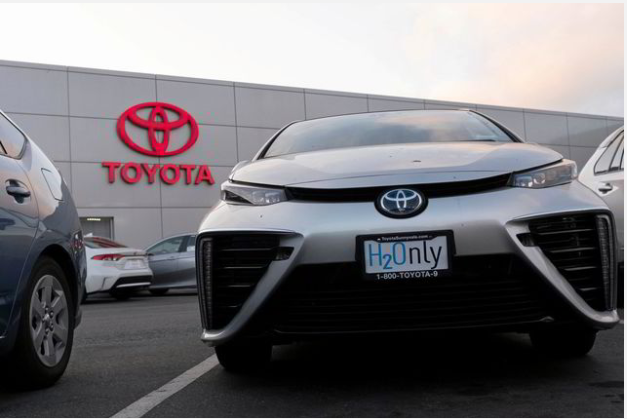 Sales for first seven months of 2023 are down 9.6% year on year, according to data from South Korea's SNE Research
Worldwide sales of hydrogen-powered fuel-cell electric vehicles (FCEVs) dropped 9.6% year-on-year over the first seven months of 2023, amid a downturn in their largest market, South Korea, according to Korean consultancy SNE Research.
While 5,534 FCEVs were sold between January and July 2022 in South Korea, this fell to 3,390 units over the same period this year.
While the South Korean government has doubled subsidies for fuel cell buses in its budget for next year, it has also cut support for passenger vehicles down from 360bn won ($271m) to 202.5bn won.
But hydrogen fuel price hikes over the summer and vehicle options limited to the Hyundai Nexo or the Toyota Mirai have resulted in consumer reluctance to purchase FCEVs despite this government support.
As such, it is likely that the 2023 budget will be underspent, which may have prompted the budget cut, which is equivalent to around 7,000 fewer vehicles supported.
The Japanese market for hydrogen-powered cars has also continued to collapse, falling 63.4% year on year to just 235 FCEVs sold in the first seven months of 2023.
However, China has seen sales grow to 3,073 hydrogen-powered vehicles from January to July, a 66.8% growth year-on-year.
Meanwhile, although only 943 FCEVs were sold in the US between January and April — a 24.8% decrease year on year — another 1,390 were sold in the following three months, pushing the market into a 21% year-on-year growth for the first seven months.
This has led to a more even split between sales in different markets. While in the first seven months of 2022, 52% of all FCEVs were sold in South Korea, this has fallen to 35.2%, while China has ballooned from 17.3% to 31.9% of the market and the US from 18.1% to 24.3% (see table).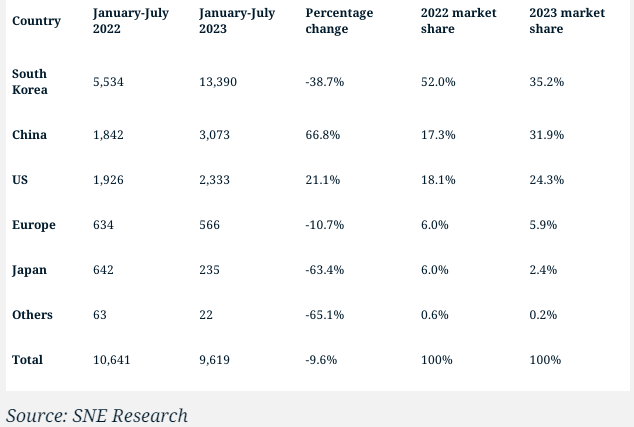 However, South Korea and Japan currently dominate FCEV manufacturing, representing more than 90% of the market for hydrogen-powered passenger cars, according to data from consultancy Wood Mackenzie shared with Hydrogen Insight.
But while South Korea's auto industry has to date geared its FCEVs towards the domestic market, which represents more than 90% of sales in 2022, Japanese companies have generally pushed their hydrogen-powered passenger cars for export, with the Toyota Mirai making up 75% of FCEVs sold in the US.
So could China's increasing share of demand for the vehicles lead to a major shift in supply?
"It is unlikely that FCEVs will disrupt existing market dynamics," a spokesperson for Wood Mackenzie tells Hydrogen Insight. "China are committed to BEV [battery-electric vehicle] manufacture but Chinese brands are not displacing traditional OEMs in Europe and US. It is unlikely that FCEVs will be any different.
"However, similar to BEVs, we do expect China to play a key role in fuel cell and vehicle component supply chains.
"Approximately a third of fuel cell-related suppliers are Chinese companies, while North America, South Korea and Europe are investing heavily in fuel cell manufacturing, especially in the heavy-duty sector."
Source:HydrogenInsight