SK ENERGY AND KHNP PARTNER ON ENERGY SUPER STATION AND HYDROGEN CONVERGENCE BUSINESS
---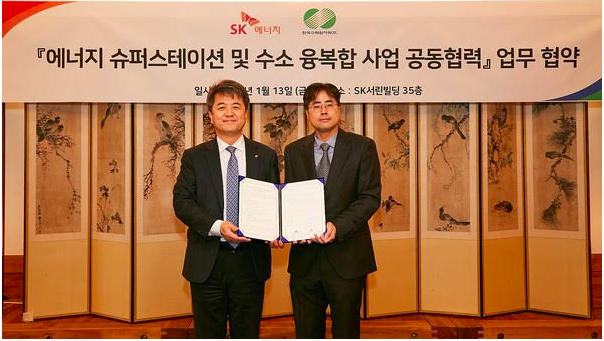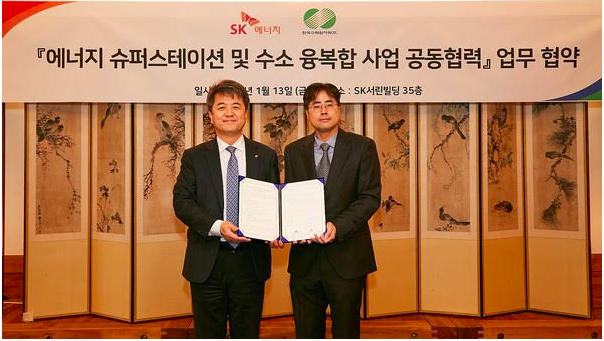 With Korea Hydro & Nuclear Power, SK Energy supports urban energy superstation and environmentally friendly hydrogen convergence business.
A memorandum of agreement (MOU) was signed between SK Energy and KHNP during a meeting that took place in the SK Seorin Building in Seoul's Jongno-gu neighborhood. With the installation of distributed energy sources like solar power, fuel cells, and electric vehicle chargers at existing gas stations and liquefied petroleum gas (LPG) charging stations, the Energy Super Station is a future vehicle charging infrastructure that directly produces environmentally friendly electricity and uses it to charge electric vehicles.
The two businesses intend to construct complicated energy superstations using vacant public and national lands as well as important consumer contact locations like SK Energy gas stations, LPG charging stations, and Netruck Houses.
After being granted a government-mandated sandbox demonstration exception, SK Energy has been producing electricity by installing fuel cells at two SK gas stations in Seoul, including Geumcheon-gu and Yangcheon-gu, since last year. Electric power can be utilized directly in electric vehicle chargers located at petrol stations in the future when pertinent legislation like the Electricity Business Act are updated.
Additionally, SK Energy intends to build a hydrogen refueling station based on the Trigen fuel cell system, which works with KHNP to simultaneously produce eco-friendly energy and hydrogen. The SK Energy NeTruck House, which has a high demand for hydrogen commercial vehicle charging, will be used as a test site for its installation, and SK Energy wants to gradually roll it out to bus garages and rest spots around the nation.