First Hydrogen Unveils Next General Zero Emission Vehicle
---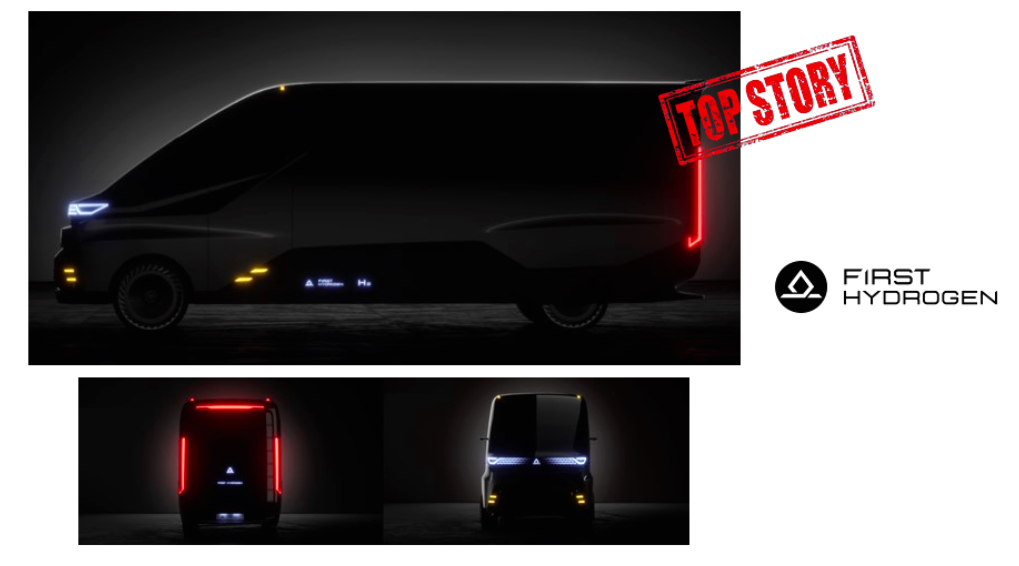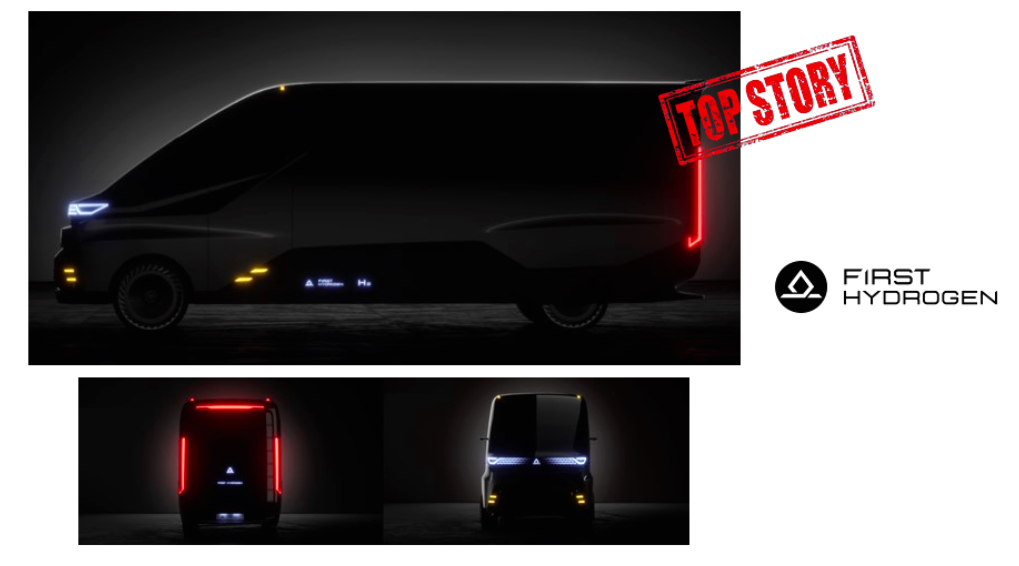 Vancouver, British Columbia – First Hydrogen Corp. (TSXV: FHYD) (OTC Pink: FHYDF) (FSE: FIT) ("FIRST HYDROGEN" or the "Company") is pleased to unveil new images of the Company's next generation vehicle. First Hydrogen is working in collaboration with global mobility engineers, EDAG Group, to design the second generation of light commercial vehicles (LCV).
The Generation II concepts have been developed following the success of First Hydrogen's Generation I fuel cell electric vehicles (FCEV), which are currently undergoing mileage accumulation and testing. The Company's two Generation I LCVs were launched in 2022 as technical proof of concept and are attracting interest from major fleet operators. Members of the UK Aggregated Hydrogen Freight Consortium (AHFC), including national supermarket brands, roadside assistance providers, utility companies and parcel delivery operators, are undertaking operational trials this year.
The global light commercial vehicle market is projected to reach USD 751.86 billion by 2030, increasing at a compound annual growth rate of 5.1% during the forecast period (2022-2030). As well as advances and investment in energy and automotive development from entrepreneurial forward-looking businesses such as First Hydrogen, growth will be fuelled by zero emission targets, government incentive schemes and infrastructure investment. First Hydrogen is targeting the commercial van market and LCV sector to support fleet transition to zero emission transport.
Steve Gill, CEO of Automotive for First Hydrogen, says: "We are looking to create a recognisable, functional, and future-forward vehicle suited to commercial operation. These images present our vision of First Hydrogen's next generation of zero emission vehicles and show our future customers and investors where our brand is heading. The sleek lines and clean silhouette are practical for fleet use and the design cleverly incorporates our recognisable First Hydrogen branding, reflecting our ambitions to lead the LCV market in zero emission."
Bernat Costa, Design Director at EDAG Spain, comments: "Clean energy is at the heart of First Hydrogen's ethos, which has inspired the pure and aerodynamic form for the Generation II vehicle series. These concept designs reveal our intentions to develop a vehicle that is functional and flexible. The illuminated silhouette reveals a modern aesthetic that will have longevity in the commercial automotive market."
The latest images present the van in silhouette, revealing the clean, aerodynamic design. The visuals show First Hydrogen's signature daytime running lights and vertical tail lights, which ensure visibility in urban landscapes and provide the vehicle with a recognisable identity. The scalable design has been optimised for flexible-use large panel vans suited to fleets operating in the delivery, roadside assistance, grocery, construction & utilities and healthcare sectors.
About First Hydrogen Corp. (FirstHydrogen.com)
First Hydrogen Corp. is a Vancouver and London UK-based company focused on zero-emission vehicles, green hydrogen production and distribution and supercritical carbon dioxide extractor systems. The Company is designing and building hydrogen-fuel-cell-powered light commercial demonstrator vehicles ("LCV") under two agreements with AVL Powertrain and Ballard Power Systems Inc. The LCV will have a range of 500+ kilometres. At the same time, the company has launched its bespoke vehicle design phase which will develop its fleet of proprietary zero-emission vehicles. First Hydrogen is also developing refueling capability working with FEV Consulting GmbH, the automotive consultancy of FEV Group of Aachen Germany. The Company is also pursuing opportunities in green hydrogen production and distribution in the UK, EU and North America.
About EDAG Group (EDAG.com)
EDAG Group is the world's largest independent engineering service provider to the global mobility industry. We regard mobility as a fully integrated ecosystem, and offer our customers technological solutions for more sustainable, emission-free and intelligently networked mobility. With a global network of some 60 branches, EDAG Group provides engineering services in the Vehicle Engineering, Electrics/Electronics and Production Solutions segments.
With our interdisciplinary expertise in the fields of software and digitalization, we possess the key skills to help actively shape the dynamic transformation process the mobility industry is currently undergoing. Digital features, autonomous driving, artificial intelligence, alternative powertrains, new mobility concepts and the vision of a networked smart city have become an integral part of our portfolio. Embedded in EDAG's own 360° degree approach to the development of complete vehicles and production facilities, we are a competent partner for sustainable mobility projects. It is in the DNA of the company to actively shape the future of mobility and transfer new technologies and concepts into series production. Today, EDAG is one of the TOP 20 IT service providers in the German mobility sector.
Our customers include leading international OEMs, tier 1 suppliers and startup companies from the automotive and non-automotive industries, all of whom we serve globally with our workforce of approximately 8,000 experts in 360-degree engineering.