FuelCell Energy to Collaborate with MHB to Deliver Solid Oxide Electrolyzers for Large-Scale Green Hydrogen Production
---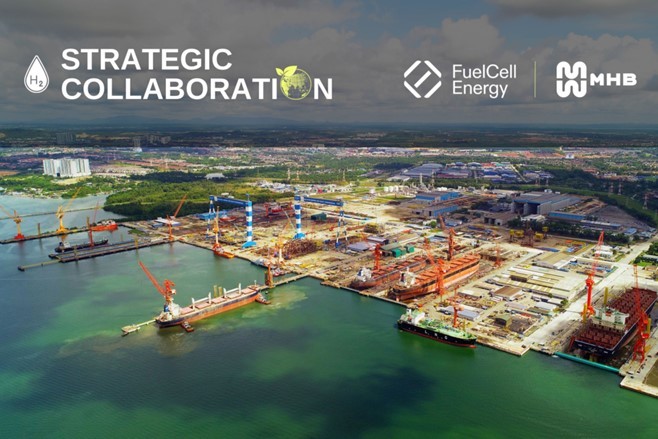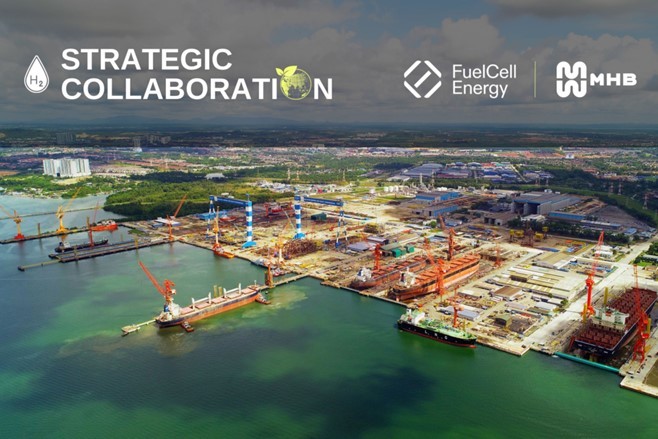 FuelCell Energy, Inc., (Nasdaq: FCEL) and Malaysia Marine and Heavy Engineering Sdn Bhd (MMHE), a wholly owned subsidiary of Malaysia Marine and Heavy Engineering Holdings Berhad (KLSE: MHB), have signed a memorandum of understanding to collaborate on the development of large-scale electrolyzer facilities in Asia, New Zealand and Australia.
These facilities are being designed to dramatically increase the efficiency and reduce the cost of green hydrogen* production. Together, the companies expect to deliver electrolyzer equipment to make large-scale clean hydrogen production an easily accessible and viable energy option.
The collaboration aims to address the two most significant challenges in the production of green hydrogen, namely the cost of input electricity and the capital cost of the production facility. Due to its efficiency in producing hydrogen, FuelCell Energy's solid oxide technology requires less energy input compared to lower efficiency and low-temperature electrolysis.
On the other hand, MHB's ability to modularize and build at scale is expected to reduce the total capital cost for large-scale electrolyzer projects. The joint solution is expected to produce zero-carbon hydrogen to power hundreds of thousands of homes from each production facility.
Mark Feasel, Chief Commercial Officer, FuelCell Energy, said:
We recently announced that we are accepting orders for our solid oxide electrolyzer platform, the result of 20 years of R&D and testing.
"This collaboration with MHB is the next significant milestone, as we prepare to offer green hydrogen production for energy at a very large scale and lower cost."
"We are excited about this collaboration and look forward to working together to help decarbonize the globe."
Pandai Othman, Managing Director & Chief Executive Officer, MHB, said:
MHB is committed to accelerate in doing our part to provide cleaner solutions to our clients.
"In addition to our involvement in carbon capture and storage space, we recognize that hydrogen also increasingly plays an important role in energy transition and decarbonization. MHB is extremely pleased to be a go-to-market partner to FuelCell Energy to provide a solution in expediting the production of hydrogen-fueled clean energy. This MoU is part of MHB's deliberate move to build a sustainable portfolio supporting the transition to a low-carbon future through collaboration with technology partners."
"We are optimistic that both companies will empower global industries in their goals to achieve net-zero emission targets."
*Note:
Green hydrogen is produced by using electricity from renewables to split water through a chemical process called electrolysis.
The FuelCell Energy solid oxide electrolyzer is:
Efficient: Capable of producing hydrogen with the greatest known efficiency (100% when excess heat is made available), requiring less electricity to produce hydrogen.
Reliable: Ability to ramp up and down to complement hydrogen demand and availability of renewables, while maintaining high electrical efficiency.
Modular: Quiet and sleek in its design, enabling co-location with energy sources in almost any location. For example, one module supporting a fueling station is expected to produce 600 kg of hydrogen per day.
Scalable: The 1 MW unit will fit in the footprint of two standard shipping containers and can be replicated for multi-megawatt installations. Larger scale installations (up to gigawatt scale) will feature consolidated balance of plant equipment to reduce the footprint and cost. The module design can be rack- mounted, further reducing the space required to deploy gigawatt scale installations.
Flexible: Designed load ramp-up of 10% per minute, going from standby to full load in ten minutes. This will let customers easily shift power supplies to the fuel cells from renewable resources like wind or solar, or simply adjust to changing consumer demand throughout the day.
Source: Hydrogen Central