Six years after faking a working prototype, Nikola should finally deliver its first hydrogen trucks in 2023
---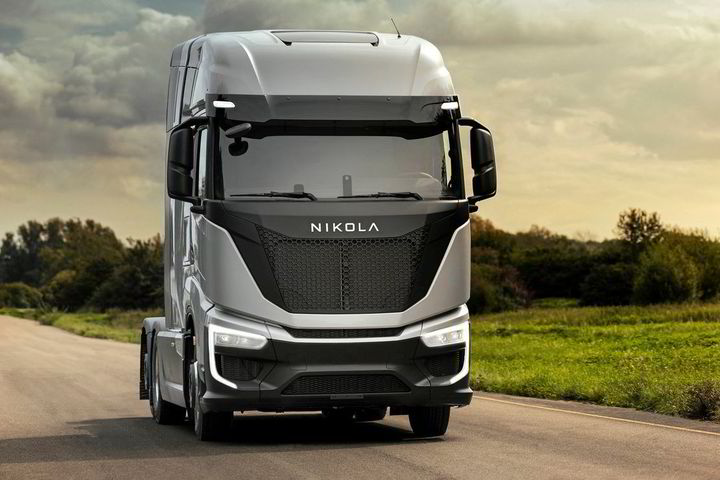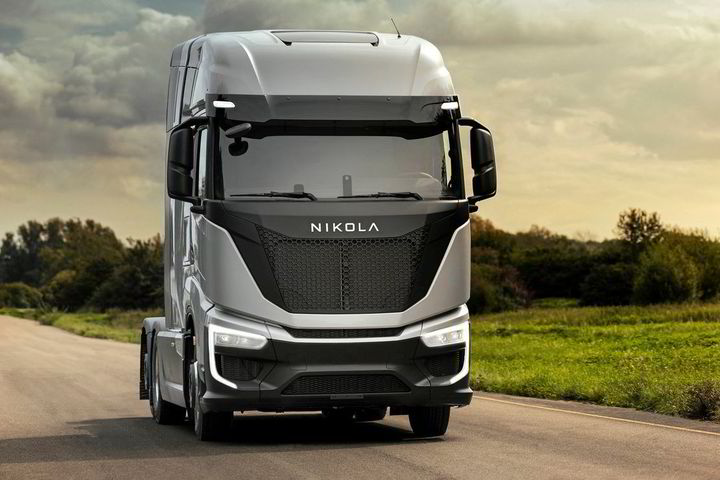 The US-based company, which has seen its former CEO convicted of fraud, is now marketing its fuel-cell truck as 'All science. No fiction'

Following almost two years of plunging share prices, a $125m settlement with US financial authorities, and a fraud conviction of its founder and former CEO Trevor Milton, 2023 should be the year when auto manufacturer Nikola sells and delivers its first hydrogen trucks — as the company first announced it would back in 2016.

Now, the Phoenix-based company is marketing its Nikola Tre fuel cell truck model as "All science. No fiction", while preparing its first H2 units to hit the market.

Here is what we know — and don't know — about Nikola's current progress and predictions for hydrogen trucks ahead of the company's earnings results, which are due to be presented on 23 February:
Commercial deliveries of Nikola's very first fuel cell trucks are scheduled for the last six months of 2023 in the US, according to the company's quarterly results presentation in November 2022.
In Europe, deliveries are scheduled for the first six months of 2024.
The fuel cell truck in question is the Nikola Tre FCEV, which the company says has a range of 500 miles (around 800 km), which is superior to current electric-battery trucks — including Nikola's own models — and a refueling time of 20 minutes or less.
Nikola started producing the beta versions of the Tre last autumn, improving water management in the fuel cell systems, after winter-testing the previous version, and improving the range and efficiency, according to company CEO Michael Lohscheller.
How many Nikola Tre hydrogen trucks are planned to be delivered during 2023? That is still unclear. During the last quarter of the year, 15 trucks are scheduled to be delivered to California-based warehouse and logistics company BiagiBros. These vehicles are part of an order of up to 800 trucks brewery Anheuser Busch placed back in 2018, of which few new details have emerged.

Nikola started delivering its battery-electric Tre truck to customers during the last six months of 2022, meaning the company has started making revenue. The number of trucks delivered to customers so far will probably be revealed in the company's upcoming earnings release on 23 February.

Nikola is also planning to produce hydrogen fuel, to be sold from its own filling stations. Lately, the company has been announcing several steps to show off its fuel and infrastructure ambitions:
In January, Nikola threw a big launch event for its new brand Hyla, encompassing Nikola's future hydrogen fuel production and distribution business, saying it is develop access of up to 300 tonnes of hydrogen per day, supported by strategic partnerships.
The truck maker also announced it would partner with Australia's Fortescue Future Industries to develop renewable hydrogen projects for Nikola's refueling stations.
In December, Nikola announced a strategic collaboration with US electrolyser manufacturer and green hydrogen developer Plug Power, where Plug committed to purchase "up to" 75 Nikola fuel-cell electric vehicles for Plug's H2 deliveries, and to supply the automaker with a minimum of 100 tonnes of hydrogen per day.

Pick-up truck scrapped entirely

Nikola's much-hyped pick-up truck, the Badger, first announced in February 2020, has been dropped entirely.

The light fuel-cell truck was set to have a range of 600 miles — 300 miles with an 8kg hydrogen capacity and 300 miles of battery capacity — and the details are still available on Nikola's website. But the company revealed in an earnings call with investors and analysts last November that its Badger plans have been scrapped.

"Understandably, there is much confusion around the Badger, since we never formally announced that we would be dropping it," said Lohscheller in the earnings call.

"To make it clear here, we are no longer developing the Badger because our commercial truck and energy infrastructure business is our strategic focus. As an early-stage growth company, we cannot divert capital to the Badger, a light truck that aligns more with passenger vehicles."

The company had been quiet about the Badger model since General Motors announced in November 2020 that it would no longer be co-operating with Nikola on the construction of the vehicle, as previously announced — a step that made Nikola refund deposits to customers that had pre-ordered the vehicle.

Nikola has been through turbulent times in recent years, with former CEO Trevor Milton found guilty of securities fraud last October after lying to investors.

Under his leadership, the company announced in August 2016 that it would be building a hydrogen fuel-cell truck, showing off a prototype in December 2016 at a massive launch event that later became infamous and a key part of the fraud case against Milton. A video that seemingly showed the prototype driving along a road, was merely showing it rolling down hills without any force of its own, as Nikola later admitted.

The company began listing its shares on the Nasdaq stock exchange in June 2020, and at one point it was worth more than US auto giant Ford, with a share price of $65.90. But a report in October 2020 by short-seller outfit Hindenburg Research revealed "an ocean of lies" at the company, sending its stock plunging. The share price has steadily fallen since then, to an all-time low of $2.11 in December 2022 — a 97% fall.

Hindenburg Research hit the headlines again in January, when it accused the Indian industrial conglomerate Adani Group — which had announced ambitious plans in green hydrogen — of "brazen fraud" and "the largest con in corporate history".
Source:Nikola