'Engine room in a box' | Technology that can convert any ship to run on hydrogen gets initial approval
---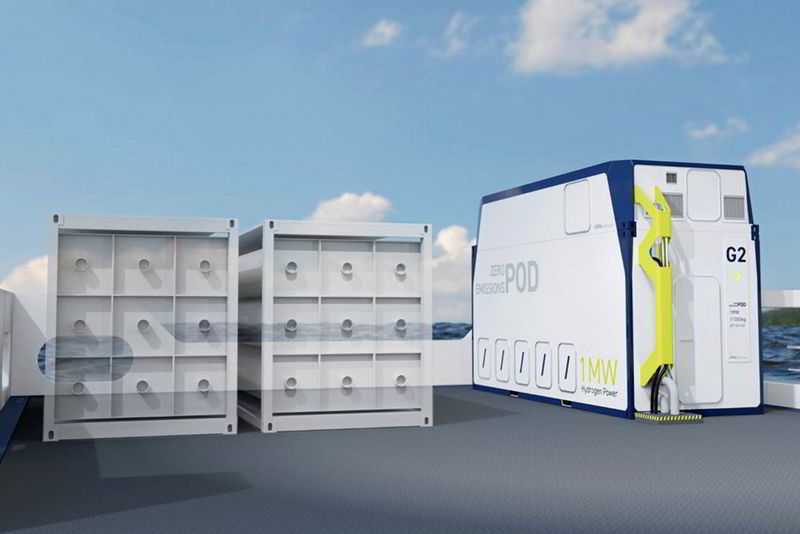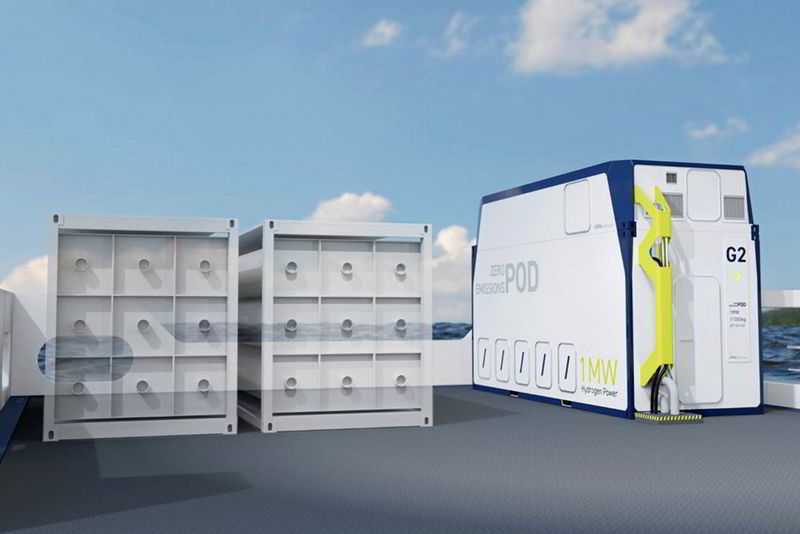 Hav Hydrogen's Pod is designed as an on-deck drop-in solution, but will require a lot of further space for H2 storage, company boss tells Hydrogen Insight
A modular hydrogen fuel-cell "engine room" that can be retrofitted to the decks of ships has been given initial approval by classification society DNV, potentially opening the door for the faster uptake of green H2 as a fuel in the maritime sector.
Norwegian company Hav Hydrogen's 1MW Zero Emission Pod H2 Container, which has the same footprint as a typical 20ft (six-metre) shipping container, offers a drop-in zero-carbon-fuelling solution for ship owners that would be magnitudes cheaper than building a hydrogen-powered vessel from scratch — and a lot quicker.
Using an area of the deck to house an engine room — and additional space for hydrogen storage — instead of paying cargo will hit vessel operators' pockets, but Hav managing director Kristian Osnes tells Hydrogen Insight said that many shipping companies are prepared to accept that penalty.
"You wouldn't install hydrogen on a ship unless you saw a need to cut emissions," he says. "So it's a trade-off between emissions and costs."
Hav is targeting operators of short sea and inland cargo vessels as potential customers, as well as passenger ferries and, in the longer term, offshore wind farm operators.
The system is modular and can be scaled up or down in units of 200kW, which could in theory enable bigger systems and longer journeys, but that may require a switch to liquid hydrogen, Osnes says, which contains more energy by volume than compressed H2.
But liquefied hydrogen requires storage at temperatures below minus 253°C, making it difficult to handle and store at sea, as well as extra costs for liquefaction.
The pod system — which received Approval in Principle (AiP) status from DNV, meaning the design is feasible, safe and meets the relevant standards of the International Maritime Organisation — can be used for auxiliary power or propulsion.
Osnes tells Hydrogen Insight he believes it will initially be used primarily for power applications, but it will ultimately propel vessels.
"There will be various combinations, with hybrid [conventional fuel and hydrogen fuel cell] solutions at first," he says. "Then mostly auxiliary power and a little bit of propulsion, and then finally all propulsion."
The system can also be integrated in new-builds, which would "de-risk" the technology for shipyards, Osnes adds, many of which are only recently getting to grips with alternative fuels and ship designs, .
Hav will begin construction of the units later this year, targeting full approval from DNV for the manufactured product, and aiming to make the first deliveries in 2025, by which time Osnes believes that supplies of green hydrogen will be readily available in Europe.
But the design does not include H2 storage tanks, which will have to be developed and approved separately, Osnes tells Hydrogen Insight.
Storage requirements will depend on the ship and the size of the system, but Osnes estimated that operating a 1MW system for 15 hours will require two additional 20-foot conainers of compressed hydrogen.
The AiP announcement comes against a backdrop of furious debate about whether green hydrogen would be an efficient fuel to use for propulsion, given its low volumetric energy density, the amount of renewable power required to produce and compress or liquefy it, and the energy lost converting H2 back to electricity in a fuel cell. Battery systems could be a more energy-efficient solutions for the kinds of short journeys being targeted by Hav.
In fact, DNV, in a recent forecast, suggested that pure H2 will play barely any role in the shipping industry's 2050 fuel mix, although hydrogen derivatives such as ammonia and methanol are far more likely to gain market share due to their greater volumetric energy density. Shipping giant Maersk is already investing in methanol propulsion technology, and is also considering using ammonia in the future.
Source:HydrogenInsight