Chart Industries Completes the Acquisition of Howden
---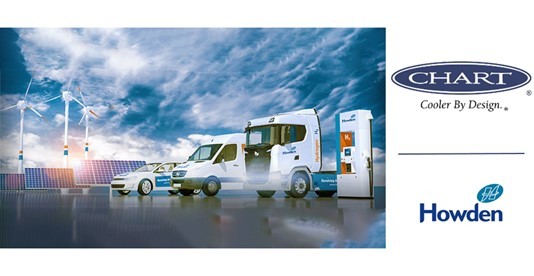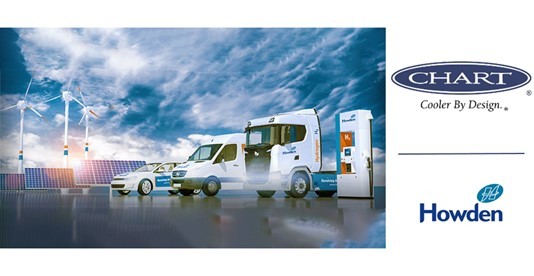 ATLANTA — Chart Industries, Inc. (NYSE: GTLS) ("Chart"), a global leader in engineering and manufacturing of process technology and equipment for industrial gas, specialty and energy transition markets, has completed its acquisition of Howden, a leading global provider of mission critical air and gas handling products and services, from affiliates of KPS Capital Partners, LP ("KPS").
The strategic combination of Chart and Howden expands our offering of products and solutions across the Nexus of Clean™ — clean power, clean water, clean food and clean industrials. The combination also provides access to new specialty products and ESG-linked end markets such as nuclear, energy recovery and electrification. The complementary nature of the equipment and solution portfolios results in a differentiated offering across stationary and rotating equipment and is further differentiated by the additional 750 Howden engineers coming with the acquisition, doubling our global engineering team to over 1,500.
Chart paid a purchase price of approximately $4.4 billion in cash, before customary purchase price adjustments. Chart funded the purchase price and the payment of acquisition-related expenses through a combination of cash on hand, the proceeds from previously consummated debt and equity financings and the proceeds from a tranche of term loans that closed concurrently with the acquisition. As a result of Chart's cash on hand and the debt and equity financings, the purchase price was paid solely in cash and no preferred stock was issued (to KPS or otherwise).
"We are excited to welcome the Howden team to the Chart family and look forward to the combined business executing on record momentum and well-defined synergies," stated Jill Evanko, CEO and President of Chart. "Since we announced the combination in November 2022, Chart has received numerous inbounds from customers that see the combined benefits we can offer."
Through the acquisition of Howden, Chart has gained immediate access to new customers and commercial opportunities, increasing our geographic footprint to over 35 countries. This geographic footprint allows for increased commercial and manufacturing capabilities as well as the ability to bid on projects regionally that were not previously accessible. As a result, Chart is on track to meet or exceed its previously announced targets for $175 million of annualized cost synergies and $150 million of commercial synergies in the first 12 months of ownership.
Aftermarket, service and repair will represent approximately 30% of the combined organization with approximately 42% gross margin as a percent of sales. The increased global reach, coupled with two large existing installed bases, will result in less business cyclicality. We will also leverage Howden's digital offerings of Uptime and Ventsim across our global installed base.
The new Chart executive management team will include a balance of Chart and legacy Howden executives. We will continue to operate under our "One Chart" commercial and engineering structures, further allowing us to leverage our full solution set across our diverse end markets.
Both companies continue to see strong demand in the first quarter 2023. Chart's orders quarter-to-date through March 15, 2023 are above $520 million.
Gross order intake for Howden in the fourth quarter 2022 was $534 million, a new record high, and for the full year the gross order intake was $2,064 million. Notable is the continued strength in the area of renewable hydrogen with orders up 47% for the full year. Backlog as of December 31, 2022 for Howden was $1.3 billion.
Potential Divestitures
As previously disclosed, Chart is pursuing the divestitures of two product lines related to the combined business. While there can be no assurances we will complete these divestitures, we are progressing with discussions with potential buyers. We anticipate progressing to completion either in the second quarter 2023 or early third quarter 2023.
Full Year 2023 Guidance
Chart is providing the following update to 2023 calendar year guidance based on approximately nine months of ownership for Howden. Therefore, our 2023 calendar year outlook includes a full year of Chart (with respect to which our prior outlook is reiterated), and approximately nine months of Howden ownership and related cost synergies. Specifics can be found in the supplemental presentation released this morning in conjunction with this press release.