Plug Now Offering Turnkey Hydrogen Fuel Cell Solution That Delivers Savings Over Batteries for Forklift Fleets of 100 or Fewer
---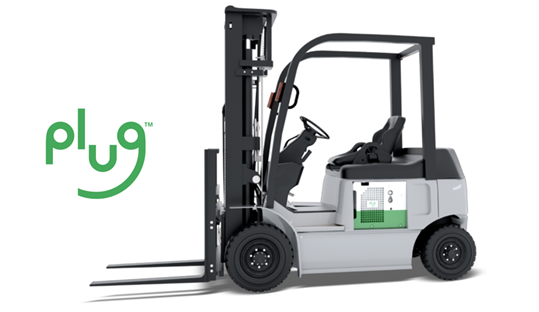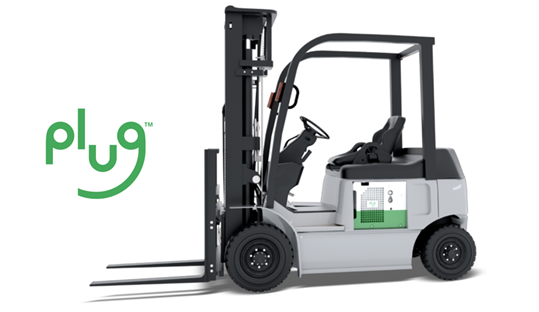 The expanded GenKey offering, which includes low-cost green hydrogen and innovative fuel delivery and storage, allows more customers to benefit from hydrogen and fuel cells.
LATHAM, N.Y. — Plug Power Inc. (NASDAQ: PLUG), a leading provider of turnkey hydrogen solutions for the global green hydrogen economy, announced today it has expanded its GenKey offering to enable fuel cell adoption for warehouses that operate fewer than 100 electric forklifts. For the first time, this segment of the forklift market, representing more than 25% of all forklifts sold in the U.S., will have access to cost-effective hydrogen fuel cells and the increased productivity they unlock.
Plug is removing the barriers that fleets with 40 to 100 forklifts have previously seen, including capital, labor, space constraints and the challenges associated with hydrogen fuel sourcing and delivery. Customers that operate fewer than 100 electric forklifts can easily adopt hydrogen fuel cells, while increasing productivity, reducing space and carbon emissions. Plug's solutions are incentivized by the Inflation Reduction Act, which has significantly lowered the cost of green hydrogen. Fuel cells also benefit from federal tax credits.
"Building on our experience in creating the first commercially-viable market for fuel cells, Plug is proud to be leading the industry in making green hydrogen adoption easy for a wider set of customers," said Jose Luis Crespo, General Manager of Fuel Cell Applications and Global Accounts. "With Plug's expanded GenKey offering, customers with fewer than 100 forklifts at a warehouse facility will now have the option to transition to fuel cells, and a much more affordable, reliable and sustainable source of fuel to meet their business goals. Our turnkey expanded GenKey offering is making the adoption of hydrogen easy for the material handling industry, allowing more businesses to benefit from increased productivity, lower costs and more flexibility."
In addition to Plug's market-tested fuel cell solution, with more than 1 billion hours of operation, the new offering includes main benefits:
Low-cost green hydrogen supply from Plug's hydrogen production plants: Plug's extensive manufacturing, production and delivery capabilities provide easy access to green hydrogen from renewable sources. This ensures sustainability benefits and savings, while lowering dependence on batteries and the power grid, which has seen power price increases and carries significant carbon emissions.
Modular, more flexible hydrogen storage solution: Space efficient, easy-to-install and permit, and relocatable, Plug's modular solution is designed with space constraints in mind, enabling quicker approvals from property owners.
Freedom from the grid: Powering forklifts with fuel cells in a facility reduces the need to use electricity from the utility, or frees up electricity for other applications.
Plug's fuel cells offer significant cost savings compared to battery alternatives. Customers can save upwards of $260,000 and as high as $1 million per year when compared to batteries. Orders for this offering are being accepted now with deliveries expected in the fourth quarter of 2023 for U.S. customers. Plug will soon have a similar offering for the European market.
To learn more, visit Plug at Booth S4559 at ProMat 2023, where a 3D model of the fuel cell, hydrogen dispenser with simulated refueling, and an interactive application highlighting Plug's green hydrogen turnkey solutions will be on display. Additionally, Plug's Vice President of Sales, Tim Terrill, will present "The Future is Here: Elevate Your Warehouse Fleet Performance with Green Hydrogen Fuel Cells" at 3 p.m. CT Tuesday, March 21 in Theater C.
About Plug
Plug is building an end-to-end green hydrogen ecosystem, from production, storage and delivery to energy generation, to help its customers meet their business goals and decarbonize the economy. In creating the first commercially viable market for hydrogen fuel cell technology, the company has deployed more than 60,000 fuel cell systems and over 200 fueling stations, more than anyone else in the world, and is the largest buyer of liquid hydrogen. With plans to build and operate a green hydrogen highway across North America and Europe, Plug is building a state-of-the-art Gigafactory to produce electrolyzers and fuel cells and multiple green hydrogen production plants that will yield 500 tons of liquid green hydrogen daily by 2025. Plug will deliver its green hydrogen solutions directly to its customers and through joint venture partners into multiple environments, including material handling, e-mobility, power generation, and industrial applications. For more information, visit www.plugpower.com.
Source:FuelCellsWorks