Doosan Fuel Cell Develops a Hydrogen Fuel Cell Business Model Using Biogas With Kolon Global
---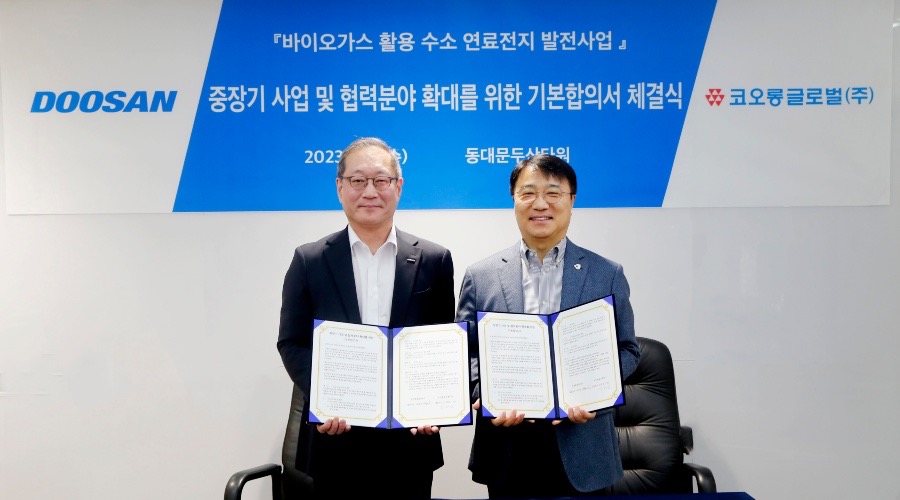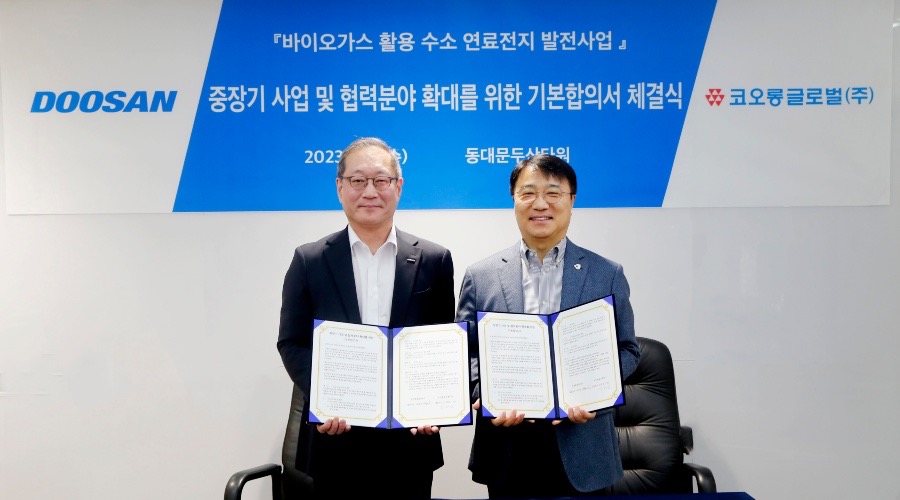 Establish strategic partnerships with major companies to dominate the CHPS market in advance and secure mid- to long-term supplies
Doosan Fuel Cell is strengthening strategic partnerships with major companies to respond to the Clean Hydrogen Portfolio Standard(CHPS).
Doosan Fuel Cell announced on March 22nd that it had signed a 'Business collaboration agreement' with Kolon Global at the Doosan Tower in Dongdaemun on March 22nd. The event was attended by Jeff(Hyungrak) Cheong, CEO of Doosan Fuel Cell, and Jeongil Kim, CEO of Kolon Global.
Under this agreement, the two companies agreed to cooperate step by step to develop an eco-friendly hydrogen fuel cell business model using biogas. Doosan Fuel Cell is in charge of hydrogen fuel cell supply and long-term maintenance (LTSA), while Kolon Global is responsible for fuel supply, EPC, and securing piping facilities. In addition to this, the two companies are planning to collaborate on various licensing and technical exchanges necessary for the business.
This business model is an eco-friendly, high-efficiency energy business that removes impurities from biogas generated from sewage treatment facilities and mixes it with natural gas (NG) to fuel hydrogen fuel cells. The electricity generated here is utilized as a distributed power source, and the heat is used for heating and cooling and hot water in adjacent area. Additionally, they plan to install Tri-gen, which can produce hydrogen, electricity, and heat at the same time, ultimately enabling hydrogen vehicle charging. As Kolon Global owns the business right for the sewage treatment facilities, it will accelerate the development of this business model.
Meanwhile, this business can be a realistic way to give a benefit to the government and businesses as well as local residents as waste facilities, which have been recognized as unpleasant facilities, produce green energy and contribute to the local economy.
The two companies are developing a business model this year and participating in a tender for CHPS in earnest from 2024.
CHPS was established to separate the hydrogen power generation sector from the existing Renewable Portfolio Standard(RPS) and to establish a support system that meets characteristics of hydrogen power generation, thereby promoting the use of clean hydrogen in hydrogen power generation. The general hydrogen power generation market, which will be open in the first half of this year, allows extracted hydrogen and by-product hydrogen, and the clean hydrogen power generation market will be open in 2024 after the clean hydrogen certification system is built.
"We expect high business synergies between Kolon Global, which specializes in eco-friendly energy business development and infrastructure, and Doosan Fuel Cell, a leading hydrogen fuel cell company," says Doosan Fuel Cell CEO Jeff(Hyungrak) Cheong. "We will remain committed to dominating the market and securing mid- to long-term supplies by building strategic partnership with major companies."
Meanwhile, Doosan Fuel Cell plans to expand orders this year by securing new orders related to RPS and CHPS, developing overseas markets, and diversifying business models.
Source:Doosan Fuel Cell