Hydrogen Business Model Net Zero Hydrogen Fund shortlisted projects allocation round 2022
---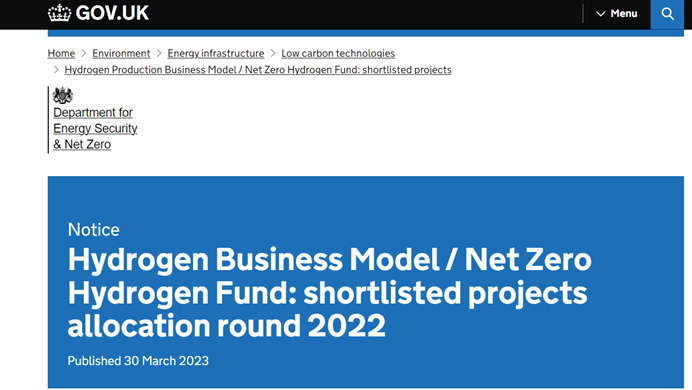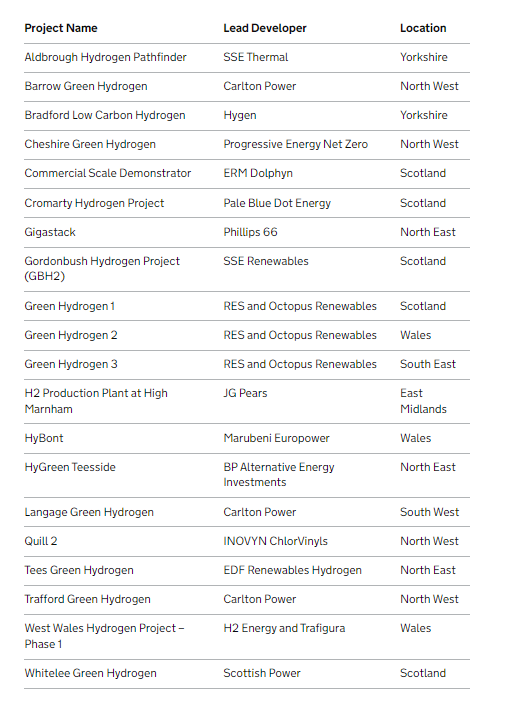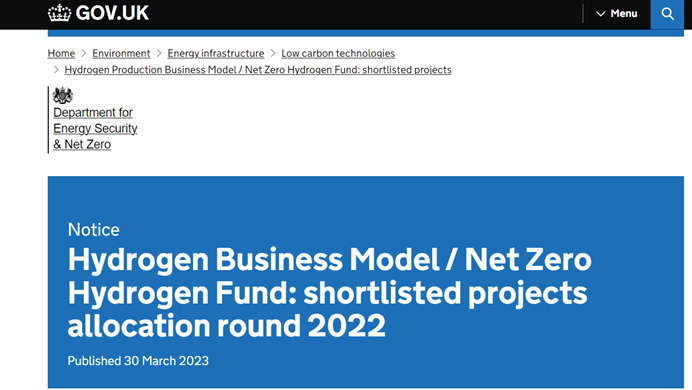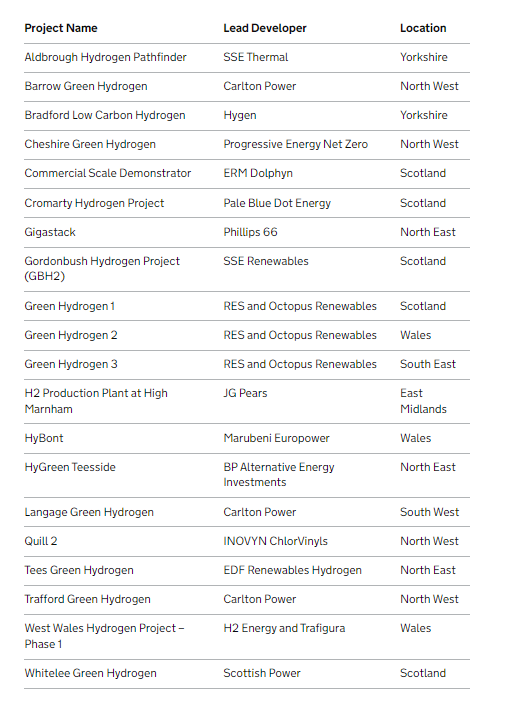 The shortlist contains the following electrolytic hydrogen projects, totalling 408MW of capacity across England, Scotland and Wales.
Projects that have not been shortlisted for this allocation round are encouraged to submit updated bids for the second allocation round - see more details.
We expect to award contracts totalling up to 250MW of capacity from HAR1, subject to affordability and value for money. We aim for contracts to be awarded in Q4 2023, with first projects becoming operational in 2025.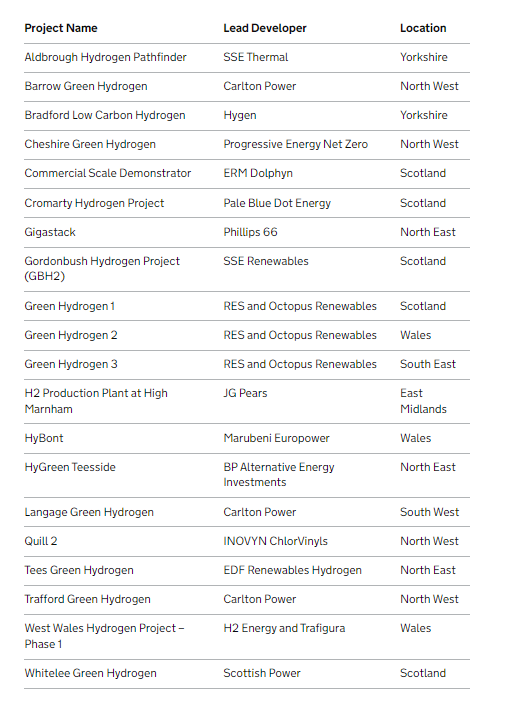 Details
The first electrolytic hydrogen allocation round (HAR1) 2022 jointly offered Hydrogen Production Business Model (HPBM) revenue and Net Zero Hydrogen Fund (NZHF) capex support. Projects that are awarded contracts will:
kickstart the low carbon hydrogen economy across the UK, helping meet the ambition of up to 1GW of electrolytic hydrogen production capacity in operation or construction by 2025
deploy at scale at the earliest opportunity, advancing government's aim to deploy up to 10GW of low carbon hydrogen production capacity by 2030, subject to affordability and VfM, with at least half from electrolytic hydrogen production capacity, and to do so at affordable costs by harnessing economies of scale. This could potentially unlock up to £11bn of private investment and support more than 12,000 jobs by 2030
help deliver carbon savings to allow us to stay on track to meet Carbon Budget 5, Carbon Budget 6 and other net zero commitments, by providing hydrogen to a range of end user sectors
We have assessed applications against the eligibility and evaluation criteria set out in the guidance. In accordance with the shortlisting process set out, we have selected 20 electrolytic hydrogen projects which are invited to proceed to the first step of the Agreeing an Offer stage, consisting of due diligence and value for money assessment. Being shortlisted does not guarantee progress to negotiations or contract award.
Timeline
This timeline shows the planned key milestones for HAR1. We reserve the right to alter these timelines at any stage in the process.
Shortlist announcement - Q1 2023
Due diligence - Q2 2023
Negotiations (with select projects) Q3 – Q4 2023
Successful projects announced - Q4 2023
Due diligence will begin with government sending shortlisted projects a request for information form and data template and to provide supporting evidence, where appropriate. This will be used to seek updated information, verify aspects of project applications, and produce analysis to inform which projects proceed to negotiations.
We aim to publish the final Low Carbon Hydrogen Agreement in Q3 2023 to enable negotiations to progress. The Energy Bill continues to progress through Parliament, with Royal Assent expected as soon as Parliamentary time allows. Alongside this announcement, we have launched a consultation on the regulations needed to enter into contracts with successful projects.
Funding
For HAR1, projects could apply for HPBM revenue support only, or for joint HPBM revenue support and NZHF capex support. HPBM payments for projects awarded contracts through HAR1 will be funded by government until the hydrogen levy comes into effect. The maximum grant funding intensity level (capex %) for projects supported through the NZHF for this allocation round is set at 20%.
Future rounds-Second allocation round
Government intends to launch the second allocation round (HAR2) in Q4 2023 and aims to award contracts to up to 750MW of capacity in early 2025, subject to affordability and value for money, to deliver up to 1GW of electrolytic hydrogen production capacity in construction or operation by 2025. Government intends to publish a Market Engagement document in Q2 2023 to seek industry feedback on the proposed design.
Competitive allocation
As set out in the Energy Security Strategy, we intend to hold annual allocation rounds. After HAR2, we intend to transition to price-based competitive allocation for Low Carbon Hydrogen Agreements in the mid-2020s for specified non-CCUS produced hydrogen technologies, as soon as legislation and market conditions allow. Alongside the HAR2 Market Engagement document in Q2 2023, we intend to publish a call for evidence on future competitive allocation policy to gather evidence to inform the transition and its design.
Source:GOV.UK