Plug Announces Record Production of PEM Electrolyzer Stacks in Q1 2023; on Track to Meet 100MW Per Month Target in Q2
---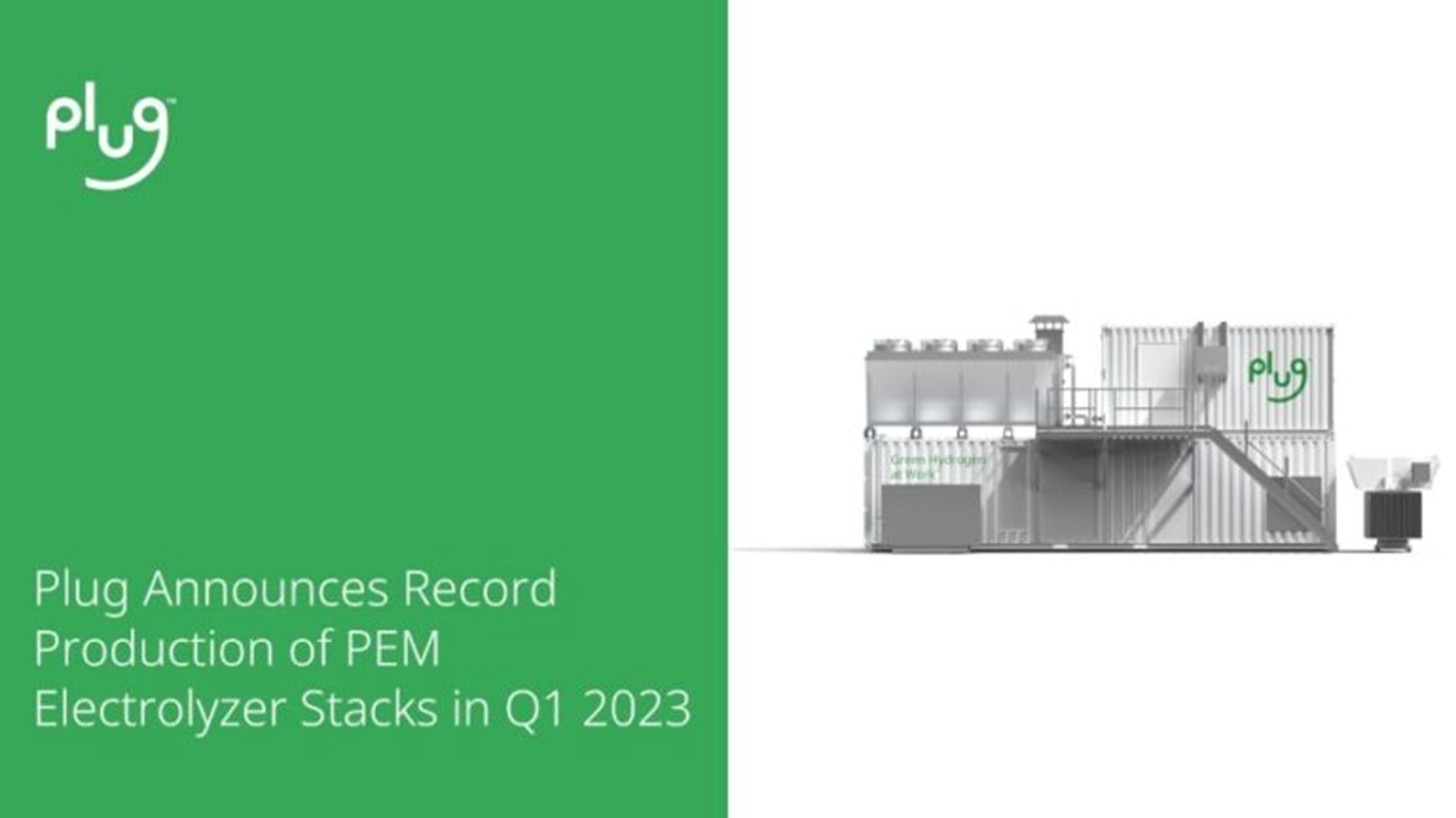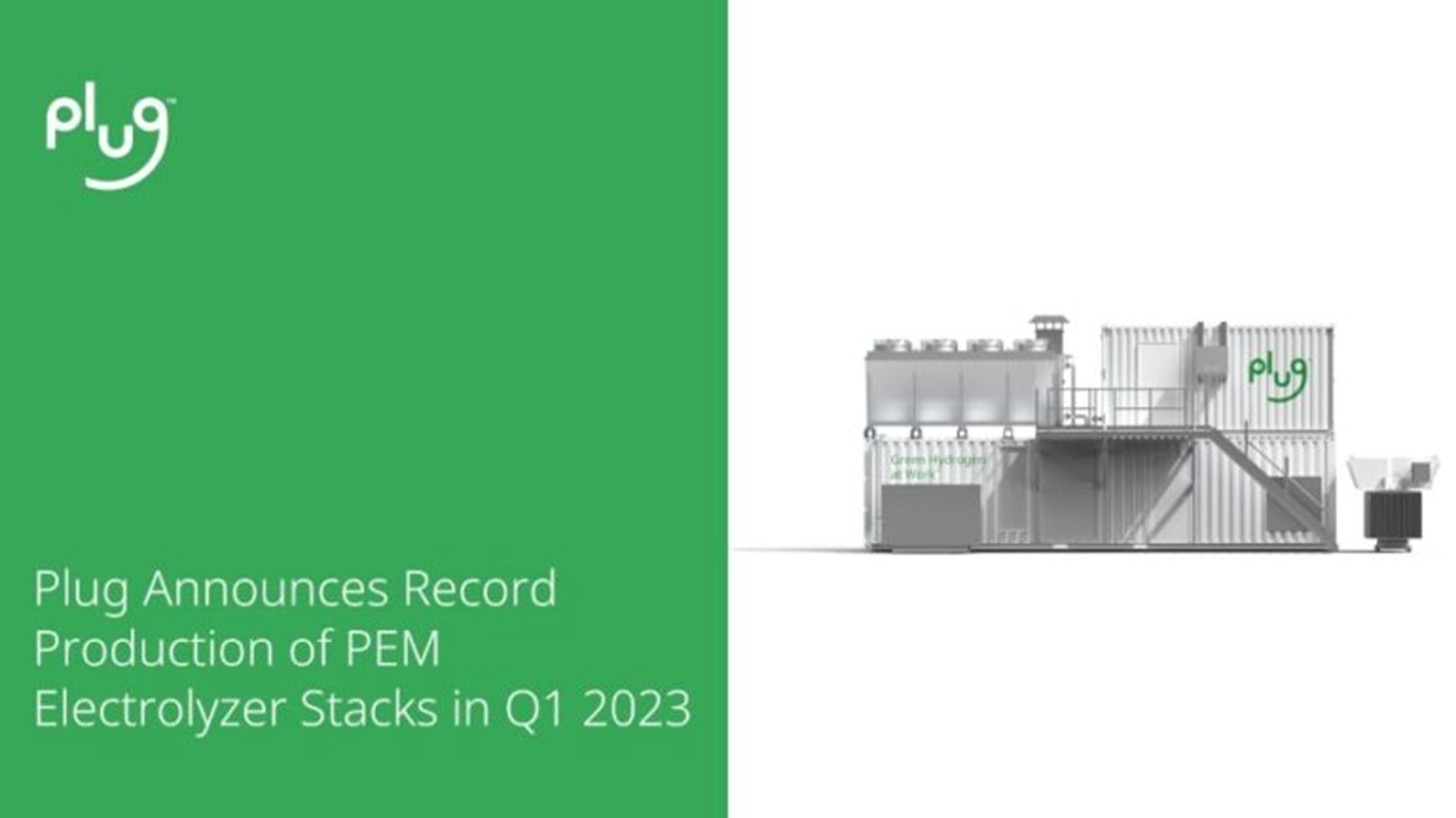 Plug's Rochester gigafactory produced 122MW of electrolyzer stacks for customers and Plug's green hydrogen plants.
Plug shipped nearly 1,000 stacks totaling 5.7MW for specialty applications.
LATHAM, N.Y. — Plug Power Inc. (NASDAQ: PLUG), a leading provider of turnkey hydrogen solutions for the global green hydrogen economy, manufactured 122MW of Plug's 1MW electrolyzer stack platform in Q1 2023, an all-time high for the Company and the industry for PEM electrolyzers. Additionally, Plug shipped nearly 1,000 stacks for specialty applications, ranging from a few hundred watts to 150kW, totaling 5.7MW. Plug is on track to ramp its 2.5GW gigafactory in Rochester, NY to 100MW per month in mid-Q2 2023, with plans to further increase output in Q3 2023.
"Plug is aggressively pursuing every aspect of the green hydrogen economy, including the expansion of the hydrogen ecosystem and the establishment of top-tier manufacturing and supply chain capabilities," said Plug CEO Andy Marsh. "Plug's large-scale manufacturing capabilities at our state-of-the-art facilities in Rochester and Albany are unrivaled and have helped us to meet the increasing demand for electrolyzers."
Electrolyzers are integral to Plug's green hydrogen ecosystem. Plug's PEM stacks enable electrolysis of water using renewable electricity to split water into green hydrogen and oxygen. Plug offers an easy-to-deploy containerized electrolyzer solution, with short lead times to enable decarbonization across multiple applications including hard to abate industries.
Plug electrolyzers are being deployed globally with companies such as New Fortress Energy, Uniper and Irving Oil. Additionally, Plug electrolyzers have been installed at the Company's green hydrogen plant in Georgia, and will be deployed at plants under development in New York, Tennessee, Texas, California, and Belgium. By 2025, Plug expects to produce 500 tons per day of liquid green hydrogen in the US, equivalent to 4.3 million metric tons of carbon dioxide emissions. By 2028, Plug expects to produce 1,000 tons per day of liquid green hydrogen.
About Plug
Plug is building an end-to-end green hydrogen ecosystem, from production, storage and delivery to energy generation, to help its customers meet their business goals and decarbonize the economy. In creating the first commercially viable market for hydrogen fuel cell technology, the company has deployed more than 60,000 fuel cell systems and over 200 fueling stations, more than anyone else in the world, and is the largest buyer of liquid hydrogen. With plans to build and operate a green hydrogen highway across North America and Europe, Plug is building a state-of-the-art Gigafactory to produce electrolyzers and fuel cells and multiple green hydrogen production plants that will yield 500 tons of liquid green hydrogen daily by 2025. Plug will deliver its green hydrogen solutions directly to its customers and through joint venture partners into multiple environments, including material handling, e-mobility, power generation, and industrial applications.
Source:FuelCellsWorks