Anglo American's Hydrogen Roadmap Takes Shape
---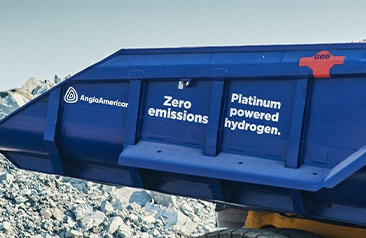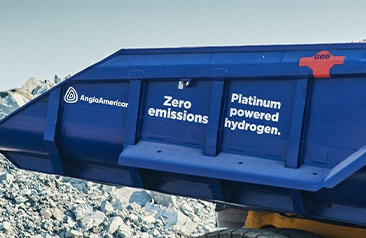 With hydrogen enjoying a global unprecedented momentum, Anglo American has set out its energy aspirations for its hydrogen ecosystem to deliver the company's broader decarbonisation strategy.
With the aim to create an ecosystem for it's nuGen hydrogen haul truck launched in May, Anglo American has crafted a zero-emission vehicles hydrogen production, storage, and refueling complex at Mogalakwena that incorporates the largest electrolyser in Africa and a solar PV field to support the operation of the haul truck.
To cement the energy operation and ensure that it has sufficient renewable energy that largely supports the hydrogen electrolysis process, the company has further joined forces with EDF Renewables to form Envusa Energy in order to develop a regional renewable energy ecosystem ("RREE") in South Africa.
Commenting in Anglo American's Q3.2022 production report, Duncan Wanblad, Chief Executive of Anglo American, said: "We continue to make important progress towards our holistic sustainability commitments. With renewable electricity supply secured for all our South America operations, we have now formed our renewable energy partnership with EDF Renewables in South Africa.
Global mining industry to follow suit on green haul trucks
Our new jointly owned company, Envusa Energy, is developing its first phase of more than 600 MW of wind and solar projects, a major step towards our vision of a 3-5 GW renewable energy ecosystem in the region by 2030."
Envusa Energy is expected to supply Anglo American with a blend of renewable energy generated on Anglo American's sites and renewable energy transmitted via the national grid. This energy portfolio approach will aggregate energy from geographically dispersed renewable generating assets and allocate this energy optimally to meet the load demand for Anglo American's sites.
This partnership will also act as a blueprint for future initiatives as Anglo sets out for the hydrogen valley. Courtesy of its world-leading solar and wind resources, South Africa is primed to capitalise in terms of both hydrogen generation and consumption, as three hubs have been identified as fundamental in integrating hydrogen into South Africa's economy, and in establishing the country as a strategically important centre for green hydrogen production.
Not only that, but minor metals used in the solar PV industry will also come into play, creating even greater demand within the metals market.
"The issuance of our first sustainability-linked bond, a first of its kind from a major diversified mining company, re-affirms our commitment to our targets to reduce greenhouse gas emissions and fresh water abstraction and to support job creation in the communities where we operate." concluded Wanblad.
SOURCE: MINING REVIEW