Shipping 'must get a handle' on ammonia safety
---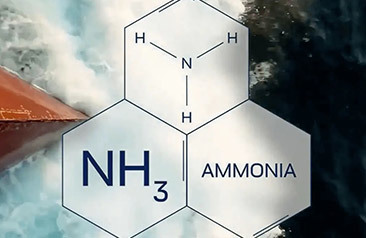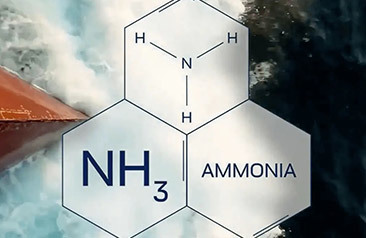 The shipping industry must prioritise safety when developing ammonia to power ships in the race to decarbonisation, a leading industry figure has warned.
Speaking in a panel discussion at the release of DNV's Maritime Outlook to 2050 report, Prof. Lynn Loo, CEO, Global Centre for Maritime Decarbonisation, said, "Ammonia is super toxic and we really have to get a handle on safety. When using it as a marine fuel, we will need to be so much more stringent than transporting it as a cargo."
Ammonia's toxicity challenges and related risks are significant and, while manageable, they will add complexity to ship designs (compared to those for conventional and other low-flashpoint fuels and gases) and will potentially limit the ships for which it is a suitable fuel.
Ammonia ultimately may prove to be a more appropriate solution for deep-sea cargo ships rather than short-sea, passenger or inland waterway craft. The first ammonia-powered vessel is set to launch late 2025.
In keeping with the report's key message that there was 'no winner takes all' in the pursuit of alternative fuels, the industry has to weigh up different pros and cons.
"From a production viewpoint, ammonia has a slight advantage – but then from an infrastructure view, methanol does, as it's liquid and less toxic," added Loo.
"Shipping is so heteregenous that the portfolio of solutions will be heterogenous too, there will be room for everything."
Despite the lack of clear winners, DNV highlights Bio-LNG, bio-MGO and bio-methanol, which are relatively energy-dense hydrocarbons, as preferred fuels, given sufficient availability of sustainable biomass. The uptake of bio-methanol is very sensitive to the production cost compared with bio-MGO and bio-LNG.
"With low availability of sustainable biomass, the prices of biofuels will likely be uncompetitive with those of electrofuels and blue fuel," the report states.
Bud Darr, Group Executive Vice President for Maritime Policy and Government Affairs, MSC Group, said, "We will need multiple fuels in the future to fit different applications and itineraries. Our commitment to LNG is real, but we think Methanol has a role to play too. What's the best fuel in 2030 may not be the right choice in 2040 – having some flexibility is really important."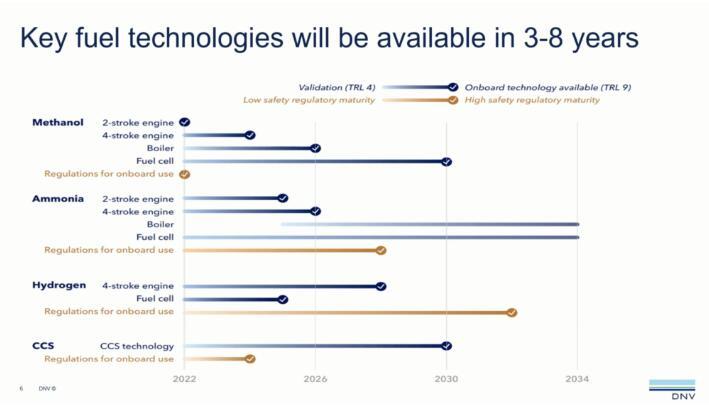 DNV forecasts that $1 for a kilo of hydrogen will be the "exception", predicting that prices will be in the range of $2-2.50 in 2030. before settling at $1.5 in 2050.
DNV had previously released its Hydrogen Forecast to 2050 report in June, highlighting how it is at risk of being the great missed opportunity of the energy transition.