Layer Designs Croft System to Power Vehicles With Hydrogen
---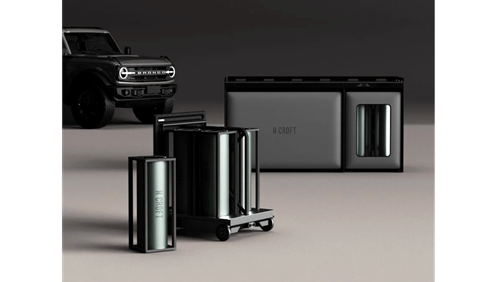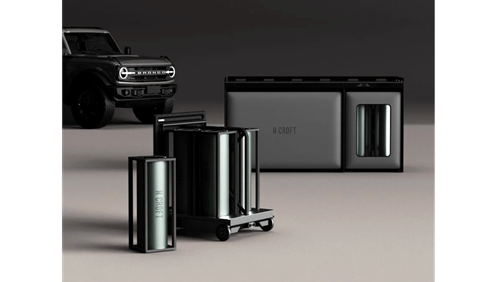 Benjamin Hubert's studio Layer has worked with US start-up Croft to design a system of products for retrofitting vehicles to run on green hydrogen.
The Nanoplant and Nanocartridges are the first prototypes from Croft, which is currently raising funds for the project, and enable users to produce their own solid-state hydrogen to power cars, trucks and other heavy-duty vehicles.
With an appearance similar to a large home battery, the Nanoplant uses electricity and water from the mains supply to carry out electrolysis — the splitting of water into hydrogen and oxygen.
The hydrogen obtained in this process is known as "green hydrogen" because, if it is produced using renewable energy, it creates no greenhouse gas emissions. This is in contrast to "blue hydrogen", which is produced from natural gas and creates some emissions.
The Nanoplant contains a pull-out drawer with room for four Nanocartridges, which store the hydrogen by sticking it to the surface of a proprietary particulate. According to the brand, this method stores the hydrogen densely and at low pressure, making it a safe solution that also gives more power and range than electric batteries.
According to Layer, Croft is "dedicated to creating a blueprint for an enduring, scalable, green-hydrogen economy" and offers its technology at a much lower cost than other hydrogen storage solutions on or near the market.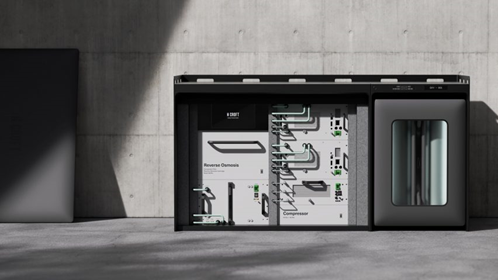 The Nanoplant produces hydrogen by splitting it from water through electrolysis
The studio says the product is best suited for larger vehicles in environments with little fast-charging infrastructure, and that heavy-duty pick-up trucks for farming, forestry, construction and other industries are the first target.
"Batteries are great to decarbonise smaller passenger vehicles that get used in gentle, predictable ways with access to good charging infrastructure," Hubert told Dezeen.
"However, lots of mobility applications don't match that description, and there, we need a power source that is denser than batteries and has fewer dependencies on infrastructure," he added.
"Hydrogen stores significantly more energy in less space and with less weight than batteries, and it's much easier to use hydrogen in environments with weak grids or where charging otherwise isn't available."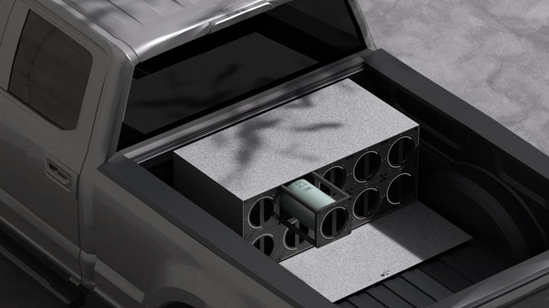 The technology is said to be best for heavy-duty vehicles like pick-up trucks
Hubert said that, at least in the short term, hydrogen would be a complement to electric vehicle technology, not a competitor.
"It's a great complementary solution to batteries, and as with all things, it's important to pick the right tool for the right job," he continued.
To retrofit a vehicle with the technology, Croft removes most of the components of the power train and replaces them with its hydrogen storage system, a fuel cell, electric motors and other components, while reprogramming the vehicle's onboard computer to utilise them.
Layer led the design and engineering of the Nanoplant and Nanocartridges, endeavouring to make them straightforward and easy to understand while also giving them an aesthetic that would communicate robustness and technological prowess.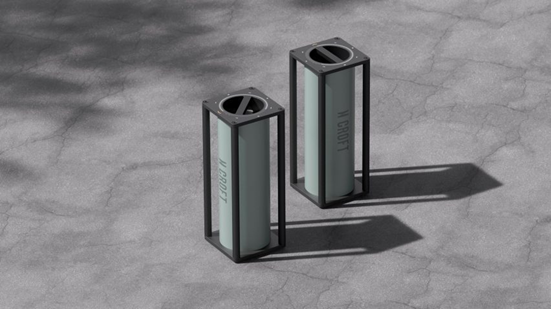 The Nanocartridges store hydrogen in a solid state and at low pressure
The Nanoplant is modular and infinitely expandable — additional Nanoplant modules can be connected horizontally, each with the capacity for four Nanocartridges.
Each module has a minimal user interface on its front that counts down the time left to complete the recharge, and there is also a hose module for on-board charging. The drawer containing Nanocartridges can also double as a cart for transporting them to the vehicle.
The Nanocartridges weigh 14 to 16 kilograms and have four side handles, creating a cubic frame that can be easily gripped and stacked. A circular indicator on the top surface shows the cartridge's remaining hydrogen capacity.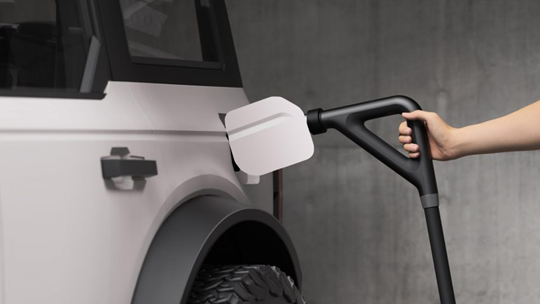 The system includes a hose for on-board charging
According to Layer, each cartridge has a range of 20 to 80 miles depending on the size of the vehicle and how hard it works.
"In addition to rapid fueling, cartridges also allow operators to carry additional fuel with them or receive rescue fuel if an asset gets stranded in the field, two features that today's battery vehicles lack," said Hubert.
In addition to its product design work, Layer created the brand identity for Croft, including the brandmark and packaging.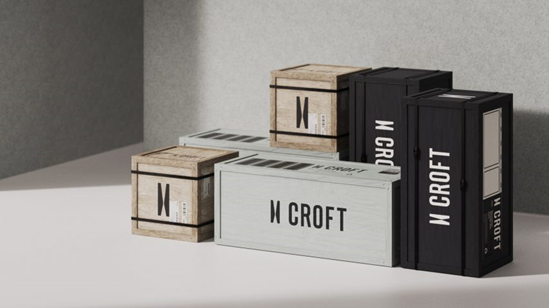 Layer also designed the brand identity and packaging for Croft
The brandmark is based on an abstracted letter "H", which has been stylised to also look like a road vanishing into the distance. It will be used in many ways, including debossed into products, applied as a micro-pattern to create texture, and as a call to action on interaction points.
Layer has been embracing emerging technologies, and has recently also worked on the Ledger Stax hardware wallet for storing cryptocurrency and the Viture One video streaming glasses.
Source:Dezeen