Baglietto Reveals BZero Hydrogen Power Station for Yachts Over 50m
---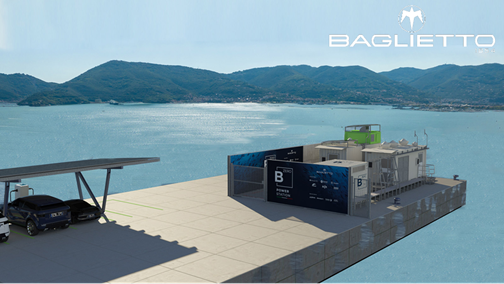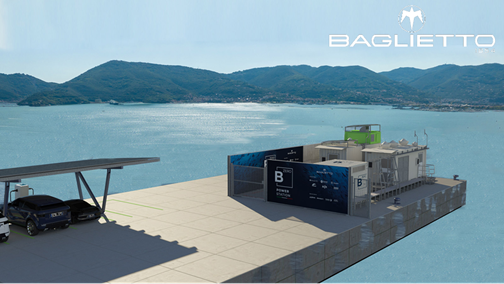 Italian boat builder Baglietto has unveiled its green hydrogen-based BZero project and power station, designed to operate yachts over 50m long.
The prototype will be used to develop operation procedures, optimize technical solutions, and acquire the necessary certifications. It will also contribute to the shipyard's energy production cycle as part of an integrated system.
The BZero system generates hydrogen from filtered and deionized seawater using AEM-type electrolysers powered by renewable energy sources. The hydrogen is stored in metal hydride cylinders at low pressure and room temperature. The PEM-type fuel cell module produces zero-emission, noise-free electricity using hydrogen as fuel.
Baglietto CEO Diego Michele Deprati highlighted the company's commitment to sustainable yachting, while Sales Director Fabio Ermetto emphasized the technology's potential for zero emissions and increased cruising range. The project involves six international partners, including Arco Technologies, Bluenergy Revolution, Enapter, H2Boat, Siemens Energy, and Rina as the certifying body.
"The Bzero project – comments Baglietto's CEO Diego Michele Deprati – once more testifies to Baglietto's pioneering approach, our strong commitment to greener and increasingly sustainable yachting, and our active role in the ongoing inescapable energy transition process. The BZero Power Station presented yesterday – continues Deprati – is the promise we have delivered on. For almost 170 years Baglietto has been a synonym with cutting edge solutions, technology innovation, and progress. This is why we have strived to go even beyond and actively contribute to the wellbeing of our seas and the environment and to truly green and sustainable yachting, which for us is an imperative goal. In 1874 Jules Verne wrote: '[I believe that] water will one day be employed as fuel, that hydrogen and oxygen which constitute it, used singly or together, will furnish an inexhaustible source of heat and light […]'. Now is the time. At Baglietto – continues Deprati – we have set up a department, Baglietto Energy, specifically devoted to studying new eco-sustainable technology and the implementation of alternative energy sources in the boating industry. The BZERO Project is an important starting point, but also the 'gate' to the great challenge of the future, a challenge that involves knowledge, a deep sense of responsibility, humility, ambition and determination, and respect for the sea – all values that are epitomised by every single Baglietto yacht".
The system has also a great sales potential, as pointed out by Baglietto's Sales Director Fabio Ermetto: "The BZero project is an important journey into future knowledge. Indeed, yachts equipped with this technology can be expected to produce zero emissions up to 75 h at anchor and have a range of up to 20 nautical miles at a speed of 7 knots. The combination of hydrogen and batteries will result in 4 times more available energy than that ensured by current batteries, which will also mean great savings for the Owners".
"The project, whose primary objective is to increase the cruising range of the boat in the electric, zero-emission, navigation mode," adds Alessandro Balzi, Director of the shipyard's Energy Department, "is based on the installation of hydrogen fuel cell technology on a hybrid or diesel-electric platform on board Baglietto yachts. The special storage system – continues Balzi – allows to trap hydrogen, which by nature takes up large volumes, in metal hydrides, thereby making it possible to store it in the solid form and at low pressure".
Source:FuelCellsWorks