First Hydrogen NextGen Concept Zero Emission Campervan
---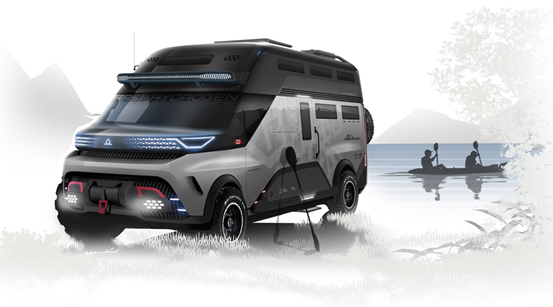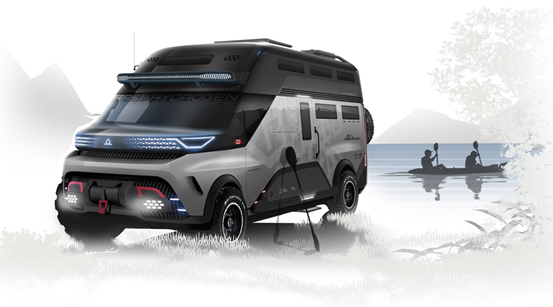 Vancouver, British Columbia – First Hydrogen Corp. (TSXV: FHYD) (OTC Pink: FHYDF) (FSE: FIT) ("FIRST HYDROGEN" or the "Company") releases its vision for a zero-emission Recreational Vehicle (RV) as it explores the applications for alternative fuels across different vehicle classes.
Designed to have spacious living quarters, a large front windshield and good ground clearance, the campervan concept prioritises driver comfort and experience. The RV concept illustrates how First Hydrogen is exploring how fuel cell electric technology could be applied to larger vehicles.
The concept has been developed in partnership with global mobility experts EDAG Group. The release follows the reveal of First Hydrogen's concept for its Generation II light commercial vehicle (LCV). The Company is also developing concepts for vehicles with a winch or towing capability and that have trailers or cargo boxes.
Benefits of hydrogen for leisure vehicles
Fuel cell electric vehicles (FCEVs) can cover larger ranges and manage heavier payloads loads than equivalent battery electric vehicles (BEVs); attributes that are attractive for the recreational vehicle market. RVs travel long distances, often into the wilderness away from refuelling or charging infrastructure, making long range especially appealing. Refuelling a FCEV takes mere minutes, approximately the same amount of time as a petrol or diesel vehicle, whereas recharging electric vehicles can take hours, which inhibits the freedom that van life demands. Additionally, in the same way that delivery vans might need to run refrigeration units and emergency vehicles power medical equipment; recreational vehicles run auxiliary loads such as cookers and water boilers, applications suited to FCEVs. BEVs require more battery cells to power these loads, adding to overall vehicle weight, depleting the vehicles' energy more quickly.
The recreational vehicle market
The market for recreational vehicles has grown hugely in the past few years, the North American market was valued at US$56.29 billion in 2022 and is anticipated to reach US$107.6 billion by 20321. Similarly, the European leisure market is growing, with record sales of 260,000 new vehicles in 2021 and sustained high demand in 2022, with vehicle sales slightly reduced due to availability and issues in the global supply chain2. Typically, leisure vehicle drivers are more environmentally conscious and already adopting hybrid vehicles or greener fuel alternatives such as biofuels to reduce their carbon footprint. First Hydrogen sees an opportunity for hydrogen-powered vehicles to support this growing market reach zero emissions alongside commercial vehicle sectors.
The news follows the announcement that First Hydrogen is successfully starting 12-18-month-long commercial vehicle trials with its Generation I fuel cell LCV. In collaboration with the UK Aggregated Hydrogen Freight Consortium (AHFC), road trials are commencing with award-winning fleet management company, Rivus.
Steve Gill, CEO of Automotive for First Hydrogen, says: "The First Hydrogen campervan is an example of how we see hydrogen fuel cell and other electric vehicle technologies having wider applications. We are successfully demonstrating the potential fuel cell technology has in the LCV class but are exploring how the technology can benefit other sectors including leisure vehicles. Connecting with nature is incredibly important for recreational vehicle owners and this concept indicates how a hydrogen vehicle could help people preserve the environment while enjoying van life."
Bernat Costa, Design Director at EDAG Spain, comments: "The design for the camper shares similar design principles with the Generation II series; it is a clean, modern look that prioritises function and acknowledges the van's green fuel technology. It also shares the daytime-running light configuration, which makes the campervan instantly recognisable as a First Hydrogen vehicle. Ultimately, it incorporates features that are desirable for leisure vehicles, such as good vehicle lighting, which is especially useful for vehicle visibility when parked on the roadside or as a source of light when camped away from civilisation."
Marketing
The Company has engaged BTV – Business Television to improve exposure to capital markets. The engagement is for a period of six weeks, as consideration, the Company has agreed to pay a fee of $52,090. BTV is a TV production and Digital Marketing Agency that helps issuers increase their brand awareness to a national retail and institutional investor audience through unique offerings. Services provided under the contract with First Hydrogen include digital marketing on well-known financial online platforms, and national television broadcast on BNN Bloomberg and FOX Business News. To the company's knowledge, BTV does not have any direct interest in the company or its securities.
About First Hydrogen Corp. (FirstHydrogen.com)
First Hydrogen Corp. is a Vancouver and London UK-based company focused on zero-emission vehicles, green hydrogen production and distribution and supercritical carbon dioxide extractor systems. The Company is designing and building hydrogen-fuel-cell-powered light commercial demonstrator vehicles ("LCV") under two agreements with AVL Powertrain and Ballard Power Systems Inc. The LCV will have a range of 500+ kilometres. At the same time, the Company has launched its bespoke vehicle design phase which will develop its fleet of proprietary zero-emission vehicles. First Hydrogen is also developing refueling capability working with FEV Consulting GmbH, the automotive consultancy of FEV Group of Aachen Germany. As well, the Company is pursuing opportunities in green hydrogen production and distribution in the UK, EU and North America.
About EDAG Group (EDAG.com)
EDAG Group is the world's largest independent engineering service provider to the global mobility industry. We regard mobility as a fully integrated ecosystem, and offer our customers technological solutions for more sustainable, emission-free and intelligently networked mobility. With a global network of some 60 branches, EDAG Group provides engineering services in the Vehicle Engineering, Electrics/Electronics and Production Solutions segments.
With our interdisciplinary expertise in the fields of software and digitalization, we possess the key skills to help actively shape the dynamic transformation process the mobility industry is currently undergoing. Digital features, autonomous driving, artificial intelligence, alternative powertrains, new mobility concepts and the vision of a networked smart city have become an integral part of our portfolio. Embedded in EDAG's own 360° degree approach to the development of complete vehicles and production facilities, we are a competent partner for sustainable mobility projects. It is in the DNA of the company to actively shape the future of mobility and transfer new technologies and concepts into series production. Today, EDAG is one of the TOP 20 IT service providers in the German mobility sector.
Our customers include leading international OEMs, tier 1 suppliers and startup companies from the automotive and non-automotive industries, all of whom we serve globally with our workforce of approximately 8,000 experts in 360-degree engineering.
In 2021, EDAG generated sales of €687 million and at December 31, 2021, EDAG employed a global workforce of 7,880 (including apprentices).
Source:FuelCellsWorks