ZeroAvia and Absolut Hydrogen Partner to Develop Liquid Hydrogen Refueling Infrastructure for Aircraft Operations
---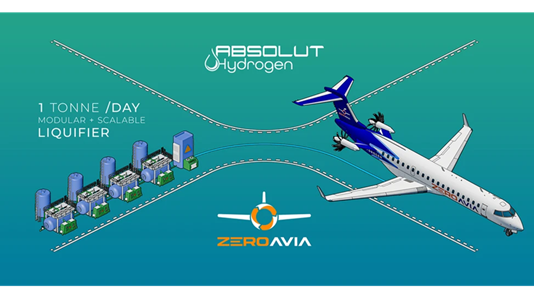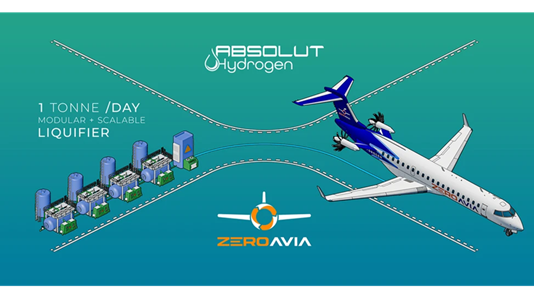 Partnership between global Liquid Hydrogen (LH2) transportation leaders Absolut Hydrogen and ZeroAvia supports a roadmap for powering up to 80 seat aircraft by 2027 and the development of robust airport infrastructure.
Kemble, UK & Seyssinet-Pariset, France: ZeroAvia the leader in developing zero-emission solutions for commercial aviation, and Absolut Hydrogen, the leader in liquid hydrogen technologies, today announced a partnership to jointly explore liquid hydrogen (LH2) production, storage and refueling at airports.
The partners will work together to build and demonstrate liquefaction and liquid hydrogen storage in an airport context and ultimately explore the technology developments, concept of operations, safety procedures and standards for larger-scale deployment to deliver liquid hydrogen to aircraft.
Grenoble-based Absolut Hydrogen, a subsidiary of Groupe Absolut, is a world leader in developing LH2 systems for heavy-duty mobility for aeronautical, maritime and land applications, building upon Groupe Absolut's expertise and deep industry knowledge in complex cryogenic systems. Absolut Hydrogen is offering a full LH2 product range with an entry small scale hydrogen liquefaction system (< 50 kg/day), a 100 kg/day Turbo-Brayton based H2 liquefier and a 1T/day liquefier based on the same technology.
Whilst ZeroAvia's first certified powertrains for up to 19 seat aircraft will be powered by gaseous hydrogen, ZA2000—a 2–5.4 MW modular powertrain for 40–80 seat aircraft, targeting entry-in-service in 2027—will require liquid hydrogen. This will improve the volumetric energy density of the fuel, enabling support for larger aircraft, flying more passengers, on longer typical routes.
The move further cements ZeroAvia's advantage at developing solutions for large regional turboprops and beyond, following the recent announcement of its high temperature fuel cell technology promising the necessary power for larger aircraft
Arnab Chatterjee, VP Infrastructure, ZeroAvia, said:
"As well as building our in-house liquid hydrogen knowledge over the last few months, it has been critical to establish partnerships to begin building the ecosystem that can deliver liquid hydrogen fuel for larger aircraft, at larger airport locations. Retaining and growing aviation will bring us all closer together and keep the world small, but it depends upon this quest for zero-emission aviation being successful."
Jérôme Lacapère, CEO of Absolut Hydrogen, said:
"This partnership with ZeroAvia is an opportunity to take a new step towards a more sustainable aviation. Liquid hydrogen is considered the most advantageous state for tomorrow's aviation and heavy-duty mobility in general, and Absolut Hydrogen enables its availability thanks to its H2 liquefiers. I am convinced this partnership will lead to new standards on liquid hydrogen infrastructure for aircraft."
About ZeroAvia
ZeroAvia is a leader in zero-emission aviation, focused on hydrogen-electric aviation solutions to address a variety of markets, initially targeting a 300-mile range in 9–19 seat aircraft by 2025, and up to 700-mile range in 40–80 seat aircraft by 2027. Based in the UK and USA, ZeroAvia has already secured experimental certificates for its two-prototype aircraft from the CAA and FAA, passed significant flight test milestones, secured a number of key partnerships with major aircraft OEMs and major global airlines, and is on track for commercial operations in 2025. The company's expanding UK operations are supported by grants from UK's Aerospace Technology Institute and Innovate UK, and ZeroAvia is part of the UK Government's Jet Zero Council. For more, please visit ZeroAvia.com, follow @ZeroAvia on Twitter, Instagram, and LinkedIn.
About Groupe Absolut
Groupe Absolut is a worldwide leader of innovative cryogenic solutions (between -180°C and -271°C) for research and industry. Its ambition is to develop cryogenic innovations to accelerate the energy transition. Groupe Absolut's origin is the subsidiary Absolut System, which develops ultra-complex and customized cryogenic equipment for 13 years. Recently, Groupe Absolut has created three other subsidiaries specialized in markets with high growth potential: liquid hydrogen, NewSpace earth observation and superconductivity. Absolut Hydrogen offers liquid hydrogen solutions for mobility and remote energy generation, and Absolut Sensing, which operates satellites for the detection of greenhouse gas emissions (methane). Recently, Absolut Quanta (low-energy consuming supercomputers) has been created with the objective of decarbonizing the data processing industry while improving its performances. With its international scope and its involvement in many strategic projects (France 2030, EU project call "Copernicus"…), Groupe Absolut is actively developing highly innovative solutions for environmental control, new energies (nuclear fusion, hydrogen) and quantum digital technology. Its clients include leading companies such as Airbus, Thalès, Safran, and CFS, and agencies such as CNES, ONERA, DGA, ESA and NASA.
For more, please visit Groupe-Absolut.com, follow @GroupeAbsolut on Twitter and LinkedIn.
About Absolut Hydrogen
Absolut Hydrogen is a French industrial engineering SME based in Grenoble. As a subsidiary of Groupe Absolut, Absolut Hydrogen aims to make liquid hydrogen accessible for the decarbonization of the industrial and mobility sectors. Thanks to the know-how of Groupe Absolut, it is today the only independent entity positioned on the LH2 market with a multi-sector application expertise in cryogenics. For more, please visit absolut-hydrogen.com, follow @AbsolutHydrogen on Twitter and LinkedIn.
Source:FuelCellsWorks