Foton Mobility Redefines Refuelling With Hydrogen Model
---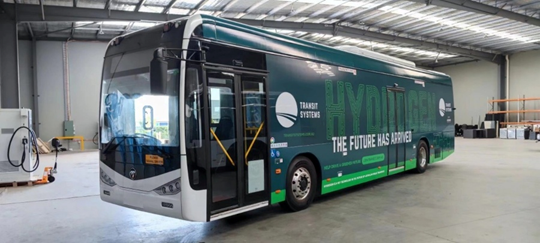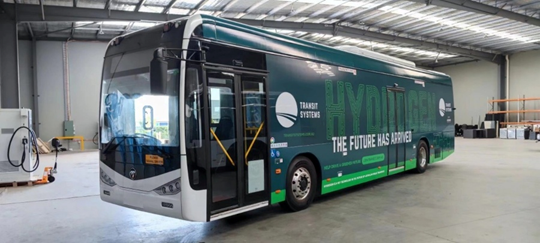 Foton Mobility's hydrogen fuel-cell low-floor city model achieved a major milestone on its way to operating on Australian roads when it passed ADR testing last year. Now, the distributor is well on its way to making its hydrogen network dreams a reality.
When Transit Systems Australia (TSA) first investigated ways to introduce hydrogen fuel-cell buses into its Australian operations, Foton Mobility was a key candidate.
Foton Mobility may be relatively new in its journey as an Australian-owned zero-emissions heavy vehicle distributor, but it draws on the extensive experience of Foton Motors China, who have been producing hydrogen buses since 2008.
While in Australia hydrogen fuel-cell buses are part of a sweeping zero-emissions change, Foton Motors has manufactured more than 1,100 hydrogen buses globally, including more than 450 that were put into service during the recent Beijing Winter Olympics.
All of Foton's experience has been put into procuring Foton Mobility's first fleet of hydrogen fuel-cell buses for Australian operators, with TSA placing the first order for two of the proven low-floor city buses.
"Hydrogen is not new technology for Foton, we've been dealing with hydrogen fuel-cell vehicles for quite some time," Foton Mobility national sales manager of buses Greg Abel told ABC.
"With Australia moving towards zero-emissions vehicles, Foton Mobility was established to deliver high-quality hydrogen fuel-cell buses and battery electric commercial vehicles."
In 2021, Foton Mobility commissioned its first commercial hydrogen city bus in Australia.
Abel says Foton Mobility CEO Neil Wang was behind the initiative to introduce Foton's global expertise in hydrogen transport systems to Australia.
To introduce the hydrogen city bus into Australia, Foton Mobility had to meet rigorous requirements, including getting it Australian Design Rule (ADR) approved.
Foton Mobility began working behind the scenes to get all of its testing and systems compliant with Australia's standards and conditions, including meeting Transport for NSW (TfNSW) Panel 3 and Disability Discrimination Act (DDA) specifications and achieving EC79 Certification.
Halfway through 2022, Foton Mobility had both its hydrogen fuel-cell and its battery electric models ADR approved in a major boost for the distributor.
"TSA set a high bar in relation to specifications, particularly those involving safety," Abel says.
"It was an opportunity for us to ensure our systems were the best they could possibly be. We made sure that Foton Motors, as a manufacturer, complied with all requirements and produced the safest vehicle possible."
When it hits Australia's roads, the hydrogen 12.5m low-floor city bus will have plenty of benefits for operators. The two-door model contains approximately 26.5kg of hydrogen via eight hydrogen tanks and an additional 150kwh CATL battery storage.
With a Toyota SinoHytec fuel cell, Abel says the range of the bus is between 400 and 500 kilometres.
Efficiency is a major consideration for Foton Mobility. Abel says the hydrogen bus uses approximately six kilograms of hydrogen per 100 kilometres.
"The hydrogen model is suitable for most low-floor city route bus services," Abel says.
"The fuel-cell bus can be re-fuelled in roughly 10 minutes compared to the hours it takes to recharge a battery-electric bus."
The extended range and greater operational efficiencies make the hydrogen model ideal for urban transportation, particularly those operating greater distances.
Abel says this technology provides a real alternative for the local market, with infrastructure challenges in the electricity sector providing an opportunity for hydrogen vehicles to become a valuable part of the Australian bus and coach industry.
"Foton Mobility is convinced that there will be a place in the Australian market for hydrogen vehicles due to the costly infrastructure required in the electric vehicle sector," Abel says.
"We believe that challenges involved with electric buses can be overcome with hydrogen vehicles, as hydrogen can replace the current diesel deliver, store and refuel model.
"The reason why we decided to bring hydrogen vehicles to Australia is because we see room in the market for both battery electric and hydrogen fuel-cell applications," Abel says.
Having gained full ADR approval, the low-floor bus is now waiting on a decision regarding deployment before being delivered to TSA.
Abel says when the vehicles are delivered, Foton Mobility will provide technical support and safety training to ensure operation and maintenance is at the highest possible safety standard.
When they begin operating, Abel hopes the models will be a ringing endorsement of the benefits of hydrogen as a fuel source.
"There are certainly areas in Australia where hydrogen would be best suited," Abel says.
"For us, it's about working within the transport and hydrogen industries to look for opportunities where our vehicle can be deployed to benefit the community."
Abel says the emergence of its hydrogen fuel-cell bus model in Australia is proof that the distributor is committed to the local market well into the future.
He says the project of introducing the hydrogen vehicle down under has been "detailed and extensive", but getting the model ADR approved is proof that the bus will be suited to Australia's unique conditions.
Once the bus begins operating for TSA, Foton Mobility has grander plans to expand its hydrogen fleet in Australia.
With its vast network of partners, Foton Mobility will continue working with hydrogen suppliers and refuellers to ensure the infrastructure and vehicle suppliers work collaboratively.
In the near future, Abel hopes this hydrogen initiative will develop into a sophisticated network of training and educational partnerships that develop local technology.
"Foton has extensive experience and leading technology when it comes to hydrogen, and its venture into the Australian market proves Foton globally has a lot of faith in the emerging technology in Australia," Abel says.
"We're not just bringing vehicles to market, we believe it's equally as important to introduce our knowledge, experience and technology to Australia to help develop hydrogen fuel-cell vehicles down under."
Source:ABC