dynaCERT and Cipher Neutron Enter Into MOU With Molymet to Supply Green Hydrogen Using AEM Electrolysers
---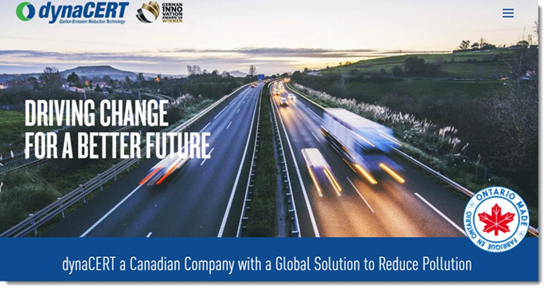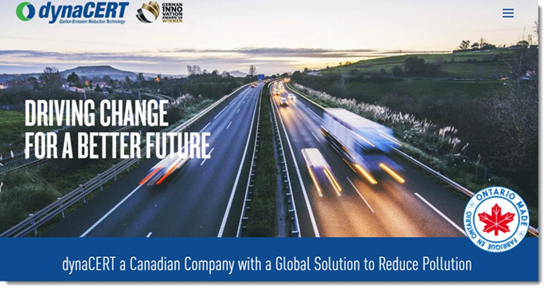 TORONTO — dynaCERT Inc. (TSX: DYA) (OTCQX: DYFSF) (FRA: DMJ) ("dynaCERT" or the "Company") and Cipher Neutron Inc. ("CN" or "Cipher Neutron") are pleased to announce that they have concluded a Memorandum of Understanding ("the MOU") with Molibdenos y Metales S.A. ("Molymet") whereby dynaCERT and CN will further jointly develop, produce and market state-of-the-art Hydrogen technology, including AEM Electrolyser technology, that will be custom designed to produce Green Hydrogen for Molymet's facilities.
The MOU also provides that dynaCERT and CN will also be advancing the testing of Molymet's proprietary rhenium products for use in hydrogen Electrolysers and other hydrogen related technologies of CN and dynaCERT with a view to developing superior, more efficient Electrolysers and lower cost green hydrogen for industrial applications and clean energy storage and generation.
Molymet
Molymet is a Chilean company and an industry leader. Its subsidiaries and offices in the Americas, Europe and Asia allow Molymet to efficiently support its customers and supply 35% of the world's demand for molybdenum and 70% of rhenium. Molymet has developed a wide range of molybdenum and rhenium solutions for the metallurgical, chemical and metal industries.
The MOU
The R&D goals of CN and dynaCERT are to eventually design and produce commercial systems capable of producing Green Hydrogen Gas at more competitive prices, in order to excel at the ever increasing competitive Green Hydrogen pricing marketplace and stay at the forefront and cutting edge of Hydrogen technology. By applying CN and dynaCERT's technology to Molymet's reduction processes, cleaner more effective results will be evaluated.
Capital Cost Reduction of Green Hydrogen Electrolysers
Research and Development teams of dynaCERT and CN have focussed on cost efficiency and mitigating material costs. Operational efficiency and the core material costs go hand in hand with design engineering. Our 5 Kilowatt AEM Electrolyser is highly efficient and has achieved a higher current density of 2 amps/cm2 as compared to 0.07 amps/cm2 in a traditional alkaline electrolyser. Each cell in our 5 Kilowatt AEM Electrolyser produces 28 times more Hydrogen Gas than a traditional alkaline cell of equivalent size. This cost reduction of raw materials, the elimination of the use of Platinum group metals as catalysts, coupled with our unique design, allows the AEM 250 kilowatt stacks planned by dynaCERT and CN to be priced below USD $950/kilowatt, believed to be a most compelling proposition to users of electrolyser technology.
Mr. Mario Lama, M. Sc.-Eng., Market Development Executive Manager of Molymet, stated, "The AEM Electrolyser accomplishments of Cipher Neutron in collaboration with dynaCERT are the perfect technology to be evaluated in conjunction with the scientific team of Molymet to advance its research in optimizing Molymet's Rhenium reduction facilities. In addition, our global leadership in rhenium products could very well have applications in producing the low cost green hydrogen that Cipher Neutron and dynaCERT are achieving in their advanced research, especially by inking their membranes used in their AEM Electrolysers."
Gurjant Randhawa, M.Eng., P.Eng., President and CEO of Cipher Neutron, stated, "Cipher Neutron and dynaCERT focus on lowering initial capital costs and long-term operating costs of producing Green Hydrogen across numerous commercial and industrial applications. Our MOU with Molymet opens the door to cross-industry collaboration where advanced scientific knowledge can be shared."
Jean-Pierre Colin, Executive Vice President and Director of dynaCERT, stated, "dynaCERT is proud to expand its relationship with Molymet, a world leader in molybdenum and rhenium products. Advances that Molymet is fostering in the Mining and Metals industry, especially in critical minerals -including the treatment of arsenic for mining operations and strategic metals, is important for the world economy and consistent with the dynaCERT strategy of establishing a very strong position to become a global leader of the Hydrogen Economy, not just with AEM Electrolysers, but also in many Green Hydrogen infrastructure projects."
About Molymet
Please see: www.molymet.com
About Cipher Neutron
Please see: www.cipherneutron.com
About dynaCERT Inc
dynaCERTInc. manufactures and distributes Carbon Emission Reduction Technology along with its proprietary HydraLytica™ Telematics, a means of monitoring fuel consumption and calculating GHG emissions savings designed for the tracking of possible future Carbon Credits for use with internal combustion engines. As part of the growing global Hydrogen Economy, our patented technology creates hydrogen and oxygen on-demand through a unique electrolysis system and supplies these gases through the air intake to enhance combustion, which has shown to lower carbon emissions and improve fuel efficiency. Our technology is designed for use with many types and sizes of diesel engines used in on-road vehicles, reefer trailers, off-road construction, power generation, mining and forestry equipment. Website: www.dynaCERT.com.
Source:FuelCellsWorks