HRS and Gaia Future Energy Collaborate to Boost Green Hydrogen-Based Mobility Development
---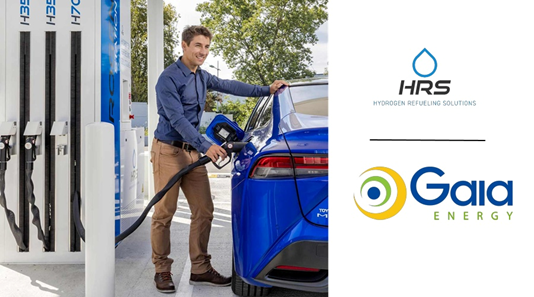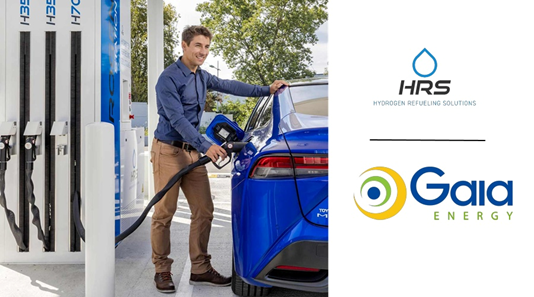 Grenoble – HRS, the European designer and manufacturer of hydrogen refueling stations and Gaia future Energy, the Moroccan developer of green hydrogen, an affiliate company of the Gaia Energy group , announce today the signing of a memorandum of agreement to provide global solutions for the distribution of green hydrogen for mobility, combining green hydrogen produced by Gaia future Energy and the hydrogen refueling station of HRS. The parties also wish to reach a cross-distribution agreement, creating commercial synergies.
Gaia Energy is one of Africa's leading promoters of renewable energy. The Group develops large-scale projects for the production of renewable energy and by-products, with solid experience in the production of green hydrogen intended mainly for export to Europe.
Under the MoU, HRS and Gaia future Energy teams will collaborate to accelerate the development of green hydrogen infrastructure, particularly in European markets. The partners are particularly targeting the joint development of large-scale hydrogen mobility projects, where HRS would provide hydrogen distribution solutions supplied with green H2 produced by Gaia future Energy in Morocco. The partners also intend to continue exploring new business opportunities in the Maghreb.
Benefiting from a climatology (strong winds and high solar radiation) very favorable to the competitive production of renewable energies and therefore of green hydrogen, Morocco is particularly well placed to occupy a significant share of the hydrogen export market. renewable for Europe. In addition, the existing infrastructures and the proximity to Southern Europe also allow easy transport to Europe.
Moundir Zniber, founder of Gaia future Energy said: We are proud and happy to be able to make a significant contribution to the construction of this new model of cooperation between Morocco and Europe, in a vision of a decarbonized future where Morocco would become a strategic source of green fuel supply in European mobility, through HRS which had the courage and the strength to create this new market of the future.
Hassen Rachedi, Founder and CEO of HRS, said: " We are delighted to collaborate with Gaia future Energy to accelerate the transition towards cleaner and more sustainable mobility in Europe and the Maghreb. This agreement is part of the shared desire of meet the challenges of the transition energy by accelerating the development of mobility based on green hydrogen, thanks to common competitive solutions. This strategic collaboration will allow us to jointly deploy large-scale green hydrogen projects, by combining the complementary know-how of our two companies. We are convinced that green hydrogen is a key enabler of transport decarbonization, and we look forward to working with Gaia futureEnergy.
ABOUT GAIA FUTURE ENERGY
Gaia Future Energy is one of the leading international green hydrogen developers in Africa, with an 80 GW pipeline of green hydrogen projects under development. As an affiliate of the Gaia Energy group, it specializes in the development and financing of large-scale hydrogen and derivatives production projects in Africa.
Gaia Future Energy aims to produce from its projects in Morocco a volume of 1 million tonnes of green hydrogen by 2030 and 3 million tonnes by 2040, intended for the European market, while offering the price the most competitive for green hydrogen in the world."
ABOUT HRS
Created in 2004, Hydrogen-Refueling-Solutions ( HRS ), formerly TSM, is a pioneer in hydrogen mobility. European designer and manufacturer of hydrogen refueling stations, HRS has been committed for more than 10 years to the decarbonization of transport.
Backed by unique know-how and experience, HRS has developed a complete range of hydrogen refueling stations that can be used by all types of fuel cell vehicles and are perfectly suited to the needs of a rapidly growing European market. At its Champ-sur-Drac site, HRS has a series production capacity enabling it to assemble up to 60 units per year and in record time, which can reach only 8 weeks.
Source:FuelCellsWorks