Vattenfall and Cara Delevingne Launch Face Mist With Emissions From Fossil-Free Hydrogen
---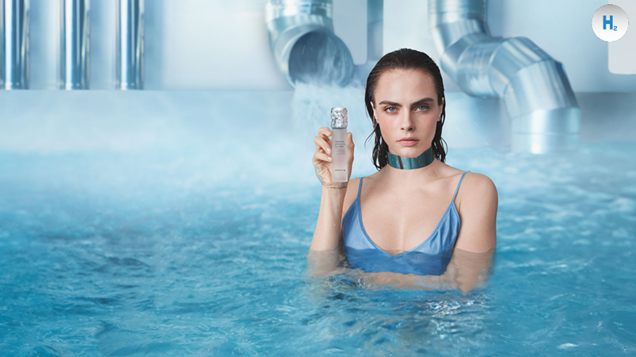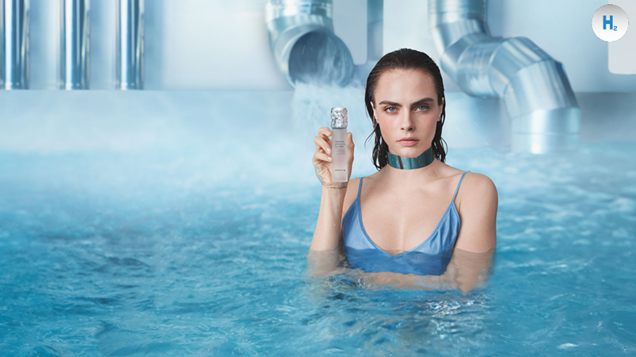 British model, actress and climate advocate Cara Delevingne joins forces with Vattenfall to launch the first-ever "Industrial Emissions Face Mist". The face mist is a way to highlight one of the solutions to reduce climate emissions, in this case by the use of fossil-free hydrogen.
The collaboration between Cara Delevingne and Vattenfall sets out to highlight the importance of fossil free hydrogen, a fuel that emits water instead of carbon dioxide when used. The face mist is made from actual waste water from a factory using fossil-free hydrogen. The emissions are so clean that they can be used in a refreshing face mist and put on your face.
Fossil free hydrogen holds the potential to decarbonise entire industries and thereby reduce carbon emissions significantly, especially in industries such as steel production, which is responsible for seven per cent of the world's total carbon dioxide emissions.
"We aim to highlight the potential of fossil free hydrogen by showcasing that when used as fuel only water is emitted. The "Industrial Emissions Face Mist" is made of real waste water from the steel making process taking place at the HYBRIT pilot plant in Luleå, Sweden. We aim to show the potential of fossil free hydrogen and inspire others to join us in the transition towards a cleaner and more sustainable future," says Mikael Nordlander, Director of Industry Decarbonisation at Vattenfall.
The key ingredient in the face mist is waste water from the Swedish HYBRIT plant, a collaboration between Vattenfall, steel manufacturer SSAB and mining company LKAB. The partnership aims to develop a process for fossil free steel making, using hydrogen produced with fossil free electricity. The advantages of fossil free hydrogen are not constrained to steel. The fuel has the potential to power heavy industries across different areas, enabling a shift towards a more sustainable future.
Cara Delevingne's commitment to promoting a fossil free future played a central role in the collaboration according to Paul Morel, Brand Campaign Manager, Vattenfall who continues:
"Vattenfall acknowledges Cara Delevingne's important voice as a climate advocate in her community, especially her ability to highlight positive sustainable change. In this project, Cara plays a key role to raise awareness and inform people about fossil free hydrogen as well as Vattenfall's goal of achieving fossil free living within one generation," Morel says.
Cara Delevingne comments:
"Throughout this project, I have learned so much about fossil free hydrogen, working with Vattenfall has allowed me to see first-hand how this fuel works and how it can transform entire industries. Therefore, I'm thrilled to be part of this project and raise awareness about an initiative that demonstrates the huge potential of fossil free hydrogen in replacing fossil fuels. If it takes applying the emissions on my face to spread this message, I am willing to do it," she says.
The Vattenfall face mist is not a product for sale. A limited number of bottles have been produced to be used in the campaign.
Campaign website
For more information about the "Industrial Emissions Face Mist" and the collaboration with Cara Delevingne, please visit the campaign website.
Source:FuelCellsWorks