Hyundai Rotem Reveals Actual Product of Hydrogen Powered Train
---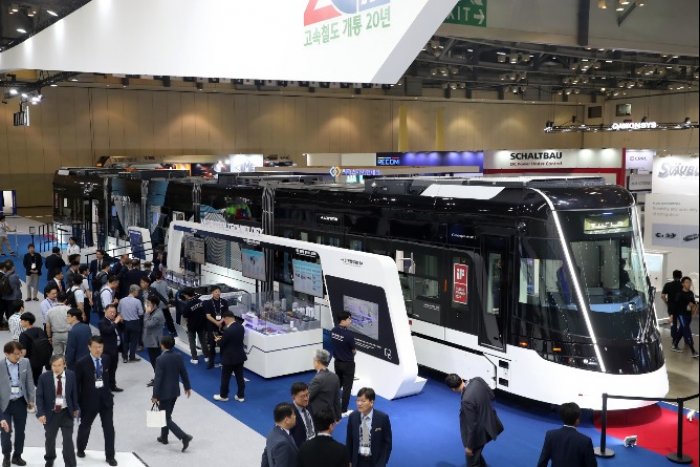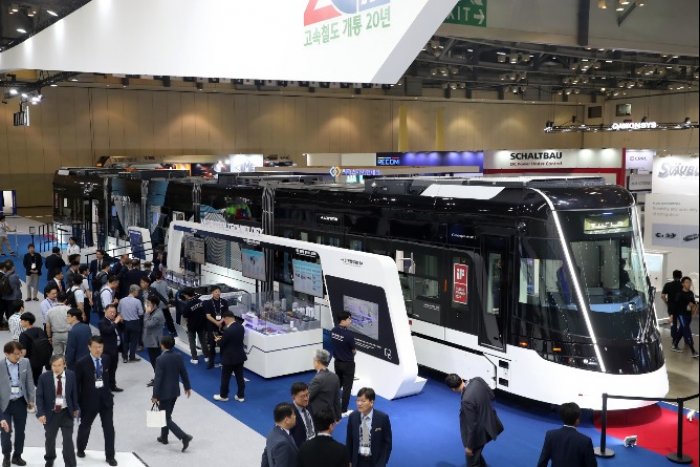 Hyundai Rotem, a South Korean railway system maker under Hyundai Motor Group, participated in the largest domestic railway exhibition to showcase advanced railway vehicle technologies.
Hyundai Rotem announced that it prepared a record-breaking exhibition space of 3,708 square meters with the theme H-Flow at 2023 Korea Railways & Logistics Fair 2023 that opened on Wednesday at BEXCO in Busan.
Korea Railways & Logistics Fair, now in its 11th edition, is the largest domestic railway exhibition held biennially. H-Flow represents Hyundai Rotem's focus on human-centered railway cars, technologies and eco-friendly hydrogen vision.
At the entrance of the exhibition space, an actual product model of the domestically developed distributed-power high-speed train EMU-320 was displayed along with the Korean high-speed railway history gallery. The history gallery allows visitors to experience the 20-year history of high-speed trains since the opening of the Seoul-Busan high-speed railway in 2004.
In addition, a dedicated section for hydrogen mobility technology was set up, featuring the first-ever public unveiling of a physical model of the hydrogen electric train.
The hydrogen electric train, which is currently undergoing a demonstration project as a national research project supervised by the Ministry of Trade, Industry and Energy, is expected to be completed by the end of this year.
It is a next-generation environmentally friendly mode of transportation that purifies 800 micrograms of fine dust per hour of operation and generates 107.6 kg of clean air.
The hydrogen electric train is expected to contribute to improving sustainable urban environments in the era of carbon neutrality. Last month, it received the top prize at iF Design Award 2023, one of the world's top-three design awards, making it the first in the industry to achieve such recognition.
Hyundai Rotem showcased actual-size models of various vehicles, including the GTX-A electric train for the Greater Seoul Metropolitan Area, double-decker electric trains for Sydney, Australia, commuter electric trains for Taiwan Railways Administration, and trams for Warsaw, Poland.
Furthermore, the exhibition included a space where visitors could experience train car operation and maintenance through virtual reality and augmented reality.
Source: HydrogenCentral