POSCO Holdings Takes First Step in Developing 40,000 Tons of Green Hydrogen Production in Western Australia
---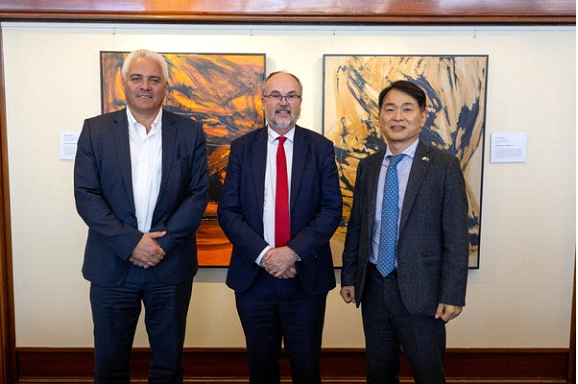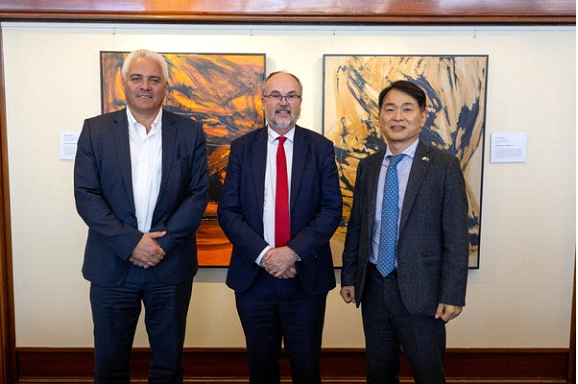 POSCO Holdings has taken its initial stride towards developing green hydrogen* production for eco-friendly steel raw material, Hot Briquetted Iron (HBI)**, in Western Australia.

* Green hydrogen refers to clean hydrogen produced by splitting water using renewable energy sources, such as solar and wind energies, with zero carbon emissions.

** Hot Briquetted Iron (HBI) is a product that resembles coal nuggets and is produced by removing oxygen from iron ore. It serves as a vital steel raw material for high-quality steel production when electrically melted.

POSCO Holdings, in partnership with Engie, a French multinational utility company specializing in renewable energy, signed a joint study agreement in Perth, Australia, on October 12. The signing ceremony was attended by Rik De Buyserie, the Australian representative of Engie, Bill Johnston, Western Australia's Minister for Mines, and Ju-ik Cho, the head of POSCO Holdings' Hydrogen Business Team. The agreement entails the initiation of a pre-feasibility study for the development of the second stage of green hydrogen production in Western Australia.

During the signing ceremony, Minister Bill Johnston expressed his optimism, stating, "Western Australia is continuously committed to the utilization of renewable energy and green steel production. We believe this pre-feasibility study is a significant step towards the future of clean energy."

POSCO Holdings and Engie are working together to secure a site for renewable energy development for the second phase of green hydrogen production, including the establishment of a concept for electrolysis*** facilities. They are also working together to seek financial support from the Australian government.

*** Electrolysis of water is using electricity to split water into oxygen and hydrogen gas by electrolysis.

The second-stage green hydrogen production project aims to produce and supply between 20,000 and 40,000 tons of green hydrogen annually, covering 10 percent of the reducing agent required for POSCO's HBI production. POSCO Holdings plans to conclude the pre-feasibility study by the end of this year and proceed with preliminary FEED (front end engineering and design) work, with the goal of commencing commercial production in 2028.

POSCO Group's strategy involves producing green hydrogen and HBI in Australia, primarily based on large-scale renewable energy sources like solar and wind energies. The group secured a project site within the Boodarie Strategic Industrial Area from the Western Australian government at the end of last year. They are presently conducting the FEED for the first stage of green hydrogen production, which aims to produce approximately 2,000 tons annually, with the objective of realizing commercial production in 2027.

Mr. Cho from POSCO Holdings affirmed,

Australia holds a pivotal role in POSCO Group's ambitions to achieve carbon neutrality by 2050 and advance in the areas of green hydrogen and green steel.
"By developing the green hydrogen business in conjunction with green steel, we are committed to fostering synergy across the entire group and establishing a solid business structure, creating a successful model for green hydrogen production."

POSCO Group intends to incrementally enhance the hydrogen reduction rate required for HBI production in Australia, commencing green hydrogen production in 2027, and building a system for hydrogen production amounting to 2 million tons in Australia by 2050. The majority of the green hydrogen produced in Australia is expected to be employed locally as a reducing agent for HBI, with a portion transported to Korea to supply steel mills as a hydrogen reduction agent.
Source:HydrogenCentral