Atco Mining Identifies At Least One Salt Structure Suitable for Hydrogen Storage on its Eagle Salt Project in Sw Newfoundland
---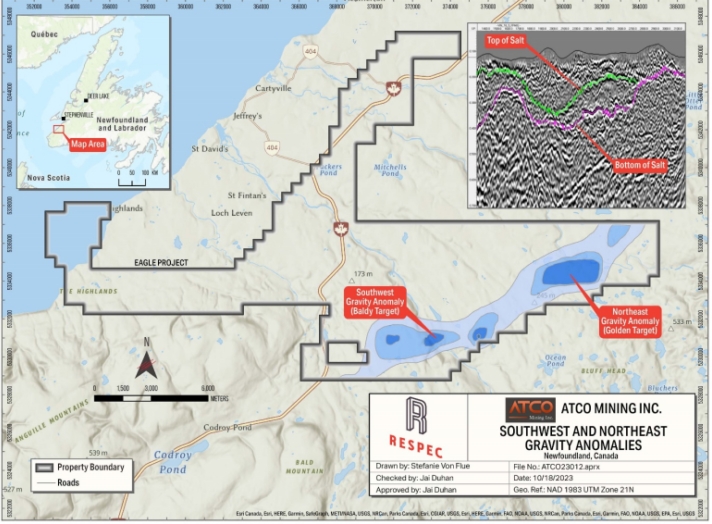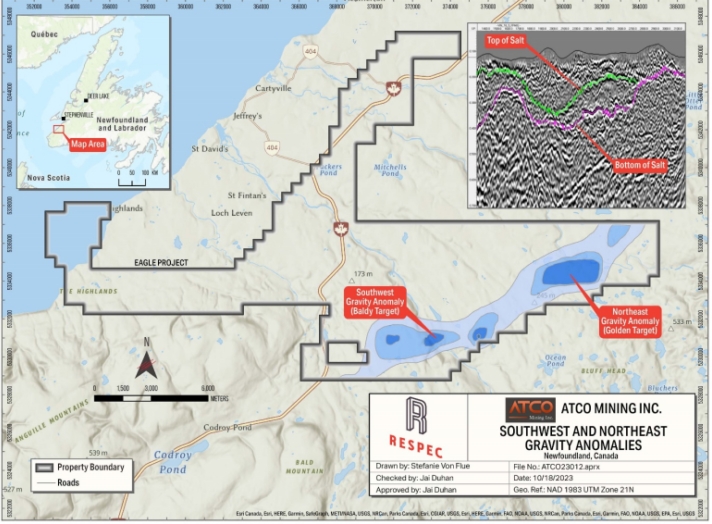 Atco Mining Identifies At Least One Salt Structure Suitable for Hydrogen Storage on its Eagle Salt Project in Sw Newfoundland.
Atco Mining Inc. (the "Company" or "Atco") (CSE:ATCM); (OTC:ATMGF); (Frankfurt:QP9) is pleased to announce that its contracted consultant, RESPEC Consulting Inc. (RESPEC), has completed an analysis of the previously announced 2-D seismic interpretation on its Eagle Salt Project ("Project Area"), located in Southwestern Newfoundland. RESPEC has identified at least one salt structure that it considers prospective for halite exploration, the mineral form of sodium chloride or road salt, which is potentially also suitable for hydrogen salt dome cavern development.
As shown in Figure 1, the Project Area contains two gravity anomalies in the southwest ("Baldy") and northeast ("Golden") areas. The 2-D seismic data in conjunction with the gravity data support the potential for salt deposits at depth in the Baldy area. Figure 1 inset displays the seismic interpretation of the Baldy Target, highlighting the potential upper limit of the salt deposit (green line) and the lower extent (pink line).
The Golden gravity anomaly suggests the presence of low-density strata, such as salt, may be located in this target area. However, this area currently lacks seismic data. Atco is scoping the completion of an additional 2D seismic survey in this area to define the dimensions of a potential salt structure.
Completing additional 2D seismic surveys will also assist Atco in better defining the hydrogen storage capacity of the Project Area.
Jai Duhan, Subsurface Energy Storage Consultant at RESPEC, comments, "The gravity and 2D seismic data show the potential presence of a salt structure in Atco's Eagle Salt Project Area, possibly suitable for hydrogen storage cavern development. RESPEC is currently working with ATCO to define the next steps in its exploration program aimed at outlining the dimensions of the salt structure."
Etienne Moshevich, CEO of Atco Mining, said:
I am very pleased with this news.
"This is only the first of many steps in defining yet another salt structure for potential hydrogen storage, which will only make Atco a more attractive target to the various energy companies investing in clean-energy projects off the coast of Newfoundland."
About RESPEC
RESPEC experts have evaluated over 1,000 caverns in nearly every major cavern storage region in the world. Its extensive history underground has helped them pioneer in-house specialty software and rock lab testing that focuses on analyzing solution-mined and conventionally mined caverns. Respec has the world's largest rock laboratory dedicated to the underground storage industry and has experience with some of the largest scale projects in North America, including Mitsubishi Power's Advanced Clean energy storage project in Utah, the Atco Heartland Energy Centre in Alberta and seven other hydrogen storage projects worldwide.
Qualified Person
The technical content of this news release has been reviewed and approved by Tabetha Stirrett (P.Geo), who is a Qualified Person as defined by NI 43-101.
About Atco Mining (CSE: ATCM):
Atco is a junior exploration mining company focused on exploring for green energy metals throughout Canada. Atco is also exploring for sulphide-rich VHMS deposits in Saskatchewan as well as salt opportunities in Western Newfoundland.
Source:HydrogenCentral