Worley awarded FEED contract for first phase of proposed landmark 3GW Kintore Hydrogen project by Statera Energy
---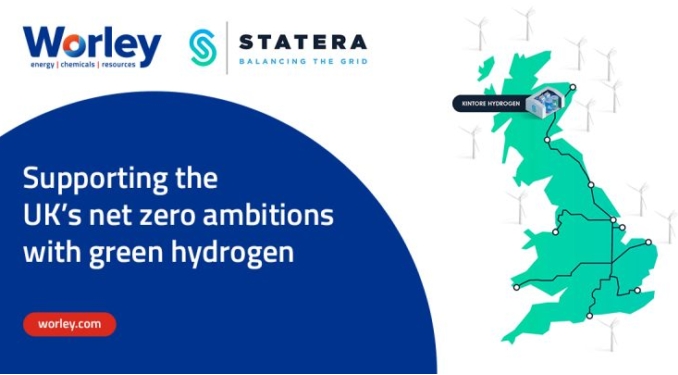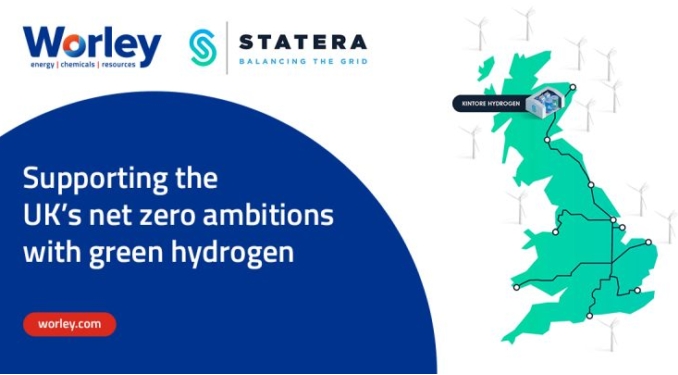 Worley awarded FEED contract for first phase of proposed landmark 3GW Kintore Hydrogen project by Statera Energy.
We've been awarded a front end engineering design (FEED) contract for the first phase of Statera's ground-breaking 3 GW Kintore Hydrogen project in Aberdeenshire, Scotland.
Once operational the project will be the largest renewable (green) hydrogen project in Europe. Securing Aberdeenshire's position at the heart of the renewable hydrogen economy while providing flexible capacity and energy security to the wider UK. Work will be led by our Aberdeen office.
Kintore Hydrogen was a successful applicant in the UK government's Net Zero Hydrogen Fund (NZHF) Strand 1 competition in March 2023.
Receiving funding for the FEED, planning and consenting work for the initial 500 MW phase.
The project aims to harness surplus electricity generated by Scotland's offshore wind resources to produce renewable hydrogen, which will play a critical role in decarbonizing power generation facilities and carbon-intensive industrial clusters across the country.
The proposed FEED study has a target completion date in 2024 and the project will be ready for a final investment decision in 2025. The full 3 GW of production is expected to be online by the 2030s.
Supporting the energy transition in the North East
The North East of Scotland has historically been a global leader in the energy sector and the local expertise and skills within the region will be vital for driving the project forward.
Graham Swan, Vice President of Onshore Energy, UNCE, said:
Our abilities to deliver from Aberdeen were pivotal in securing this contract. The North East of Scotland is in the midst of a major transition of its own. As the region aims to become a key hub for energy transition activities to accelerate net zero ambitions.
"With a strong presence in the region, we're leveraging transferable skills and supporting the transition of our workforce from traditional energy, chemicals and resources experts to experts in today's low-carbon energy infrastructure and technology,"
Contributing to the UK's net zero strategy
Don Harrold, Project Director at Statera Energy, said:
Kintore Hydrogen is a ground-breaking project and a key demonstration of Statera's commitment to meeting the challenge of decarbonising the UK's energy system and industrial sectors and, in the process, providing vital energy security.
We see the North East of Scotland playing a major part in the energy transition, and this project is a real opportunity to position the region at the forefront of the growth of the green hydrogen sector. We're delighted to be working with Worley to deliver the FEED study with excellent local talent and expertise,"
Swan, said:
"It's exciting to be engaged with Statera in moving forward the largest renewable hydrogen project in the UK pipeline, a critical element of the UK's net zero strategy. We recognize the importance of getting the FEED stage right and developing a safe, robust and quality solution will be an essential component of our involvement. Every aspect of our execution approach is designed to ensure safety and optimal operations. From the FEED stage, beyond construction, and through the project's whole lifespan,"
Source:HydrogenCentral