A single developer sweeps 80% of budget from Denmark's first green hydrogen and derivatives tender
---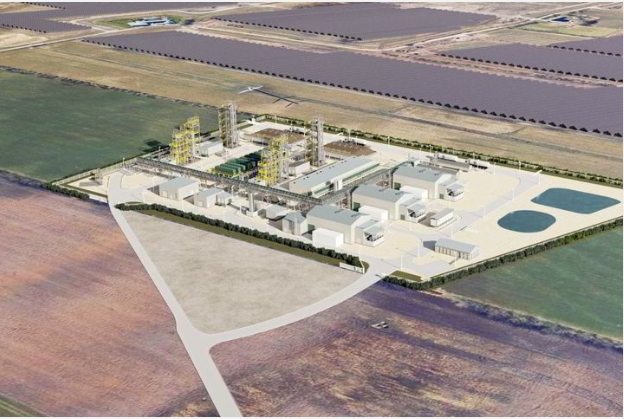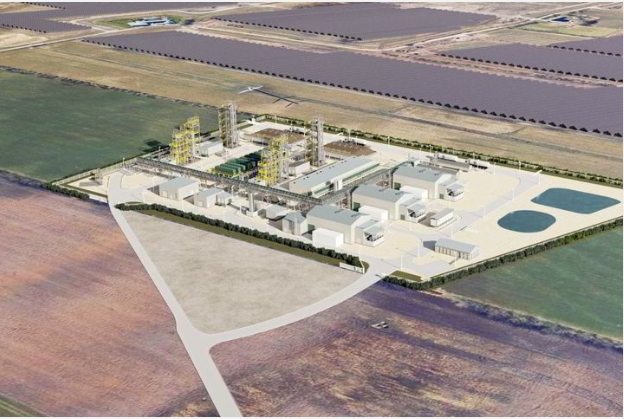 The six winning projects will be awarded fixed payments for ten years, as long as they are up and running by late-2027
The Danish government has today announced six projects nearly 280MW in combined capacity have won subsidies from its first DKK 1.25bn ($177m) tender for green hydrogen and derivatives.
This includes a combined DKK 1bn towards three projects by a single developer, European Energy, accounting for more than 80% of the cash awarded.
The winning projects (see table below) have a ten-day grace period before contracts for fixed ten-year payments from start of production are signed.
Once they have accepted the subsidies, the developers have four years to start operations, although the Danish Energy Agency anticipates most of these to start production sooner.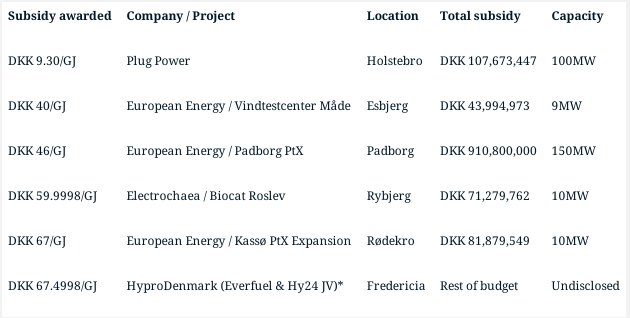 * Only won bid subsidy for part of capacity
Source: Danish Energy Agency
The largest of these is European Energy's 150MW green hydrogen-based e-fuels plant in Padborg, which received a ten-year fixed subsidy of DKK 46/GJ (equivalent to DKK 5.52/kg or $0.78/kg), or a total of DKK 910m from the budget.
European Energy has also received subsidies towards smaller scale projects, such as a 9MW second phase of its green hydrogen project in Måde and a 10MW expansion of its planned, now-60MW e-methanol facility in Kassø, which is set to be opened next year with offtake lined up from shipping giant Maersk, pharmaceuticals firm Novo Nordisk, toymaker LEGO, and retailer Circle K.
However, the lowest subsidy per unit of H2 production was struck by Plug Power for the auction's second largest winning project, a 100MW green hydrogen plant in Idomlund in western Denmark, which only bid DKK 9.3/GJ ($0.15/kg) — less than a quarter of the next lowest price.
More than 675MW was bid into the auction, with the total subsidies requested more than triple the tender's budget. However, all of the winning bids were below the DKK 70/GJ ($1.18/kg) threshold necessary to close the auction in one round.
While the tender had a nominal bid ceiling of DKK 120/GJ ($2.03/kg), the Danish government had set the lower threshold in an effort to maximise the number of projects getting a subsidy, with any higher bids triggering the split of the auction and its budget into two rounds.
However, one of the winning projects — which is being developed by a joint venture between H2 producer Everfuel and hydrogen-focused fund Hy24 — was only offered a subsidy of around DKK 34m for a part of the plant's as-yet undisclosed capacity.
The Danish Energy Agency confirms to Hydrogen Insight that paying out the bid subsidy of just under DKK 67.50/GJ ($1.14/kg) for the full project would have gone over the set budget, but it was still selected as it was the sixth lowest in the auction.
Everfuel has given no comment on whether it will accept or decline the offered subsidy after the ten-day consideration period, nor any further detail on the project that was bid into the auction process.
Source:HydrogenInsight