Vopak and A*STAR sign MoU to explore research opportunities in low carbon energy solutions, including hydrogen and ammonia
---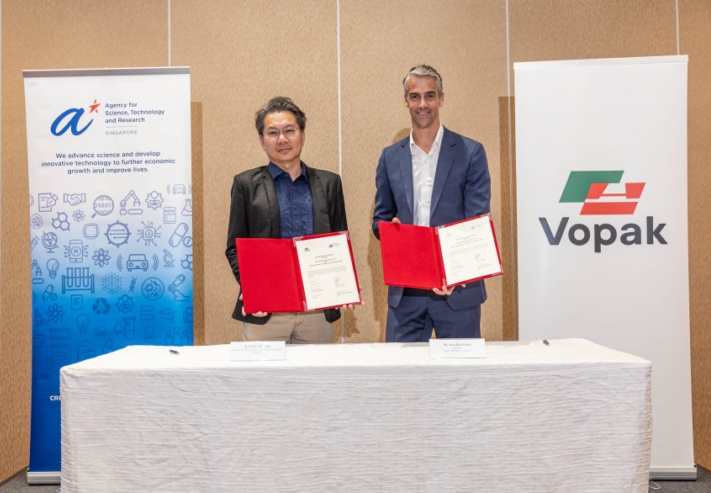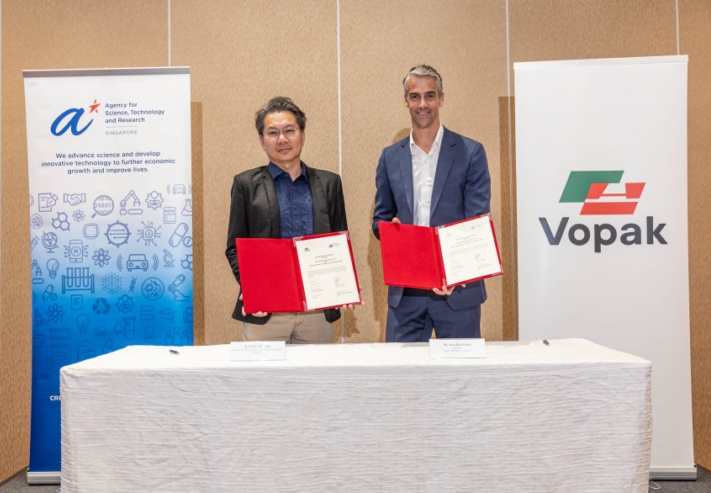 Vopak and A*STAR sign MoU to explore research opportunities in low carbon energy solutions, including hydrogen and ammonia.
Vopak Terminals Singapore (Vopak) and the Agency for Science, Technology and Research (A*STAR) have signed a Memorandum of Understanding (MoU) to explore research opportunities in low carbon energy solutions, including addressing current challenges associated with hydrogen and ammonia, such as scalability, safety, storage and transportation.
As a clean fuel that can be used to generate electricity, low-carbon hydrogen is an increasingly promising solution which can spur Singapore's decarbonization efforts as Singapore transitions towards net zero by 2050. Ammonia, a hydrogen carrier, has also emerged as a possible fuel for power generation, as well as a low-carbon marine fuel.
The partnership between Vopak and A*STAR will focus on the development of low-carbon energy technologies by combining Vopak's expertise and assets in importing, storing and handling ammonia on large scales, with A*STAR's research capabilities in energy transition and low carbon energy. The partnership will also enable researchers to access Singapore's only ammonia import, storage and handling infrastructure to accelerate R&D and conduct technology pilots.
Rob Boudestijn, President, Vopak Terminals Singapore, said:
Hydrogen and ammonia can play an important role in Singapore's transition to a low-carbon economy. As Singapore's leading independent terminal infrastructure provider.
"we have extensive knowledge and experience in the safe handling of ammonia. We recognize the unique role that Vopak can play to support Singapore's net zero ambitions. We look forward to collaborate with A*STAR to accelerate the safe scale up & commercialisation of these low-carbon energy solutions"
Prof Yeo Yee Chia, Assistant Chief Executive, Innovation & Enterprise, A*STAR, said:
A*STAR looks forward to our partnership with Vopak to support Singapore's National Hydrogen Strategy, where hydrogen could supply up to half of our power needs by 2050.
"By advancing technologies for low- or zero-carbon fuels such as hydrogen and ammonia and harnessing them for diverse industry applications, we can help pave the way to a more sustainable future enabled by innovative clean energy sources,"
The signatories of the MoU were Rob Boudestijn (right), President, Vopak Terminals Singapore, and Prof Yeo Yee Chia, Assistant Chief Executive, Innovation & Enterprise, A*STAR.
About Vopak Terminals Singapore
Vopak Terminals Singapore is a joint venture between Royal Vopak (69.5%) and PSA International Pte Ltd (30.5%). With 40 years of heritage locally, Vopak Terminals Singapore is experienced and dedicated in providing storage, handling and transshipment solutions for oil, gas and chemical industries.
It owns and operates four terminals with a combined storage capacity of more than 3 million cbm as well as Singapore's only Ammonia import, handling and distribution infrastructure. In addition, Vopak Terminals Singapore operates the Jurong Rock Caverns, Singapore's first subterranean hydrocarbon storage facility located at Jurong Island.
About Royal Vopak
Royal Vopak is the world's leading independent tank storage company. We store vital products with care. Products for everyday life. The energy that allows people to cook, heat or cool their homes and for transportation. The chemicals that enable companies to manufacture millions of useful products. The edible oils to prepare food. We take pride in improving access to cleaner energy and feedstocks for a growing world population, ensuring safe, clean and efficient storage and handling of bulk liquid products and gases at strategic locations around the world. We are excited to help shape a sustainable future by developing infrastructure solutions for new vital products, focusing on zero- and low-carbon hydrogen, ammonia, CO2, long duration energy storage and sustainable feedstocks. We have a track record of over 400 years in navigating change and are continuously investing in innovation. On sustainability, we are ambitious and performance driven, with a balanced roadmap that reflects key topics that matter most to our stakeholders and where we can have a positive impact for people, planet and profit and the United Nations Sustainable Development Goals. Vopak is listed on the Euronext Amsterdam and is headquartered in Rotterdam, the Netherlands.
About the Agency for Science, Technology and Research (A*STAR)
The Agency for Science, Technology and Research (A*STAR) is Singapore's lead public sector R&D agency. Through open innovation, we collaborate with our partners in both the public and private sectors to benefit the economy and society. As a Science and Technology Organisation, A*STAR bridges the gap between academia and industry. Our research creates economic growth and jobs for Singapore, and enhances lives by improving societal outcomes in healthcare, urban living, and sustainability. A*STAR plays a key role in nurturing scientific talent and leaders for the wider research community and industry. A*STAR's R&D activities span biomedical sciences to physical sciences and engineering, with research entities primarily located in Biopolis and Fusionopolis.
Source:HydrogenCentral