Elcogen announces Memorandum of Understanding with Bumhan Fuel Cell Co.
---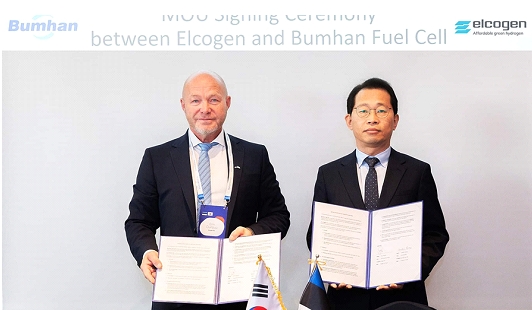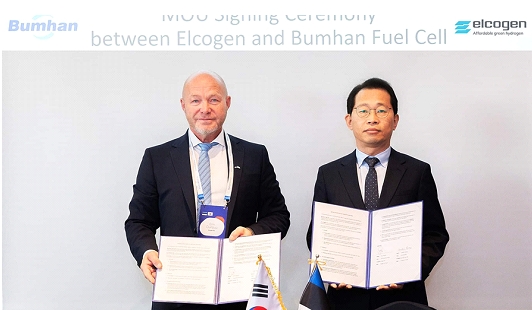 We are pleased to announce the signing of a Memorandum of Understanding ("MOU") with Bumhan Fuel Cell Co. ("Bumhan"). The MOU builds on an existing two-year co-operative relationship between Elcogen and Bumhan.

The purpose of the partnership is to cooperate towards the commercialisation of solid oxide fuel cells (SOFC) and solid oxide electrolyser cells (SOEC) technology to catalyse the global transition to clean energy.

Bumhan is a company specializing in hydrogen application technology, including fuel cells, hydrogen compressors, and hydrogen refuelling stations, located in Korea. Founded in 1990, Bumhan became the world's second company to develop and commercialize hydrogen fuel cells for submarines, and based on its core fuel cell technology, it has built an extensive business portfolio including fuel cells for buildings, hydrogen ships and hydrogen buses. The hydrogen refuelling station business started as a shareholder of Hynet (Korea's Hydrogen Energy Network), and a total of 30 orders were received by 2023, and are currently in commercial operation or construction.

Under the terms of the agreement, Elcogen will supply its SOFC and SOEC technology which offers an efficient solution to green hydrogen and emission-free energy production. As a result, it reduces commercial costs so customers can deliver affordable energy solutions to meet net-zero targets.

Enn Õunpuu, CEO of Elcogen: "We can see the growing demand for the decarbonisation of hard-to-abate sectors, which needs to be addressed. The signing of this MOU with Bumhan builds on our established relationship, and we are delighted to be working alongside them to bring SOFC and SOEC technology to market as we transition to a carbon free future."

Jungtae Hwang, VP of Bumhan: "Due to global warming issues, the development of hydrogen fuel cell technology to achieve carbon neutrality is becoming important. I am pleased to sign this MOU with Elcogen, and believe that this MOU will play a very key role in the development and commercialization of high-efficiency SOFC and SOEC technologies."
Source:Elcogen