New Mexico Wild Hydrogen Days
---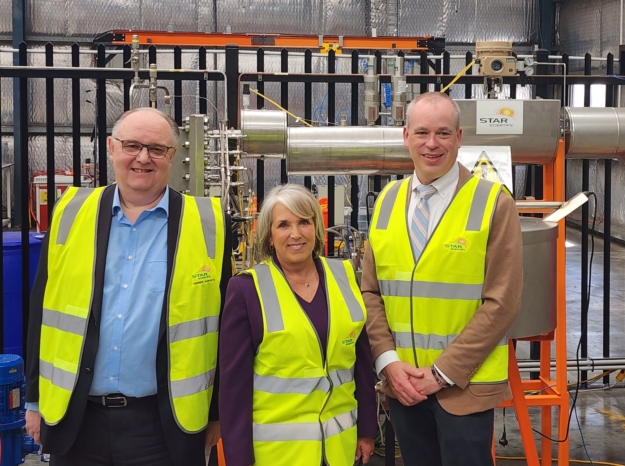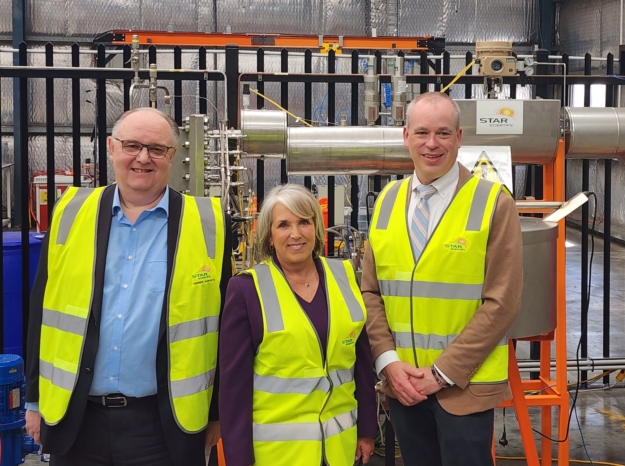 New Mexico wild hydrogen days.
Michelle Lujan Grisham flew to Australia earlier this month with an oil and gas lobbyist and the head of a natural gas industry group to speak at a hydrogen conference. The trip came after a week of whiplash hydrogen news in the state, with a panel recommending money for hydrogen projects, the federal government snubbing a New Mexico-led regional hydrogen hub proposal and a state agency releasing a rosy outlook for the carbon sequestration needed for hydrogen production.
Lujan Grisham's office announced that she was leading a trade mission to Australia, culminating in the Asia-Pacific Hydrogen 2023 Summit in Sydney, just days before departure.
A press release named nine others joining the governor, including a representative from Avangrid (which is trying to buy New Mexico's largest public electric utility); the former chief commercial officer for BayoTech, an Albuquerque-based manufacturer of machines that turn natural gas into hydrogen; Jason Sandel, the head of an oil and gas well-servicing company in Farmington, New Mexico, chair of a natural gas industry group and a major political backer of Lujan Grisham; and Jennifer Bradfute, an oil and gas lobbyist and lawyer for years with Marathon Oil who recently joined ExxonMobil.
The summit helps attendees "access the latest industry advancements and sign new partnerships," according to its website, and draws speakers from governments and companies around the world. Lujan Grisham spoke on a panel looking into regional collaboration and trade between Asia-Pacific and the rest of the world.
The governor's office later announced that Star Scientific, an Australian company, pledged to build a research and manufacturing facility in Albuquerque. The company makes a catalyst that gets extremely hot when exposed to hydrogen and can be used in high-heat industrial processes or power generation, according to the company. In a photo of the signing ceremony, the big-bearded Sandel stands behind the governor's left shoulder.
Maddy Hayden, the governor's director of communications, said organizers invited Lujan Grisham to speak and that state employee travel expenses are covered by the New Mexico Partnership, a public-private partnership under the state's Economic Development Department.
Maddy Hayden, the governor's director of communications said:
The heavily global nature of the hydrogen economy necessitates building relationships outside of U.S. borders.
"Each business member of the delegation represents a company investing heavily in the clean hydrogen space in New Mexico, the U.S. and the globe." The governor's office did not share a copy of the Star Scientific agreement before publication.
A week before the trip, the White House and the Department of Energy rejected Lujan Grisham's proposal for a collaborative hydrogen hub connecting New Mexico, Utah, Colorado and Wyoming.
Energy trade between New Mexico and the Asia-Pacific region continues, though, with help from Lujan Grisham's travel partner Sandel, who wears many hats, including chairman of Western States and Tribal Nations, a collaboration between the natural gas industry and tribal and government agencies from New Mexico, Utah, Colorado and Wyoming. The group wants a natural gas export route from the intermountain West to Asian markets, something it's working on with energy giant Sempra.
According to New Mexico secretary of state records, fellow traveler Bradfute spent five years as a lobbyist at Marathon Oil before recently joining ExxonMobil as its Permian Basin representative. ExxonMobil, Avangrid and Sempra are all partners in the Houston-based HyVelocity Hub hydrogen proposal that received federal funding when Lujan Grisham's intermountain plan didn't.
The same day as the federal hydrogen hub announcements, Lujan Grisham kicked off the nonprofit New Mexico Climate Investment Center to centralize state applications for federal climate investment money. While addressing protesters who decried her hydrogen hopes, Lujan Grisham said that New Mexico has "all the right geology" for hydrogen development.
That comment grew clearer later in the week when the New Mexico Bureau of Geology & Mineral Resources published its semi-annual newsletter, usually devoted to describing the state's geology to the public. This time, it explained how the state's geology could benefit hydrogen production and the economy.
The authors, one a senior petroleum geologist at the bureau and the other a research scientist at the Petroleum Recovery Research Center at New Mexico Tech, wrote, "Carbon sequestration and hydrogen production and storage are technologies that could contribute to a sustainable economy in New Mexico."
To be carbon neutral, fossil fuel-based hydrogen requires expensive and massive sequestration projects where waste carbon dioxide is permanently injected into rock formations. The authors say New Mexico has favorable geology for injection but fail to say that the technology doesn't work very well, either in the U.S. or elsewhere.
Furthermore, the state's sole industrial-scale carbon-capture project, Four Corners Carbon Capture, is still nearly two years away from receiving a permit from the Environmental Protection Agency. Yet the Intergovernmental Panel on Climate Change announced last year that carbon emissions globally need to stop rising by 2025, years before the Four Corners carbon capture facility could be permitted and built.
Nevertheless, the geologists report that carbon sequestration offers "potential for existing and recently closed power plants and adjacent coal mines to remain active," despite the fact that the state's coal plants and mines are closing under New Mexico's Energy Transition Act (ETA) because that is the quickest, cheapest way to reduce their carbon emissions.
Camilla Feibelman, director of the Rio Grande chapter of the Sierra Club said:
People are really desperate to feel like there's a solution to climate change that doesn't require us to change anything.
With hydrogen, she said, "Oil and gas has found a new way to package its product and slap on the name 'clean and green.'"
Source:HydrogenCentral