Universal Hydrogen Showcases Airside Fueling Logistics for ATR-72 and H2AmpCart at Toulouse Blagnac Airport F50 Operational Gate
---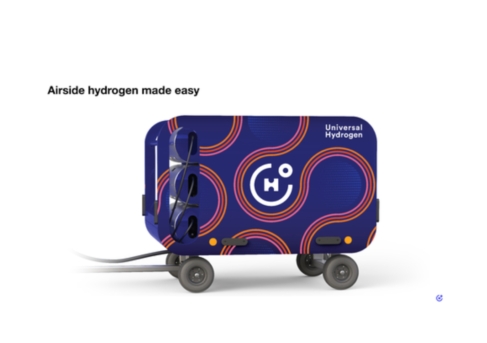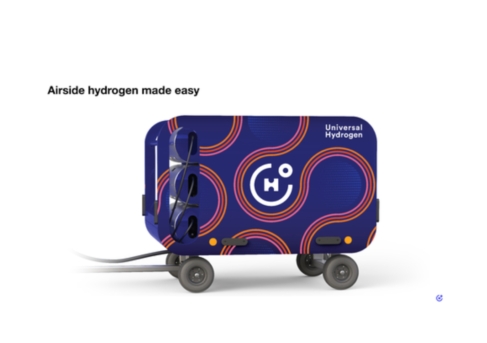 Universal Hydrogen showcases airside fueling logistics for ATR-72 and H2AmpCart at Toulouse Blagnac airport F50 operational gate.
Universal Hydrogen Co., a hydrogen fuel services provider that uses unique modular hydrogen capsule technology, announced it has completed an operational demonstration of loading and unloading its proprietary modular hydrogen capsules on its ATR-72 test aircraft.
Simultaneously, the company also showcased the fueling logistics solution for its new H2AmpCart™, which is being designed and developed in partnership with JBT AeroTech, and will serve as a hydrogen fuel cell-powered, mobile battery charger for electric ground support equipment (GSE).
Airlines, airports, official authorities as well as OEMs that are part of the Airport Compatibility of Alternative Aviation Fuels Task Force (ACAAF TF) attended today's demonstration, held in Toulouse. Supported by the Airport Council International World (ACI), this group is driving the implementation of new technology in airports.
Today's demonstration marks significant progress when it comes to the near-term application of green hydrogen on airports being driven by this Task Force that is seeking to support the transformation of airports to greener solutions that will allow the industry's continued sustainable growth. The Task Force welcomes live demonstrations of innovative technologies to showcase how the industry will continue to meet its high safety standards and operating requirements.
The demonstration on the ATR-72 showed the loading and unloading of Universal Hydrogen's modular hydrogen capsules into the aircraft, simulating a turnaround procedure, and took place on the operational F50 apron of Toulouse Blagnac Airport. A strong collaboration between the Toulouse Blagnac Airport, its safety and security partners, as well as the ground handling company, Groupe 3S, in charge of the ground operations, enabled the demonstration to be executed smoothly and successfully.
Additionally, on the heels of announcing its joint development agreement with JBT AeroTech, Universal Hydrogen revealed the fueling logistics for its H2AmpCart showing the feasibility of recharging electric GSE (eGSEs) airside with hydrogen. This groundbreaking solution eliminates the need for expensive airport infrastructure investments.
Displayed today, the hydrogen modules for the H2AmpCart have a discrete form-factor to those utilized in the aircraft and are being built and tested to support the year-end availability of the fully-functional demonstrator H2AmpCart. By bringing the hydrogen and charger directly to the eGSEs on the airport aprons, the costly process of driving long distances to a central charging station is removed.
Universal Hydrogen's H2AmpCart hydrogen modules are filled away from the airport with green hydrogen, and transferred to the airport landside leveraging existing intermodal freight infrastructure. From there, the modules are loaded onto a trailer for safe and efficient transportation to any location airside of the airport, facilitating opportunistic charging of eGSEs between operations.
The trailer is then connected to the H2AmpCart with Universal Hydrogen's purge-less quick connect system. This approach optimizes GSE operations and minimizes downtime.
Arnaud Namer, COO, Universal Hydrogen said:
Many airports around the world utilize hydrogen on a daily basis already, but in most cases those are for landside operations such as shuttle buses.
"Today we took a step closer to hydrogen becoming a reality in the day to day operations at airports worldwide as we completed a hydrogen fueling turnaround of our ATR-72 aircraft and presented the fueling logistics of our new H2AmpCart. These airside capabilities underscore the impact our modular hydrogen capsule technology is having on our industry."
"With no additional on-airport infrastructure required to make modular hydrogen refueling a reality, we are confident in our benefit to the immediate and cost-effective transition to true zero emissions."
About Universal Hydrogen
Universal Hydrogen is making hydrogen-powered commercial flight a near-term reality. The company takes a flexible, scalable, and capital-light approach to hydrogen logistics by transporting it in modular capsules over the existing freight network from green production sites directly to the airplane anywhere in the world.
The company is targeting regional and narrowbody/single aisle airplanes as the near-term and most impactful decarbonization opportunities. Universal Hydrogen is also working to certify a powertrain conversion kit to retrofit existing regional aircraft to fly on hydrogen.
Source:HydrognCentral