HPS introduces the new product generation of picea – Green Hydrogen
---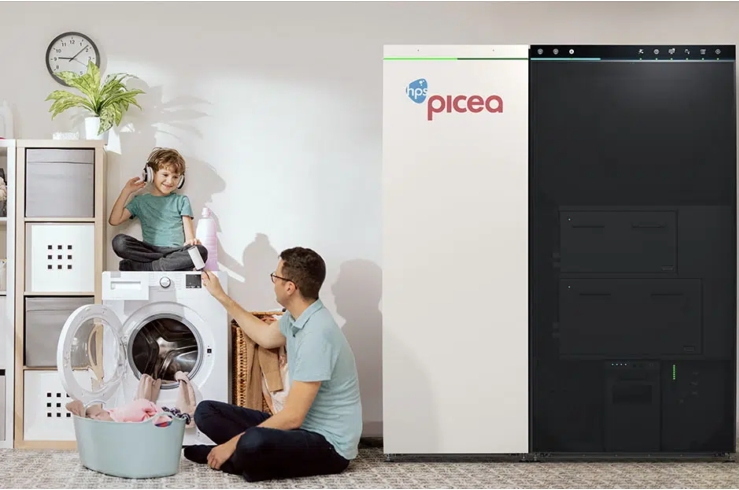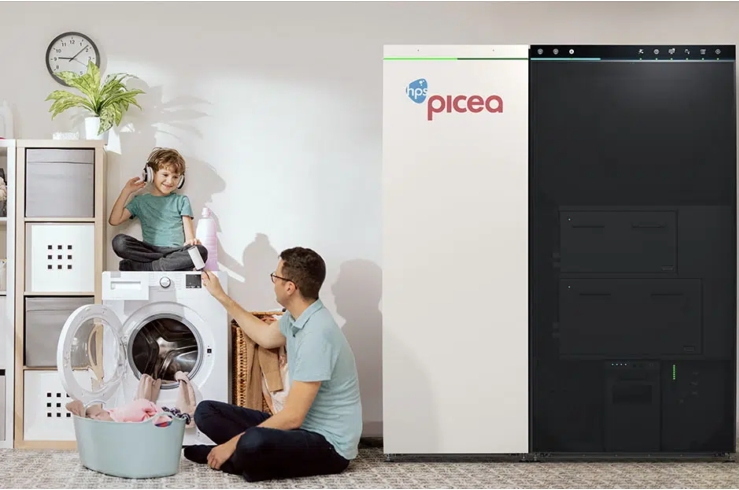 HPS introduces the new product generation of picea – Green Hydrogen.
HPS Home Power Solutions AG, a global leader in year-round building energy storage solutions based on green hydrogen, is pleased to announce the introduction of the new generation of picea. This latest product iteration is marked by a heightened focus on optimized customer benefits, enhanced performance, streamlined maintenance and installation, and a modernized design. With picea 2, the company has achieved a significant technological leap forward, ensuring that buildings can enjoy a continuous supply of CO2-free solar power from their own rooftops, even during the winter.
Comprising an extensive array of innovations, the forthcoming product generation of picea was introduced by HPS today at its new research and development facility in Berlin-Niederschöneweide. Boasting a 15-kilowatt capacity, picea now delivers double the output power, rendering it capable of satisfying elevated demands, such as those for electric vehicles or heat pumps. In the event of an external power interruption, the reinforced backup power supply ensures the uninterrupted provision of electricity to critical household appliances. Additionally, the remarkable long-term storage capacity of up to 1,500 kilowatt-hours, akin to its predecessor, underscores its significance.
The new generation of picea also provides a significantly increased maximum connection capacity for photovoltaic systems. As a result, picea 2 aligns with a discernible market trend toward larger photovoltaic installations. Thanks to its new power electronics, picea 2 exhibits higher efficiency and enables even greater levels of self-sufficiency. Furthermore, picea 2 features status indicators that offer transparency on crucial system and storage conditions.
The interior energy unit of picea 2, in comparison to its predecessor, is now easier to install with a weight reduction of over 70 percent and a smaller footprint. picea 2 can now be installed in low basements or other suitable locations within the home. This development creates a crucial foundation for collaboration with installation companies by HPS.
"Today marks one of the most significant moments in our relatively young corporate history and represents a milestone on our mission to further the success of the energy transition,"
Zeyad Abul-Ella, founder and CEO of HPS, says:
In both the national and international contexts, we offer an energy storage solution that continues to stand out on a technological level.
"Our growth strategy entails a rapid market reach in collaboration with installation companies. With all the enhancements, especially those aimed at streamlining the installation process, we have created vital prerequisites for long-term partnerships. The energy policy relevance of our new picea, particularly in conjunction with electric vehicles, heat pumps, and grid expansion, is exceptionally high. I am immensely proud of our dedicated team members who have made this achievement possible."
The significance of picea for the energy transition
The electrification of private households in Germany, driven by the adoption of technologies like heat pumps and electric vehicles, is expected to triple the country's electricity demand. Meeting this increased demand requires a greater number of year-round energy storage solutions to ensure a continuous and reliable power supply, while preventing the curtailment of surplus renewable energy during peak periods. Year-round energy storage systems installed within buildings are particularly well-suited for this purpose, as each self-consumed kilowatt-hour that does not feed into the grid minimizes the need for grid expansion. picea converts surplus solar energy from a building into hydrogen during the summer, enabling efficient and long-term energy storage on a large scale.
About picea and HPS Home Power Solutions AG
HPS is a global leader in the development and production of integrated energy storage systems based on green hydrogen for buildings. With the innovative year-round energy storage system, picea, HPS addresses critical aspects of the energy transition. Surpluses generated by a photovoltaic system on sunny days are stored as green hydrogen and made available in the darker months in the form of electricity and heat. This enables buildings to be powered by solar energy from their own rooftops throughout the year. Founded in Berlin in 2014 by Zeyad Abul-Ella and Dr. Henrik Colell, HPS has received numerous prestigious awards for picea, including the Handelsblatt Energy Award, the Berlin Brandenburg Innovation Award, and as a winner of the Sustainability Challenge from the German Sustainable Building Council, DGNB.
Source:HydrogenCentral