Blackburn College Becomes First for Hydrogen Powered Vehicle Training
---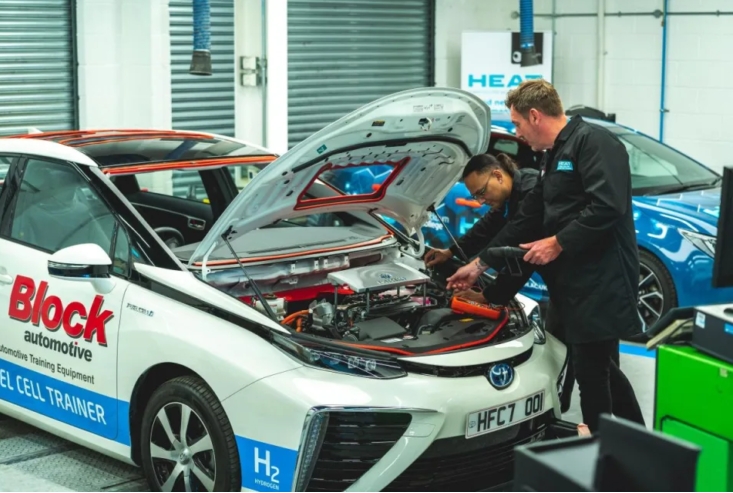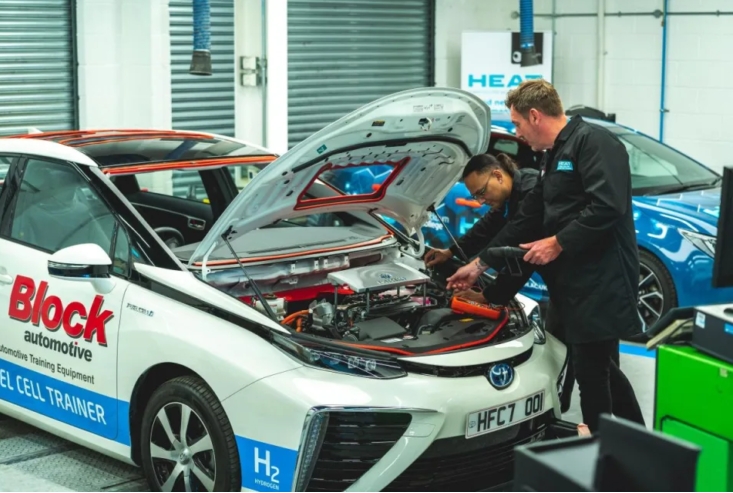 Blackburn College Becomes First for Hydrogen Powered Vehicle Training.
The College is the first Further Education centre in England to be providing hydrogen fuel cell electric vehicle training to meet the skills gap for motor industry professionals, future car mechanics and the wider network.
Blackburn College has unveiled a hydrogen fuel cell electric vehicle (FCEV) training rig which will give its students – and the region's wider automotive industry – practical, hands-on experience to further prepare them for the mass roll-out of alternatively fuelled vehicles.
The fully-interactive Toyota Mirai training rig from Block Automotive is the latest addition to the College's state-of-the-art Hybrid Electric Automotive Training (HEAT) facility, which opened in November 2022 as a dedicated centre to develop and deliver training to bridge skills gaps and meet the demands of greener vehicle technologies, including hybrid, electric and now hydrogen.
Although the ban on new petrol and diesel car sales in the UK has been extended to 2035, the motor industry is increasing development of alternatively fuelled vehicles to support the need to reduce reliance in fossil fuel. Experts at the College say that this additional investment – funded by the Department for Education Skills Accelerator Development Fund Pilot – will support the motor industry to get ahead of the game in upskilling, while ensuring that the next generation of its workforce has exposure to cutting edge technologies that will equip them with the level of skills required to service the drivers and fleets of tomorrow.
In May 2023, the UK Government announced a £77 million investment in to new zero-emission vehicle projects, while major car brands, including Toyota, Hyundai, BMW, Land Rover and Vauxhall are developing FCEVs.
Karl Pilkington from West Riding Hyundai UK, Colne stated:
West Riding are excited to join Hyundai UK at the forefront of innovative technologies such as Hydrogen Fuel Cell Vehicles. We are extremely excited to see how the market will change and adapt as more unique & innovative cars such as the NEXO get developed and released.
In addition to providing hydrogen training as part of its post-16 existing Levels 1 to 4 course offering, the College will be working closely with the region's SME garages, mechanics, dealerships, vehicle recovery and emergency services to offer dedicated training on servicing, repairing and importantly, the safety aspects of working with hydrogen vehicles.
Dr Fazal Dad, Principal and Chief Executive said:
This fantastic opportunity and investment further demonstrates the College's commitment to the automotive industry across Lancashire to develop new knowledge and skills for the next generation of motor vehicle professionals.
Michael Yerbury, Advanced Automotive Technical Trainer at HEAT, said:
There is agreement in the industry that hydrogen will play a major role in the decarbonisation of transport.
"It's likely that, in the not-so-distant future, drivers will have a choice of battery powered electric vehicles and FCEVs, depending on their needs.
"While some might think this is years away from realisation, we're seeing a huge push from car manufacturers on their NetZero investments. This also includes hydrogen fuelling stations being installed on some of the UK's major transport routes.
"But, there's a huge skills shortage in the industry at the moment, which is why we're so excited to be at the forefront of this cutting-edge technology as the first Further Education college in the country to offer FCEV training. This latest investment places the College at the forefront of automotive skills in East Lancashire and will not only enable us to give our students the skills they need to take on the jobs of tomorrow, but will help upskill the motor industry as a whole."
HEAT is part of the £1.3m Lancashire Automotive Skills Accelerator Project (LASA), a partnership project led by Blackburn College aiming to support businesses across Lancashire to respond to the growth of renewable energy sources, particularly focusing on low-emission vehicles and infrastructure within the light vehicle maintenance, service and repair, plant machinery and motorsport industries.
HEAT is providing Electric and Hybrid vehicles Skills Bootcamps, the next starting 30 October 2023. This includes the IMI Level One Award in Electric/Hybrid Vehicle Awareness and IMI Level Two Award in Electric/Hybrid Vehicle Awareness.
Source:HydrogenCentral