Toyota Set To Assemble And Distribute Stationary Hydrogen Fuel Cell Power Generators Geh2® from EODev In Australia
---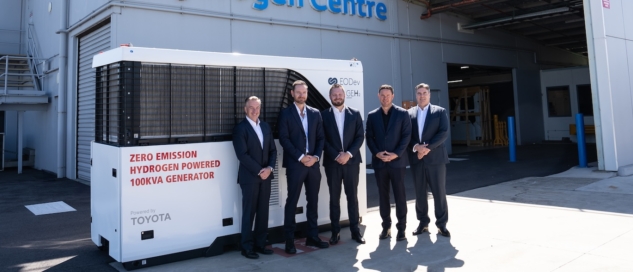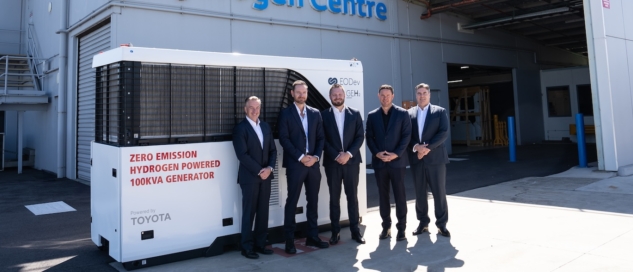 Toyota Set To Assemble And Distribute Stationary Hydrogen Fuel Cell Power Generators Geh2® from EODev In Australia.
**Toyota Australia partners with EODev to assemble EODEV GEH2 generators at Altona production facility starting in Q1, 2024**
**Toyota to invest $3.27m to assemble up to 100 generators over the next three years**
**EODev GEH2® power generators use the same hydrogen fuel cell system as the Toyota Mirai**
**Toyota fuel cell system to provide zero emission (CO2, NOx, fine particles) power generation for a wide range of applications**
Toyota Australia is set to significantly expand its role in the growing hydrogen economy after signing contracts with French sustainable energy solutions provider EODev (Energy Observer Developments) to assemble and distribute its stationary hydrogen fuel cell power generators GEH2® in Australia.
Through this partnership, Toyota Australia will invest $3.27 million to assemble EODev's GEH2® power generators at its former manufacturing facility at Altona in Melbourne from the first quarter of 2024.
Toyota will also become the Australian distributor for both locally assembled and fully built EODev GEH2® generators that will be sold in Australia through retail partner Blue Diamond Machinery – Australia's leading national independent distributor of off-grid power solutions and the exclusive supplier of EODev's GEH2 generator.
To further expand opportunities, Toyota Australia will also sell the power generators and Toyota New Zealand will be its first customer, with plans for them to import and distribute in the New Zealand market.
The first model to be assembled will be the 110kVA GEH2® generator, which uses the same Toyota Fuel Cell system that powers the Toyota Mirai FCEV (Fuel Cell Electric Vehicle) and provides zero CO2, NOx or fine particle emission power generation suitable for a wide range of applications.
As the market develops, additional models with higher power supply will be considered for assembly and distribution in Australia.
Matthew Callachor, Toyota Australia President and CEO, said:
Toyota was committed to exploring and developing further applications for its fuel cell technology and helping to grow Australia's hydrogen economy.
"Toyota fully supports the Australian federal and state governments' drive in growing our hydrogen economy and is committed to exploring opportunities for our fuel cell technology well beyond its automotive use,"
"This agreement signed today is not about a trial or pilot program, it is about concrete action that will improve Australian businesses' access to stationary hydrogen fuel cell generators and help them reduce their carbon footprint.
"At the same time, our investment will help to build Australian skills and capabilities in hydrogen technologies in what is a rapidly growing industry that will help Australia meet its emission reduction targets,"
Since the launch of the 2019 National Hydrogen Strategy, 22 hydrogen projects are in operation or under construction across the country with Australian governments having committed $6.3b towards hydrogen industry development through project, infrastructure, policy and R&D funding1.
Jérémie Lagarrigue, EODev CEO, said:
The agreement represented a milestone for the French company, being the first time its GEH2® power generator will be assembled outside of its production facility in France.
"The GEH2® generator has been in production since 2021 and is currently sold across several European markets, in North America, in the Middle East, and in Australia. We see a fast growing potential for its use in this part of the world"
"We are pleased to have the support of Toyota Australia in being able to assemble the generators locally, which will enable more customers to access this clean technology and help reduce noxious emissions from local power generation.
"Many companies are committed to reducing their CO2 emissions and as a zero-emission alternative to diesel generators, EODev's GEH2® offers a perfect solution,"
Potential applications for the GEH2® power generator include powering remote off-grid sites such as mining sites, construction sites, BEV charging sites, and to be used for events.
The GEH2® generator can also be used to provide emergency backup power for hospitals, commercial buildings and anywhere where stable power supply is required.
Justin Pitts, Blue Diamond Director, said:
The Company was delighted to grow its relationship with EODev and Toyota and to accelerate the rollout of GEH2 generators.
"Blue Diamond is dedicated to broadening the adoption of low-and-zero emission technologies like the GEH2 and ultimately supporting Australia's journey to Net Zero 2050.
"It's very exciting to see our partnership with EODev and Toyota progress to a stage where the GEH2s can now be manufactured locally and made available to local industry.
"The Company is delighted to contribute to Australia's decarbonisation efforts and thanks EODev and Toyota for their investment in growing Australia's nascent hydrogen sector,"
Toyota demonstrated the potential for the EODev GEH2® hydrogen fuel cell generator last year when it was used to power the giant neon sign at Marvel Stadium in Melbourne during an AFL match, and again earlier this year at the Melbourne F1 Grand Prix where it powered six marquees in the tech hub over four days.
In early 2021, Toyota commissioned Victoria's first commercial-grade permanent hydrogen production, storage and refuelling facility at Altona that can generate and store up to 80kg of hydrogen per day using a 200kW electrolyser.
Power for the electrolyser is drawn from a combination of an 87kW solar array, a 100kW battery storage and mains grid depending on what's available at the time and is used to refuel fuel cell forklifts that Toyota uses in other parts of the Altona complex and hydrogen FCEVs, like the Mirai FCEV.
The Mirai is currently being leased by progressive organisations including energy retailer Red Energy, hydrogen fuel-cell bus and truck manufacturer Hyzon, Telstra, ACCIONA and Ventia as part of a long-term pilot program.
Earlier this year, Toyota demonstrated other applications for its fuel cell technology during a travelling Hydrogen Showcase that toured the major capital cities.
The showcase included innovative products such as a Toyota HiAce-based food truck concept that used fuel cells to power both the vehicle and electrical cooking appliances and a 33-seat H2 City Gold Bus, powered by Toyota fuel cell technology.
Source:HydrogenCentral