Ireland – European Data Center Hub Addresses Its Power Shortage with Fuel Cells with SK ecoplant Supplying Fuel Cells to A New Data Center in the Country
---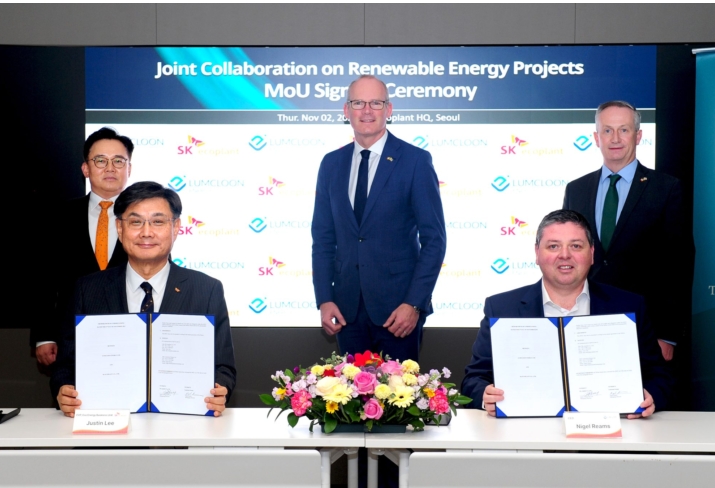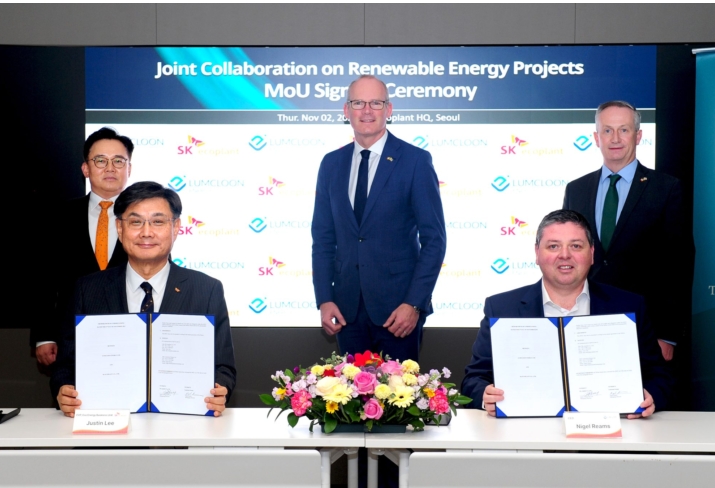 Ireland – European Data Center Hub Addresses Its Power Shortage with Fuel Cells with SK ecoplant Supplying Fuel Cells to A New Data Center in the Country.
SK ecoplant "collaborates" with Ireland's Lumcloon Energy to deliver renewable energy solutions in Ireland
Ireland's Minister for Enterprise, Trade and Employment, Simon Coveney "Europe's first fuel cell power data centre can effectively become a template for many other data centres in the future."
SK ecoplant is set to provide fuel cells for an Irish data center and explore additional opportunities in hydrogen, solar, ESS, and more
SK ecoplant's "renewable energy drive" focuses on the renewable energy and green hydrogen value chain, aiming to enter the European energy market
Bloom Energy's SOFCs have supplied over 1 GW to more than 700 installations worldwide, solidifying their position as the global leader in the stationary fuel cell market
SK ecoplant is set to provide solid oxide fuel cells (SOFCs) to an upcoming data center in Ireland, a data center hub for major global tech companies.
On November 2, SK ecoplant made a significant announcement, revealing the signing of a memorandum of understanding (MOU) with Ireland's Lumcloon Energy. The signing event took place at their headquarters in Susong-dong, Seoul, and the MOU outlines the collaboration between the two companies in supplying fuel cells for a new data center. Additionally, their partnership extends to renewable energy initiatives such as solar, hydrogen, and energy storage systems (ESS).
This momentous occasion was graced by the presence of Ireland's Minister for Enterprise, Trade and Employment, Simon Coveney, along with key figures from SK ecoplant including Kyung-il Park, CEO of SK ecoplant, and Lumcloon Energy's CEO, Nigel Reams. Prominent members from the Irish government and industry including Leo Clancy, CEO of the Enterprise Ireland also attended.
Lumcloon Energy, founded in 2008, specializes in power generation and renewable energy projects in Ireland. Through this new agreement, SK ecoplant and Lumcloon Energy will collaborate to introduce fuel cells as a power source for the data center, which will be situated approximately 80 kilometers to the west of Dublin, in Castlelost.
Simon Coveney, Ireland's Minister for Enterprise, Trade and Employment, Said:
Europe's first fuel cell powered data centre in Ireland, which I think is strategically very important. It is of great strategic importance to innovate the power supply system of data centers with high electricity demand and reduce carbon emissions.

And "Europe's first fuel cell-based data center, promoted by South Korea's SK ecoPlant and Ireland's Lumcloon Energy, can template for many other data centers in the future.
Ireland stands out as a data center hub due to its cost-effective electricity rates and temperate climate such as cooler weather. Government support including favorable corporate taxes further bolsters this status. The Dublin area alone hosts more than 60 data centers, housing tech giants such as Google, Amazon, and Meta.
Nevertheless, new data centers often grapple with the challenge of meeting their colossal power demands. Data centers must ensure a stable and efficient power supply 24/7, given their constant need to store and distribute large volumes of data in real-time. These facilities are characterized by substantial power consumption, required for the operation of extensive infrastructure like servers and storage as well as maintaining a consistent temperature and humidity.
According to Ireland's national utility, Eirgrid, data centers contributed to roughly 18% of the country's electricity generation in 2022. Eirgrid predicts that by 2028, data centers will represent 30% of the nation's total electricity generation. As part of the Irish government's strategy to cut carbon emissions in half by 2030, fuel cells present a sustainable alternative to fossil fuels, ensuring reliable power for data centers.
Fuel cells exemplify decentralized urban power generation, offering high-efficiency electricity production on compact sites. Among these, Bloom Energy's SOFCs stand out as the third generation with the highest efficiency in the fuel cell market. In fact, Bloom Energy has delivered over 1 GW of its SOFCs to more than 700 clients worldwide including more than 100 of the world's leading corporations. According to a report published in June by Frost & Sullivan, a global consulting firm, with a global market share of 44% Bloom Energy holds the top position in the stationary fuel cell industry. Bloom Energy has been collaborating with SK ecoplant since 2018 to localize the world's most efficient SOFCs.
SK ecoplant's ambitions extend far beyond conventional construction activities as they aim to become a prominent player in diverse projects including business development, equity investments, financing, and fuel cell engineering, procurement, and construction (EPC). By leveraging their collaboration with Ireland as a strategic foothold, SK ecoplant is poised to penetrate the growing renewable energy market and the European data center power supply system.
SK ecoplant possesses a comprehensive value chain encompassing renewable energy facets like solar, offshore wind, green hydrogen, and fuel cell enterprises. They eagerly anticipate further collaborative ventures in Ireland, aligning with the country's goal to source 80% of its electricity from renewable sources by 2030.
Leo Clancy, CEO of the Enterprise Ireland said:
Korea is an increasingly strategically important market for Irish companies. Today's signing of cooperation between the two companies shows the success story of innovative companies in the two countries.
Kyung-il Park, CEO of SK ecoplant, remarked:
This partnership will establish the groundwork for us to offer green energy solutions in Ireland including our fuel cell operations.
"As a global energy company with a holistic value chain spanning renewable energy to hydrogen, we aim to strengthen our presence in developed markets."
Source:HydrogenCentral