Major new electrolyser factory in Berlin is harbinger of budding hydrogen industry – Scholz – CEW
---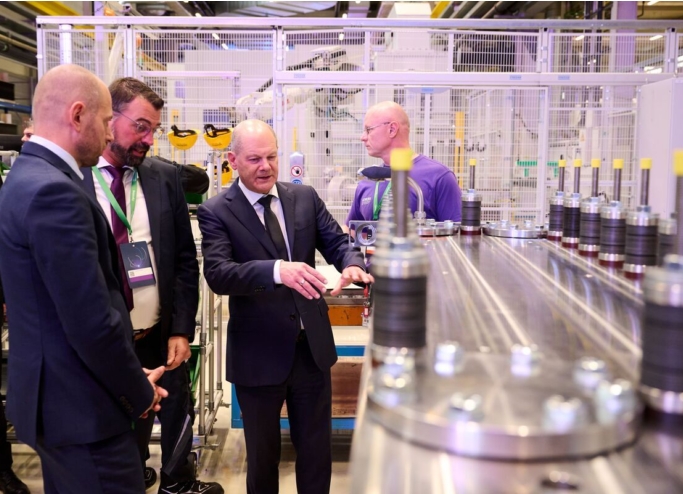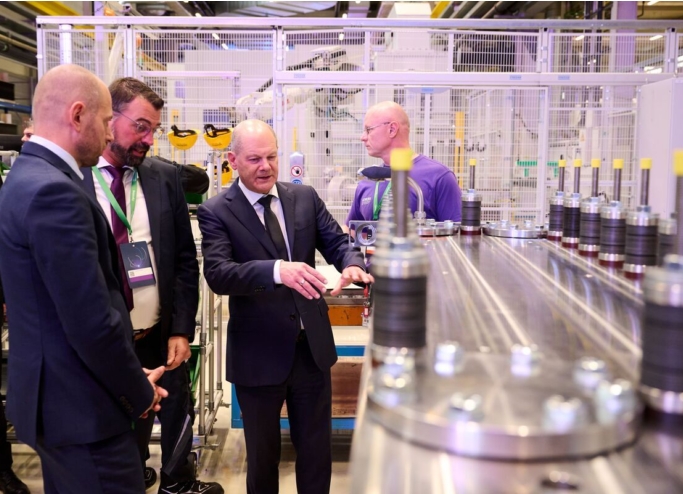 Major new electrolyser factory in Berlin is harbinger of budding hydrogen industry – Scholz – CEW.
With a new factory for building electrolysers in Berlin, Germany's Siemens Energy and France's Air Liquide hope to lay the groundwork for a flourishing hydrogen economy in Europe. The "gigafactory" for electrolysers, which are used to extract hydrogen from water by splitting it from oxygen, will start with an annual production capacity of 1 gigawatt (GW), which equals about 300,000 tonnes of green hydrogen per year, Siemens Energy said. Capacity is expected to grow to 3 GW by 2025.
Chancellor Olaf Scholz, who attended the factory's opening with economy minister Robert Habeck and French industry minister Roland Lescure, said:
The project was in line with his government's strategy to secure Germany's energy supply.
"Siemens Energy will build electrolysers here – not in small quantities, but at an industrial scale, and based on 100-percent renewable power supply,"
Scholz argued the factory's opening showed that energy production continues to be a profitable business "yesterday, today and also in the climate neutral future."
"prophecies of doom about Germany's supposed de-industrialisation are totally misleading," and the German industry's "journey into the age of climate neutrality" ensures that the products made in the Berlin factory will be in high demand. "Transformation is not synonymous with relocating production and cutting jobs, but rather the precondition for economic success," Scholz argued. The chancellor said the cooperation with Air Liquide made the Siemens Energy factory a beacon of French-German industrial cooperation
"emanating from the technology dialogue of our governments." Germany's government aims to bring the national electrolyser capacity to 10 GW,
Scholz, said:
The hydrogen industry should be "primarily privately funded.
"even though high initial costs made state assistance necessary, which France and Germany addressed through their hydrogen cooperation in the EU's IPCEI framework.
Christian Bruch, Siemens Energy CEO, said:
The cooperation with Air Liquide helped secure a high number of orders for the factory even before production commenced.
"Several major hydrogen projects across Europe suggest promising business conditions, Bruch argued, adding the two companies "will now have to agree on a sustainable business model with a well-balanced risk and return profile."
Siemens Energy, which relocated its company headquarters from Erlangen to Berlin due to the factory's opening, is currently grappling with major challenges in its green power business. The wind turbine manufacturing subsidiary Siemens Gamesa has accrued major losses, meaning Siemens Energy is currently in talks with the German government to secure around 15 billion euros in funding.
Chancellor Scholz, in his speech at the opening of the factory, said he is "confident that we soon will find a good solution" for securing the company's stability. Green hydrogen made with renewable energy is considered key to solving some of the energy transitions challenges, such as decarbonising industry processes or long-haul freight transport. Germany has set out to become a global leader in the associated hydrogen technologies, and the government has penned a National Hydrogen Strategy to fulfil these ambitions.
Source:HydrogenCentral