Toyota – fuel cell vehicles include food trucks and mobile offices
---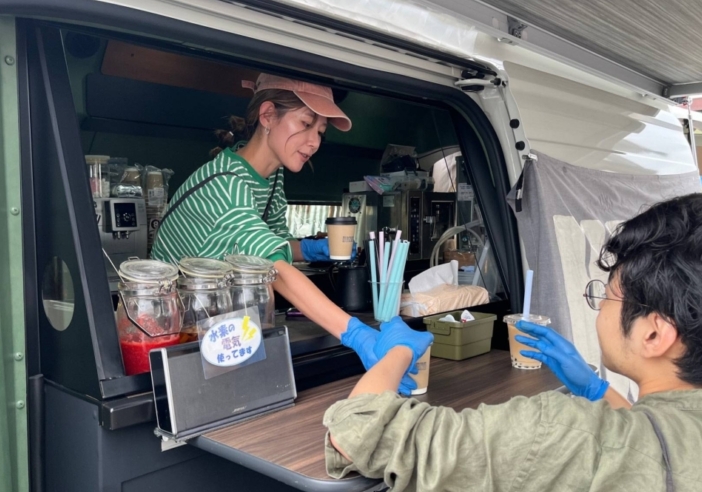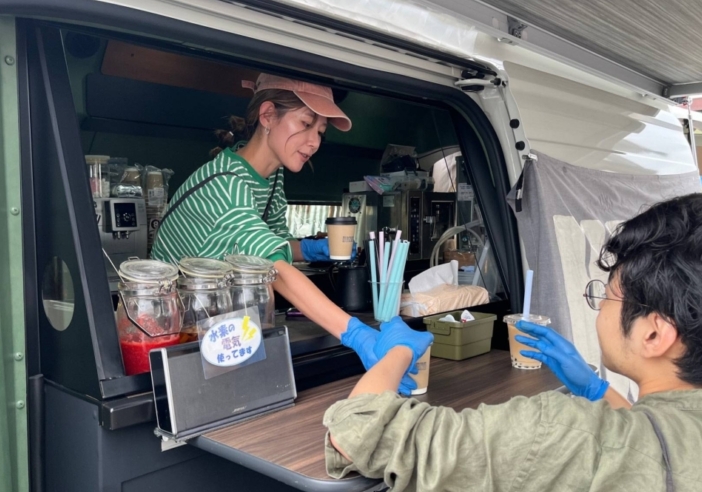 Toyota – fuel cell vehicles include food trucks and mobile offices.
Toyota has been developing a wide variety of fuel cell vehicles (FCVs) powered by hydrogen — not only commercial vehicles like buses and trucks but also food trucks, mobile office vans and garbage trucks.
The carmaker is offering a variety of ways to utilize FCVs by taking advantage of the fact that they have no tailpipe emissions and generate electricity that can be used for purposes beyond operating the vehicles.
By doing so, it is aiming to spread the use of hydrogen, which it sees as having the potential to be a key option for decarbonization.
Fuel cell cafe
In early October, in front of the Hita Municipal Government building in Oita Prefecture, a hydrogen-powered cafe truck served coffee during an event held on the final day of the Tour de Kyushu international road cycling race.
The truck, manufactured as a trial by Toyota based on its HiAce van sold in Australia, is equipped with the fuel cell (FC) system used in its FCV Mirai, as well as three induction cooktops and a refrigerator.
Ken Nagata, 44, of Hazebo Coffee who set up the cafe truck, apparently impressed with how easy it was to use, says:
There is no trouble whatsoever even if I use an induction cooktop and an espresso machine, appliances that consume much electricity, simultaneously.
"Our customers can relax quietly."
Food trucks usually rely on electric generators, and the noise they make, as well as exhaust fumes from the vehicles, have been a headache for operators.
FCVs are powered by electricity generated through a chemical reaction between hydrogen and oxygen and they don't emit carbon dioxide. Fuel cells work like batteries, but they can't store electricity and can't be recharged.
FCVs can generate large amounts of electricity on their own without noise or exhaust, and it is possible to cook full meals in the FC food trucks in a setting that is fairly similar to restaurant kitchens.
Toyota created three FC food trucks as part of its trial. One is being used at an outdoor restaurant in Koriyama, Fukushima Prefecture, and the other two provided upon request for events.
Mobile office
To date, Toyota has developed nearly 10 types of FCVs, including vehicles made on a trial basis, that benefit from being quiet and their ability to supply electricity.
The carmaker developed a mobile office by equipping its GranAce minivan with a Mirai FC system. The vehicle comes with a large monitor and telecommunication devices so it can be used as a mobile workplace or even dispatched to disaster sites.
A garbage truck developed by Toyota uses a fuel cell system not only to power the vehicle itself but also a device that compresses and loads garbage.
The Fukuoka Municipal Government, which collects garbage at night, is using the truck on an experimental basis, and it has proved effective at preventing noise pollution in residential areas.
Toyota has also manufactured FC ambulances and broadcast vans, which are already in use.
Globally, it is rare for an automaker to offer such a broad lineup of FC commercial vehicles.
Shigetaka Hamada, head of the hydrogen products development division of Toyota's Hydrogen Factory, said:
Presenting new values unique to FCVs, in addition to their environmental capabilities, will lead to their wide use in the future.
An organization dedicated to development and production of fuel cells and hydrogen-related products.
Source:HydrogenCentral