Oilinvest and QUANTRON accelerate deployment of fuel cell commercial vehicles and expand Hydrogen based ecosystem
---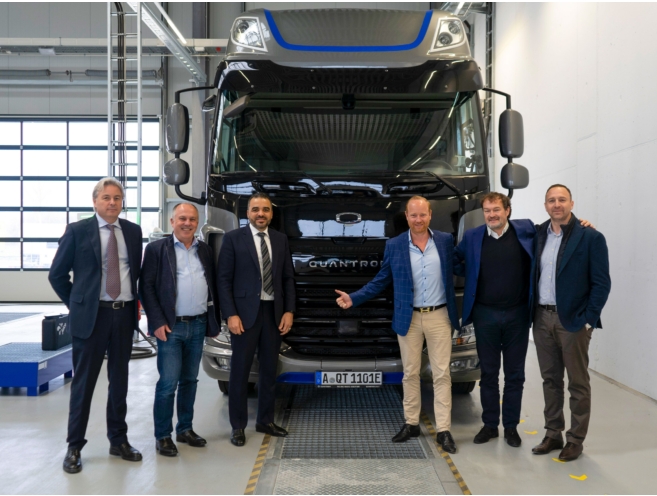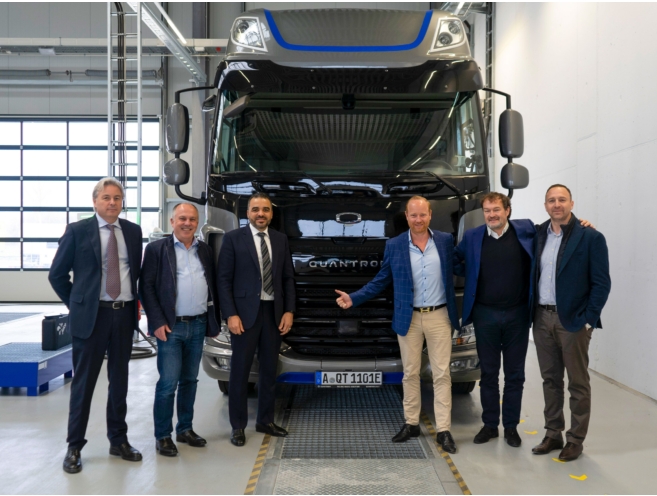 Oilinvest and QUANTRON accelerate deployment of fuel cell commercial vehicles and expand Hydrogen based ecosystem.
Oilinvest and Quantron AG have signed a strategic partnership agreement to build hydrogen-based refueling infrastructure to supply Fuel Cell Electric heavy trucks (FCEV). The partnership gave way to a new joint venture named HEMTRON, which is based in Hamburg, Germany, to help accelerate the decarbonisation of road freight in Europe.
Oilinvest subsidiaries operate around 2,450 filling stations under the Tamoil brand in Europe including Italy, the Netherlands, Spain, Switzerland, and the HEM brand in filling stations in Germany. Together with third party and newly established (greenfield) locations, this extensive network provides a foundation for the proliferation of zero-emission fuel cell electric vehicles. Starting in Germany, HEMTRON is tasked to secure consistent growth and supply of hydrogen refueling stations at customer-oriented locations near transportation hubs such as logistics centers and highways.
Ahmed Elkerrami, Chief Executive Officer of Oilinvest Group. He added:
Through this strategic partnership with QUANTRON, we aim to offer our customers a commercially viable solution and reduce carbon emissions with green hydrogen as an alternative to diesel for commercial road transport.
"We aim to aggregate our initiatives that secure an increase in non-fossil fuels projects. This partnership will support our strategy to become a net-zero company by 2050 and we look forward to include more partners to join this Hydrogen Fuelling Alliance".
Michael Perschke, CEO of Quantron AG on QUANTRON's Hydrogen Offensive said:
Green hydrogen will be a key energy carrier of the future to accelerate the decarbonization especially in heavy duty trucking.
"With the help of Oilinvest's fuel retailing expertise and refueling station network, we are creating a foundation for our customers to switch from diesel to zero-emission FCEV vehicles. Due to our current first mover advantage in range and power in the 44t sector as well as our QLI FCEV, which have already started delivering, we now also want to be a first mover in dedicated H2 fueling infrastructure, dedicated to the needs of light as well as heavy duty trucks. HEMTRON is also an integral part of our Quantron-as-a-Service offering. We can envision becoming the IONITY of H2 Fueling with our partners such as Heavy Duty OEMs, Hydrogen producers and other stakeholder. Our venture is set-up to be an open platform and we invite other truck OEMs, energy companies and also other Oil & HRS network partner to join in an open H2 Roaming Alliance."
Andreas Haller, founder and Executive Chairman of Quantron AG, said:
We want to make a breakthrough in hydrogen as an energy carrier for heavy-duty transport. That's why we want to actively engage partners – be it other oil and energy companies.
"Technology partners or even other fuel cell truck manufacturers – we need critical mass and this joint venture is a milestone."
Both QUANTRON and Oilinvest are founding members of an alliance to expand Europewide hydrogen refueling infrastructure, enabling widespread adoption of environmentally friendly FCEV vehicles.
Source:HydrogenCentral