Nedstack and thyssenkrupp sign MoU for the supply of PEM Fuel Cell Assembly technologies
---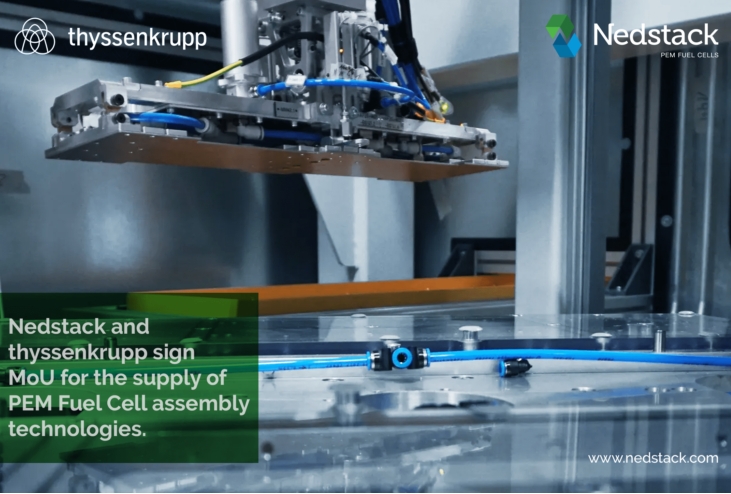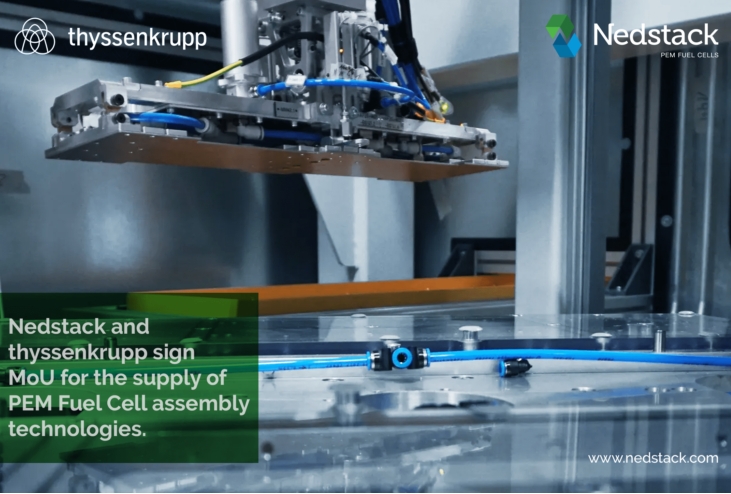 Nedstack and thyssenkrupp sign MoU for the supply of PEM Fuel Cell Assembly technologies.
Nedstack and thyssenkrupp Automation Engineering have joined forces through an MoU to supply a semi-automated PEM Fuel Cell Production System;

The development of this production system has been in the making since 2020 through the culmination of a series of simultaneous engineering projects;

The collaboration aims to reinvent fuel cell manufacturing by integrating advanced automation technologies with Nedstack's fuel cell manufacturing expertise. This will reduce production costs, improve quality control, and enhance efficiency.
The execution of the Memorandum of Understanding that solidifies the partnership between Nedstack and thyssenkrupp Automation Engineering took place in the city of Aachen, Germany. This significant moment took place at the venue of the EPT "Electromobile Production Days" conference, an event organized by the PEM institute of the RWTH Aachen University.
The semi-automated PEM Fuel Cell Production System, which is at the heart of this partnership, promises to reinvent the way fuel cells are manufactured. By integrating cutting-edge automation technology with Nedstack's 25 years of fuel cell production experience, the system will significantly reduce production costs, improve quality control, and enhance production efficiency. One of the key aspects of this collaboration is the installation of these state-of-the-art systems in the Nedstack Fuel Cell Giga Factory in Arnhem, the Netherlands that is part of the flagship IPCEI-Hy2Tech project. The Giga Factory, with its extensive production capabilities, will become a hub for the production of fuel cell technology.
Nedstack and thyssenkrupp Automation Engineering are excited about the potential of this cooperation to accelerate the adoption of clean energy solutions and support the transition to a more sustainable future. By pooling their strengths in fuel cell technology and automation engineering, the two companies are confident they can drive innovation and set new standards in the industry.
Jos Lenssen, Chief Research Officer at Nedstack, said:
We are thrilled to take our longstanding relationship with thyssenkrupp Automation Engineering to the next level.
"The cooperation with thyssenkrupp enables us to bring best practices in advanced manufacturing from the automotive and battery space into the hydrogen economy. During the last three years of in-depth cooperation we have not only designed the production system but have also been able to re-design our products to allow for advanced manufacturing and automated assembly."
Thomas Kuschel, Deputy Head of Hydrogen Solutions at thyssenkrupp Automation Engineering, commented:
This partnership is an exciting development for both companies and it demonstrates the potential for synergistic collaboration between leaders in their respective fields.
"We are enthusiastic about the opportunities ahead and on the enabling impact of advanced manufacturing to further accelerate the roll-out of the hydrogen economy."
Source:HydrogenCentral