"Renewable Hydrogen 100 Initiative - Hydrogen Mobility Plan" Officially Launched
---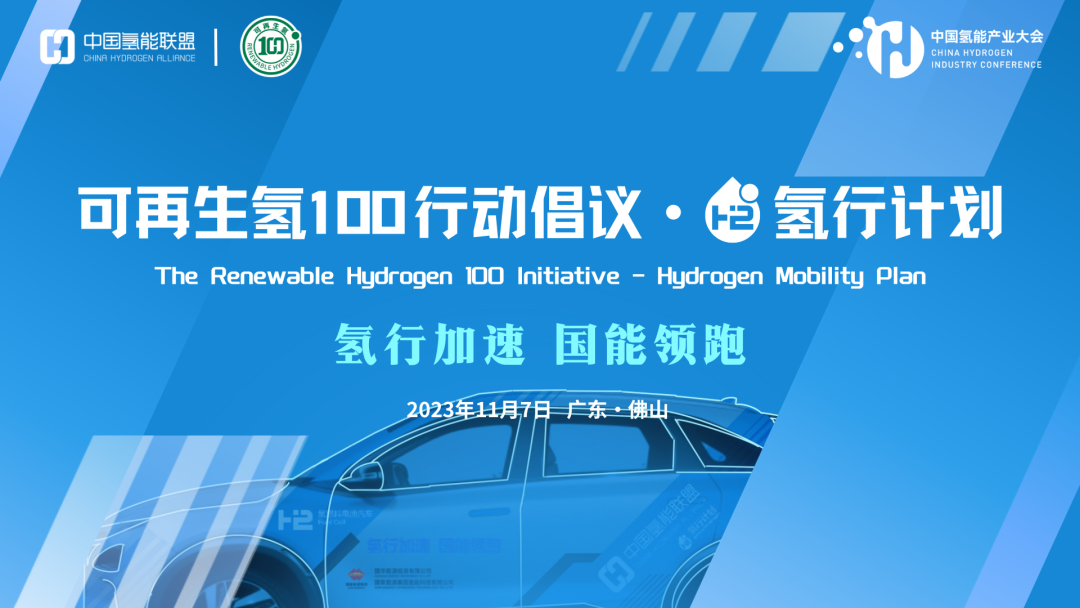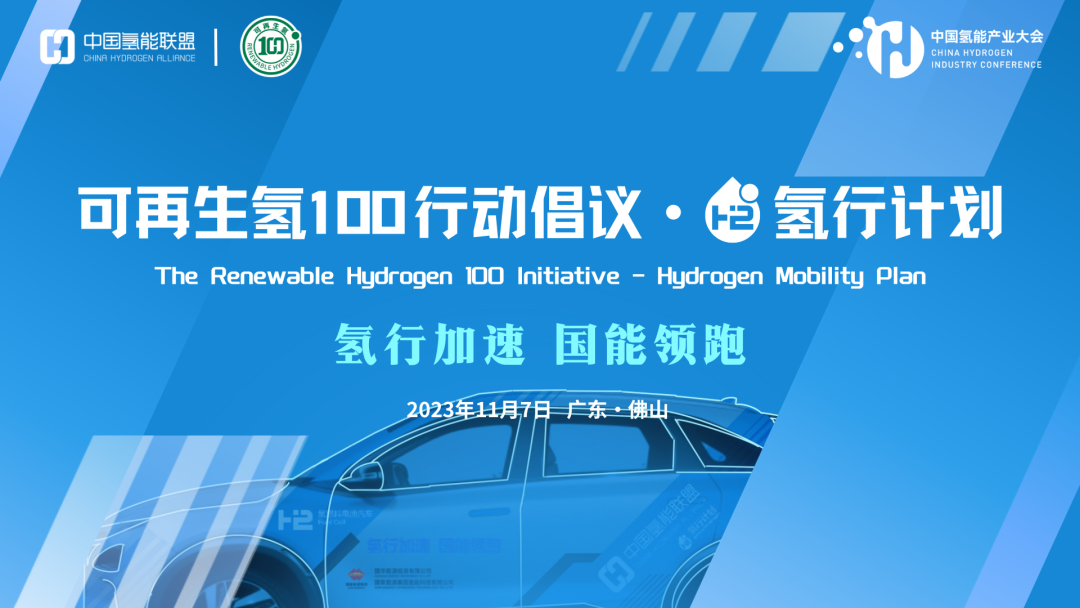 In active adherence to the "Renewable Hydrogen 100 Initiative," accelerating the large-scale development of hydrogen energy in the transportation sector, promoting innovation in hydrogen power systems, application of renewable hydrogen and hydrogen-based green fuels, and ensuring hydrogen quality, the initiative aims to expedite the demonstration of hydrogen highways, hydrogen-powered trains, and ships. It seeks to propel deep decarbonization in the transportation sector, striving for a "hundred stations and thousand vehicles" model through large-scale demonstrations, thereby facilitating the establishment of demonstration zones for the development of hydrogen energy and fuel cell industries.
On November 7th, the China Hydrogen Alliance, in collaboration with the China International Economic Exchange Center, Foshan Xianhu Laboratory, and others, jointly released the "Renewable Hydrogen 100 Initiative - Hydrogen Action Plan" at the 2023 China Hydrogen Industry Conference.
The Initiative contents are as follows:
Enhancing the Leadership Role of Hydrogen Energy Technological Innovation:
Promoting the industry to conduct fundamental and forward-looking research through national-level hydrogen and fuel cell R&D platforms and key projects.
Accelerating the application of first-of-its-kind (sets) technical equipment in key areas.
Building a technological collaborative innovation model and a standard development verification system based on the Hydrogen Pioneers Program.
Accelerating the Large-scale Development of Hydrogen Fuel Cell Vehicles:
Urging key enterprises to play a leading role in actively promoting the replacement application of fuel cell passenger and commercial vehicles in various scenarios.
Simultaneously considering the development of carbon reduction assets for fuel cell vehicles.
Guiding Demonstrations of Green Hydrogen Energy Applications:
Accelerating the formulation of standards for the evaluation of low-carbon and clean hydrogen energy.
Exploring the comprehensive application of commercialized clean hydrogen in regions where conditions are met.
Designating the proportion of clean hydrogen application in eligible areas.
Exploring Applications of Hydrogen-based Vehicles, Ships, and Aircraft:
Conducting research on hydrogen-based green fuel.
Encouraging local governments, research institutions, and leading enterprises to demonstrate hydrogen-powered trains, mining trucks, ships, and aircraft.
Exploring the creation of an industrial-educational-research ecosystem through events.
Establishing a Quality Testing System for Hydrogen Gas in Transportation:
Meeting the requirements of urban clusters where fuel cell vehicles are demonstrated by constructing hydrogen gas quality testing laboratories and applying mobile testing devices.
Establishing and periodically disclosing third-party testing results for the hydrogen gas quality testing system to the public.
Strengthening Regional Interconnection:
Supporting regions with suitable conditions to develop hydrogen highways.
Promoting mutually beneficial infrastructure and policy support.
Exploring the construction of green shipping and expanding international cooperation in technology exchange, equipment trade, industrial standards, and talent development in the field of hydrogen energy in transportation.
Source: China Hydrogen Alliance