ANALYSIS | Was Plug Power's stock plunge one company's bad luck, or a warning sign for the wider hydrogen industry?
---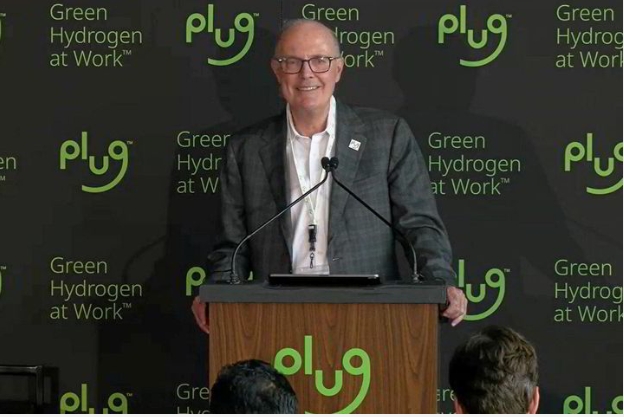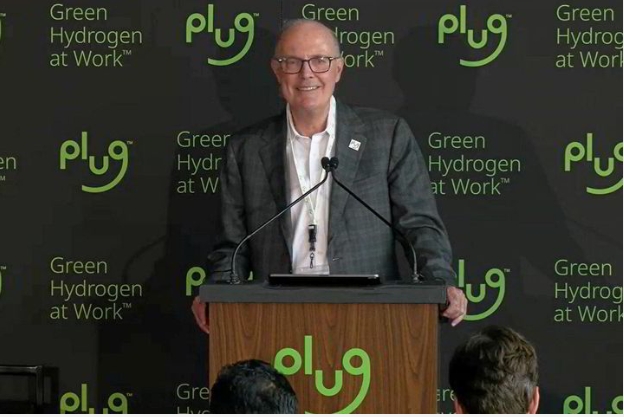 Other electrolyser manufacturers have raced to distance themselves from Plug's problems
US green hydrogen technology firm Plug Power shocked the market last week when it admitted in its Q3 earnings report that its negative margins had grown wider and that it could run out of money within 12 months.
Its share price fell by 40% in the wake of the report — and the shock seemed so great that stocks in other hydrogen-focused companies, such as Ballard Power and FuelCell Energy, also fell significantly at the same time, before later recovering.
James West, a senior managing director at investment bank Evercore who covers Plug, tells Hydrogen Insight that while the company had to report its going concern risk due to cash balances coming down so quickly amid its scaleup, he does not believe that it will fold within a year.
"We don't think that risk is real, but just saying it out loud spooks investors," he explained, adding that the company is on course to receive a US Department of Energy loan to bolster its capital.
Dennis Schulz, CEO of UK electrolyser maker ITM Power, took to social media to distance the firm from Plug, highlighting in a LinkedIn post that the company was in the midst of executing a plan to scale back its product portfolio, reduce cash spend, and debottleneck its supply chain.
"ITM Power won't face these issues anymore — simply because we've worked hard to identify and fix them," he wrote.
Plug has blamed much of its latest loss on supply disruptions in its fuel business.
The company has planned to shift from its current model of buying grey hydrogen to sell on to its fuel cell equipment customers, to producing green H2 in-house with a 15-tonnes-per-day production plant in Georgia originally set to start up last quarter.
However, this project has now been delayed to the end of the year. "Unfortunately, permits don't always move as quickly as you thought they would," West noted.
This meant that Plug was exposed to both planned downtime for maintenance by its grey hydrogen suppliers and unplanned maintenance at its ten-tonnes-a-day green H2 plant in Tennessee. And because of this drop in supply — and a wider H2 fuel shortage in California — the company had to buy hydrogen on the east coast and truck it to its customers in that state — adding significant costs to this fuel.
So are Plug's fortunes really just the bad luck of a single company?
The S&P Kensho Hydrogen Economy Index, calculated from the stock of 17 H2 companies, has fallen from $234.91 on 1 August to $160.01 on 10 November — which, on the surface, suggests a wider problem across the hydrogen sector.
However, a spokesperson for S&P told Hydrogen Insight: "The recent weakness... has been primarily driven by two stocks, Nikola and Plug Power, contributing more than half of the index's negative performance."
But they added that the "performance of various clean energy related themes has been challenging this year", while "on a longer scale, the index level has been relatively rangebound [ie, fluctuating between periods of growth and decline] since January 2022".
West explained: "The outlook is still very positive but it's taking a little longer for the market to develop."
While 2022 saw strong political promises to drive the uptake of clean hydrogen through support schemes, many of these subsidies are yet to come into effect, leading developers to hold off taking final investment decisions (FIDs).
For example, the Regional Hydrogen Hubs programme in the US — approved in the 2021 Bipartisan Infrastructure Act — is unlikely to deliver grants to its seven chosen applicants until next year.
And while lucrative production tax credits of up to $3/kg are offered as part of the US Inflation Reduction Act, companies cannot claim them until the Treasury Department has clarified the rules for qualification.
Those details around how lifecycle emissions will be calculated — potentially including rules on additionality, and temporal and geographic correlation, like the Delegated Acts passed by the EU (see panel below) — were meant to be published in August.
"It should come out soon. But it was coming out soon three months ago," West said, adding that "there's a big part of the industry that's continuing forward but not willing to take the final [investment] decision" until it is clear whether their project will be eligible for the top rate of the tax credit.
"You may be in a situation where your project economics can really change with the interpretation, so you're really in a holding pattern," he explained.
For Plug, this means that in addition to its fuel supply woes, many of the electrolysers in the company's order backlog are yet to be delivered — and therefore relatively little cash has been changing hands.
The green hydrogen technology firm only registered $26m in revenue from its electrolyser business in Q3.
The lack of guidance in the US is likely to have particularly weighted the S&P Kensho index, since 15 of its 17 companies are based in that country.
However, many project developers in Europe have also decried extremely slow and overly complicated support schemes to date, particularly when it comes to actually receiving massive state-level grants unlocked via the Important Projects of Common European Interest.
Beyond one-off grants, subsidies in Europe covering the cost of producing hydrogen are generally auction-based, rather than open to any producer who applies, with the first winners in Denmark's pilot auction only announced at the end of last month.
Bidding for the pilot €800m ($868m) European Hydrogen Bank auction is due to begin on 23 November, while the results of Germany's initial €900m H2Global auction (for imported derivatives of green hydrogen) could be announced as soon as January.
So while major subsidies have not flowed as quickly as expected, the first tranches in Europe and the US will almost certainly be awarded in the first half of 2024 — which will quickly lead to final investment decisions and a sharp upturn in the largely stalled clean hydrogen sector.
Source:HydrogenInsight