hylane serves the last mile with hydrogen transport solutions and forms partnership with QUANTRON
---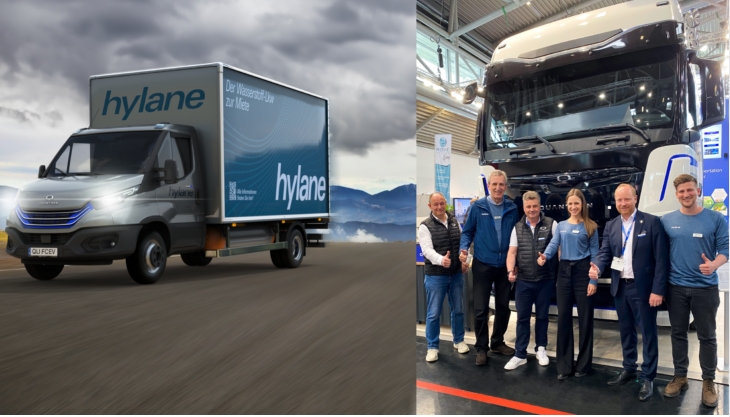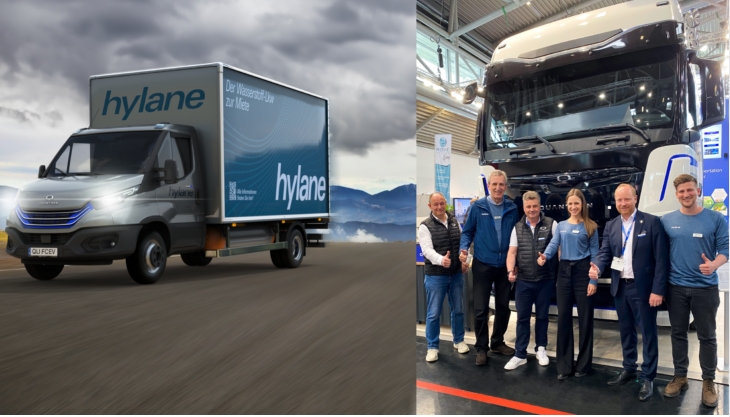 hylane serves the last mile with hydrogen transport solutions and forms partnership with QUANTRON.
Quantron AG, a specialist in sustainable passenger and freight transport, and hylane, a subsidiary of DEVK Versicherungen, are revolutionizing emission-free transport for the last mile. In a partnership between the two companies, hydrogen-electric vans are being put on the roads in a pay-per-use model.
The vehicles are QUANTRON QLI FCEV light transporters, the first fuel cell vehicle in the 5t class on the German market. The transporter has a fuel cell from QUANTRON technology partner Ballard Power Systems with 45 kW output and an electric motor with 150 kW output. The range is up to 450 kilometers with a tank capacity of 8.2 kg of hydrogen. Refueling with hydrogen takes approx. 10 minutes. The fuel cell vehicles are particularly suitable for emission-free transportation in regions with a weak charging infrastructure, where battery electric vehicles cannot be used without recharging due to their shorter range. As vehicles with environmentally friendly drive systems, they are also exempt from tolls in Germany, while diesel vans over 3.5 tons will be subject to tolls from July 2024.
Sara Schiffer, Managing Director of hylane:
We are delighted to have QUANTRON as a new partner for the provision of hydrogen vehicles. We appreciate the commitment with which QUANTRON is driving forward the development of environmentally friendly vehicles in Germany.
Bruno Altenschöpfer, Fleet Manager at hylane:
We are delighted to add the QUANTRON light transporter to our portfolio of rental vehicles in the 5t class. In discussions with our tenants, the demand for these vehicles is clearly evident.
"We believe that this vehicle is ideally suited to the distribution of goods for the retail trade in inner-city areas using climate-neutral vehicles. With the addition of the QUANTRON Light Transporter to our fleet, hylane is able to offer climate-neutral use from the last mile to the 44 t train."
Andreas Haller, founder and Executive Chairman of Quantron AG:
Hylane shares our vision of sustainable and environmentally friendly mobility. With our fuel cell vehicles, we want to contribute to the reduction of CO2 emissions and shape the future of sustainable transportation.
"At the same time, QUANTRON's light vehicles serve a previously unoccupied niche in hydrogen-based transportation over the last mile."
All vehicles are being funded as part of the directive on the promotion of light and heavy commercial vehicles with alternative, climate-friendly drive systems and associated refueling and charging infrastructure (KsNI) by the Federal Ministry for Digital and Transport Affairs (BMDV). The funding guideline is coordinated by NOW GmbH and applications are approved by the Federal Office for Goods Transport. Through a usage-based rental in the so-called "pay-per-use model", hylane customers only pay for the kilometers they actually drive. The funds from the grant will be used in full to reduce the rental rates for the vehicles on offer and thus offer competitive prices.
About hylane
Founded in Cologne in 2021, hylane is committed to sustainable and innovative mobility in the transportation sector. To this end, hylane provides climate-friendly vehicles from various manufacturers in a usage-based rental model. Leading transport companies already rely on hylane's rental model and gain low-risk experience with new technologies – because they only pay for the kilometers actually driven. hylane operates the largest fleet of hydrogen trucks in the EU. The company plans to expand its fleet to a total of 122 vehicles by the end of 2024.
About Quantron AG
Quantron AG is a platform provider and specialist for sustainable transportation of people and goods; in particular for trucks, buses and vans with fully electric powertrains and H2 fuel cell technology. As a high-tech spinoff of the renowned Haller GmbH, the German company from Augsburg in Bavaria combines over 140 years of commercial vehicle experience with state-of-the-art e-mobility know-how and positions itself globally as a partner to existing OEMs.
With the Quantron-as-a-Service Ecosystem (QaaS), QUANTRON offers an overall concept that covers all facets of the mobility value chain: QUANTRON INSIDE includes a wide range of both new vehicles and conversions for existing and used vehicles from diesel to battery and hydrogen electric powertrains using the highly innovative QUANTRON INSIDE technology. QUANTRON CUSTOMER SOLUTIONS ensures digital and physical aftersales solutions with a Europe-wide network of 700 service partners, as well as a service offering for maintenance, repair and spare parts, telematics and in-cloud solutions for remote diagnostics and fleet management. Customers receive individual solutions: rental, financing and leasing offers such as training courses and workshops at the QUANTRON Academy. In the future, QUANTRON ENERGY & POWER STATION will realize the production and distribution of green hydrogen and electricity as a platform. To this end, Quantron AG has joined forces with strong global partners. This Clean Transportation Alliance also forms an important building block for the sup
Source:HydrogenCentral