Project Verdant pursues UK first CTV (Crew Transfer Vessel) powered by hydrogen
---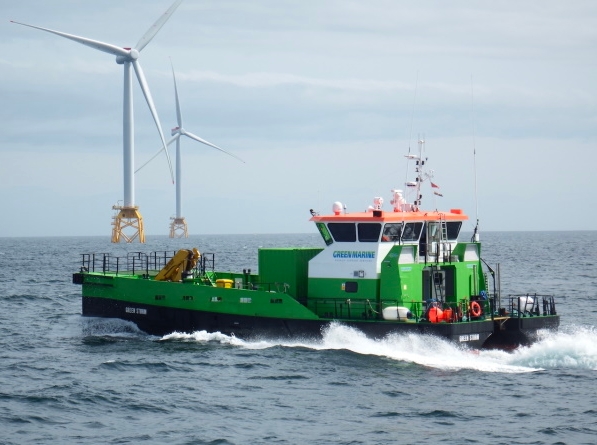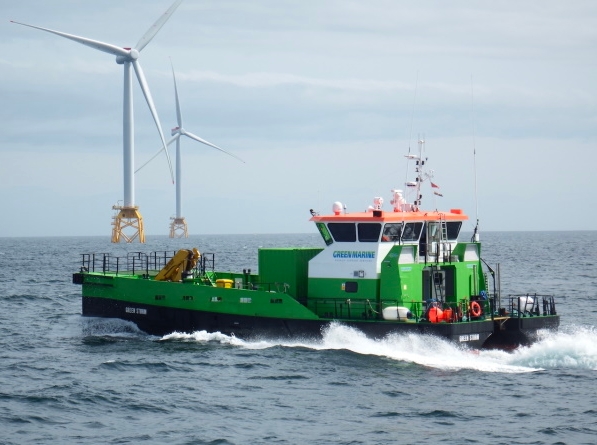 Project Verdant pursues UK first CTV (Crew Transfer Vessel) powered by hydrogen.
A pioneering project – supported by the UK's national innovation agency, Innovate UK – is aiming to retrofit a CTV (Crew Transfer Vessel) with hydrogen fuel cells, to cut CO2 and NOx emissions while servicing offshore wind farms.
Phase 1 of Project Verdant is now underway involving a preliminary design and feasibility study. If the concept is deemed viable subsequent project phases will seek to execute the concept design and test it in the field.
The project consortium is led by Orkney-based Green Marine which supports the offshore renewable energy sector across Europe with marine engineering services and a comprehensive fleet of workboats, crew transfer vessels, heavy lift and transportation barges. It is being supported by project partners Waves Group and EMEC (European Marine Energy Centre).
Jason Schofield, Green Marine's Managing Director, said:
The ultimate objective is to capture sufficient learning from the operation of a retro-fitted vessel to enable Green Marine to expand its fleet with new-build ZE CTVs (Zero Emissions Crew Transfer Vessels) and ultimately SOVs (Service Operation Vessels).
"To support installation and maintenance activities in offshore wind farms in the UK and further afield.
According to the Offshore Renewable Energy Catapult (OREC), the offshore support sector will be worth around £26 billion by 2050, and an additional 1,200 vessels will be needed to service UK industry and support the transition to Net Zero. Approximately 400 CTVs are currently operating in offshore wind farms around the UK and Europe, and this could increase to 700 by 2030.
Jason Hayman, the naval architect leading Project Verdant for Green Marine, said:
This is a highly ambitious project with potential to dramatically reduce the emissions associated with servicing and maintaining offshore wind farms.
"In recent years several new-build hydrogen-powered vessels have been launched, but our current objective is to develop a system that can be easily retrofitted to CTVs that would enable them to be powered by hydrogen fuels cells when in loiter mode for a substantial portion of the day. We are using new and innovative technologies, but we need to ensure that all aspects of our operation are inherently safe for our crew and passengers, and we need to be able to prove that to class and regulators. In the coming weeks and months, we will be engaging with industry leaders and technical experts to develop the design and specifications of the system. A viability assessment will then be undertaken to ensure any risks identified during the project can be adequately addressed or mitigated, and the design is capable of meeting or exceeding the criteria established."
Project Verdant's conceptual design incorporates hydrogen fuel cells that are connected to electric motors, which can work in conjunction with the existing diesel-fuelled engines, which can be shut down to enable zero emission operation at slow speed while working within offshore wind farms. This hybrid system could reduce the vessel's CO2 emissions by up to 30% and NOx emissions by up to 40%.
Marine consultancy Waves Group have partnered with Green Marine and EMEC to help solve the technical and regulatory challenges associated with this innovative project.
Kenneth English, Waves Group Associate Director and marine engineer, said:
This feasibility study will form the foundation for the use of hydrogen as a marine fuel in the CTV market.
"The use and ease of its modular design will provide the versatility required to ensure the operational profile of the vessel is maintained."
Jeremy Panes, Waves Group Engineering Director, added:
This is a fantastic project, with realistic goals and timelines to really drive forward the knowledge base of designing, building and operating hydrogen marine vessels.
"Waves Group are proud to have worked closely with Green Marine and EMEC to develop a clear technology and regulatory pathway. We are bringing our knowledge in the handling and use of alternative marine fuels, together with our practical engineering expertise to support this pioneering project."
Project Verdant will further benefit from economic modelling and advice on refuelling, logistics and safety from EMEC. An early mover in hydrogen, EMEC operates a hydrogen R&D ecosystem demonstrating the full value chain from production and storage to transportation and end use including projects looking at zero-emission engines for commercial aviation, feasibility of hydrogen-powered ferries, and the creation of synthetic aviation fuel.
Globally, the shipping industry is responsible for 940 million tonnes of CO2 – equating to around 2.5% of the world's total CO2 emissions. The International Maritime Organisation has set a target to cut these emissions by 50% by 2050, with the UK government being the first jurisdiction in the world to include emissions from international shipping in its domestic carbon budget.
Source:HydrogenCentral