America's first hydrogen-powered ferry is set to sail
---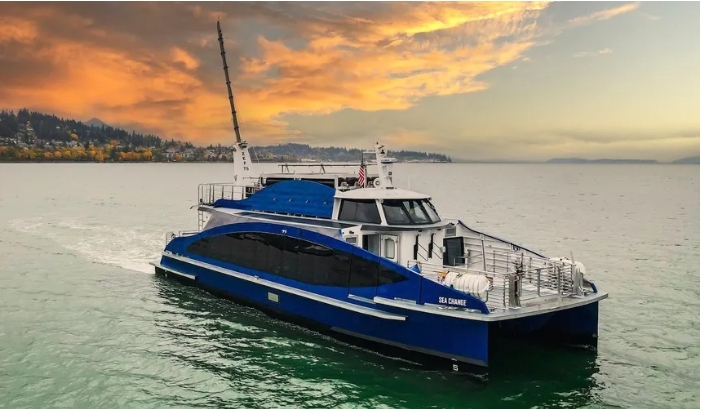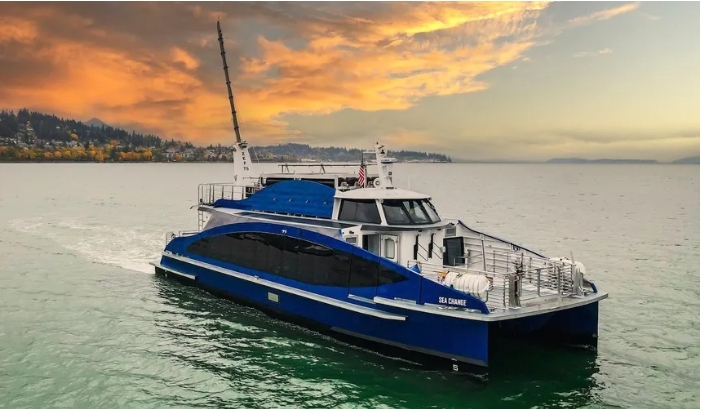 Switch Maritime aims to start operations early next year in San Francisco. It just raised $10M to help take zero-emissions ferries nationwide.
America's first hydrogen-fueled ferry is set to launch in San Francisco early next year after more than five years in development. As the milestone nears, the vessel's owner says it's already looking to deploy more zero-emissions ferries nationwide — particularly in places where aging, polluting diesel boats still ply rivers, sounds and coastlines.
On Thursday, the startup Switch Maritime said it raised $10 million in Series A funding to expand its one-vessel fleet. Nexus Development Capital led the round, which the investor described as ​"catalytic capital" meant to help Switch move beyond its first pilot project to become a full-on ferry-building business.
"A lot of municipal ferry operators in populated cities are under pressure to decarbonize, as are most transit systems," Pace Ralli, Switch's CEO, told Canary Media. ​"The technology exists; now it's just about learning how to adopt these new decarbonized technologies and getting them to scale."
Switch's 75-passenger ferry, called Sea Change, is primarily driven by fuel cells, which combine hydrogen and oxygen to produce electricity and power electric motors. Unlike diesel engines, the fuel cells don't directly emit carbon dioxide or toxic air pollution, just a little heat and water vapor. A 100-kilowatt-hour lithium-ion battery rounds out the ferry's power system.
The fuel cells will initially use conventional hydrogen, which today is produced from fossil gas via emissions-intensive methods. Ralli said the goal is to shift to using only ​"green hydrogen" — made with carbon-free electricity and water — as soon as supplies become sufficiently available in San Francisco and beyond.
Another company, Zero Emission Industries, built the Sea Change's hydrogen fuel-cell system and spearheaded the ferry's early development. In separate news this week, ZEI said it closed a $8.75 million Series A financing round to advance its novel hydrogen refueling technology for maritime and heavy-duty vehicles.
The Sea Change undergoes trial runs in Washington state in November 2021. (Switch Maritime)
Across the country, nearly 800 ferries zip over waterways carrying passengers and cars. Many of the vessels rely on decades-old, inefficient diesel engines, making them some of the largest emitters among commercial harbor craft. Typically, ferries operate around densely populated and marginalized communities, exposing people to health-harming pollutants such as particulate matter (PM) and nitrogen oxide (NOx) emissions.
In California, where ferries represent only 2 percent of commercial harbor craft, the vessels emit 11 percent of total PM2.5 emissions and 15 percent of total NOx emissions within the maritime category, according to the California Air Resources Board (CARB). Last year, the regulatory agency adopted a rule requiring all short-run ferries in the state to be zero-emissions by the end of 2025.
"Focusing on developing zero-emissions ferries is literally a matter of life and death," Grace Healy, interim senior director of Pacific Environment's climate campaign, said by email. She noted that CARB has estimated that slashing emissions from ferries, tugboats and workboats would protect 9.7 million Californians from elevated levels of air pollution.
"Frontline Black and brown communities have been bearing the brunt of pollution for far too long, and moving to zero-emissions ferries would clear the air for port neighbors," Healy said.
Hydrogen for ferries gains traction, but batteries are taking off
As ferry operators in California and other states begin transitioning away from diesel engines, some are turning not to hydrogen but to battery power — a technology that is already being deployed domestically in small recreational vessels and in ferries internationally.
Source:Canarymedia