Southern Lights updates its software designed for green hydrogen development
---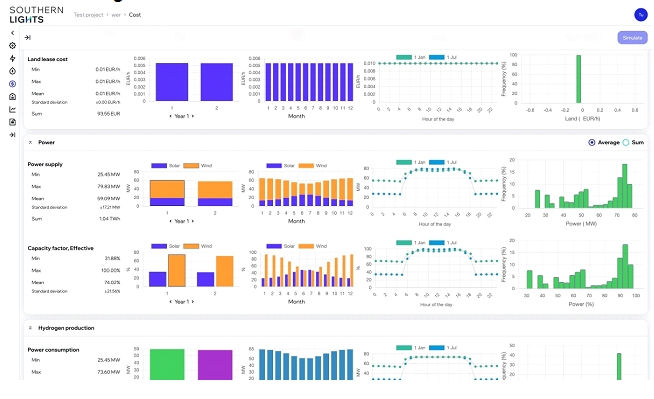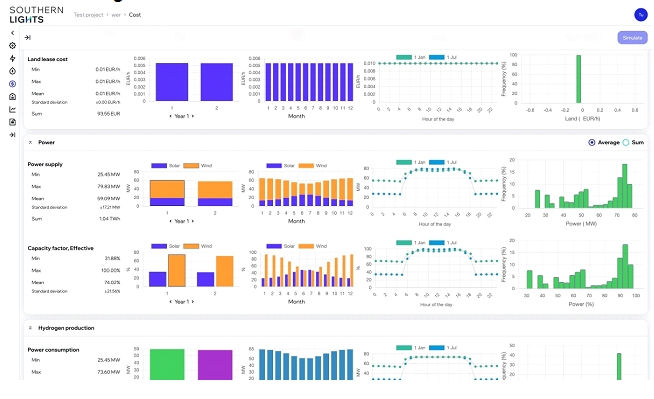 Southern Lights has launched a new version of its software designed for green hydrogen development. This enhanced platform reflects the company's commitment to assisting users in navigating the complexities of the green hydrogen development landscape.

The update includes a variety of features intended to improve project success, including:

Greater Flexibility with Multiple Power Sources: The software has been tailored to accommodate varying energy dynamics and strategies for supplying electrolyzer plants. Users can explore an endless range of combinations, including off-grid, solar+grid, or wind+solar+grid, among others.

Expanded Business Model Options: Several business models are now available to accurately represent user scenarios. This includes capabilities to define production goals and hydrogen selling prices, model what happens with surpluses, define constant or variable hydrogen demand with hourly resolution, or simply set a 'sell all production' business model.

Enriched Electrolyzer Catalogue: The update brings an expanded range of electrolyzer options, reflecting industry-leading expertise.

Multiple Step-by-Step Simulation Types: The platform offers step-by-step guidance through project phases, focusing on cost and time efficiency. Users can simulate various stages of their project, from power input assumptions to selecting an electrolyzer, balance of plant, or business model.

Simulation-Based Optimization Framework: One of the key features requested by users is now available. The software enables automatic calculation of optimal configurations for various objectives, such as maximizing profitability, hydrogen production, and sales, or minimizing LCOH, energy cost, and degradation.

These updates are part of Southern Lights' ongoing efforts to provide comprehensive and flexible tools for those involved in green hydrogen projects.
Source:Southern Lights